Like the true-blue climate supporter that I'm aspiring to be, I attended the People's Climate March in New York City last week. I stood at the corner of Central Park West and West 77th Street and witnessed families with children, old people, college students, two women in wheelchairs and young lovers carrying very different signs but all united in a common cause to save the planet. I felt joy, exhilaration, and hope. We all did.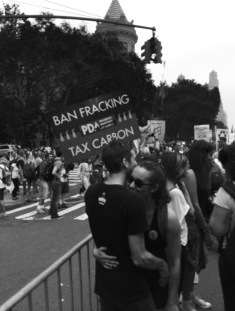 Post-March announcements seemed to confirm the March's effectiveness:

But when I came back to Seattle I wondered, did the March or any of these subsequent accomplishments make a difference? The actions I listed above are largely symbolic in the face of our ever-increasing carbon emissions, which rose 6 percent since 2011 in the U.S. alone. What did the March really do?

Some are blaming lackadaisical media coverage for the March's seeming lack of relevance. But really, what was there to report? There was no conflict, no adversary, no indignation, and very little risk for participants.

Where was the story? Wasn't it just a big pep rally for those already converted?

In contrast, the Keystone Pipeline protests had it all -- conflict, bad guys, anger, clear demands -- and yes these protests were covered in the media and yes they were effective in pushing closer to specific goals. Yet anti-Keystone protests never came close to the size of the March. The original Hands Around the White House action in 2011 was just 10,000 protesters. Fewer than a thousand students demonstrated in front of John Kerry's home last March in a "human oil spill." In April, 60 members of the Cowboy and Indian Alliance set up camp on the National Mall in Washington DC. And these actions got results, delaying the Pipeline approval process for years.

It is truly amazing how effective protests can be if they're directed at a single cause and deliver specific demands. I've seen it here in the Pacific Northwest, where protestors have shut down plans to build coal ports that would ship the filthy fuel from multiple points along the Pacific Northwest to Asia. As of last week, four of the six proposed ports have been forced to withdraw their plans. The crash in coal prices helped, but protests made development that much more uncertain and expensive.

The People's Climate March was a love-in, a successful pep rally to recruit new volunteers and ready faithful supporters for the next stage, where to stop climate change, protests must be mounted against each specific threat in each of our own back yards. It's the only way climate solutions can work: in conjunction with regulatory changes, an end to emitters through thousands of actions. Three cheers to the People's Climate March for getting us ready.

Photo courtesy of Carol Pierson Holding.