In 1965, as a fellow art teacher, I met Jan Brosious when we shared a supply closet in Springfield Junior High School in Del. Co. Pa. She was always smiling. Her character was sunshine. Our paths separated when I left teaching to become a flight attendant for Pan Am then a cover girl, an actress and now a writer. Jan remained with her students and married the artist Natvar Bhavsar. They had children and Jan Brosious Bhavsar continued to teach.
Her husband, Natu, went on to become a renowned artist known for his Asian contribution to American art with my friend Jan managing his career. Today while it is common for artists to be cross culturally connected, Natu, who rose to fame in the 1960s, has been a pioneer for American artists to find acceptance outside of their own spheres of origins. In 1965, he was recognized with a John D. Rockefeller grant. Natu is a hero to other multicultural artists because of his courage to attempt to be accepted by the American art world after being born in Gujarat, India, in 1934. Even a film, The Poetics of Color; Natvar Bhavsar, a Painter's Journey has made about him.
In 2013, my friend Janet Wilson and I took one of our many trips to New York to renew past friendships. Jan Brosious had not stopped emailing me with notifications of her husband Natu's exhibits around the world. His art is the size of an entire room and a statement of the power of color and its transitions. Subtle yet powerful, Natu, a graduate of University of Penn in the 60s, never gave up on his belief in his art, nor did his critics.
But what about my friend Jan Brosious?
"I don't know if Jan is pursuing her art?" I asked my friend on the drive to Manhattan,
"We'll find out," Janet said.
We drove through the Holland Tunnel and found the Bhavsar loft in Soho. This was a feat in itself.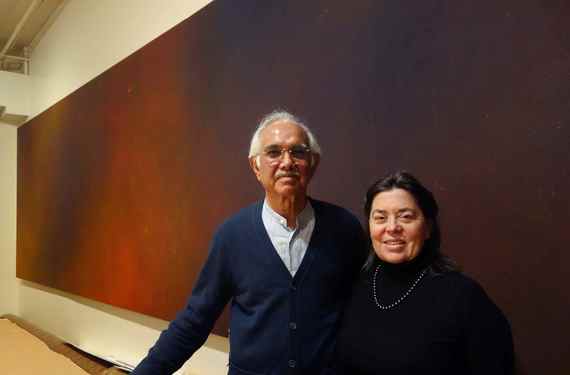 "This space is magnificent," I said to Jan and Natu whom I had not seen in years. He looked sprightly and youthful at 80 while Jan had the same smiling school teacher personality and was still the woman who focused on others.
Natu showed us his spectacular paintings, photos of a modern home they own in India and their children. "I remember when you were engaged to Claude Picasso," Natu said. "And when you played the character of a dead wife before we knew all of those wives were dead in Stepford Wives. Good film."
While I had been busy flitting from one career to the next, Jan and Natu had remained in the art world to arrive at the pinnacle of a life well lived making positive, powerful choices. Today they were millionaires, though this was of little value to them. Their art was the focus of their mutual happiness.
Their? Well it appears Jan is now a talented, successful, museum worthy photographer.
"Let me show you some photos I have been taking," Janet said and whipped out awesome, inspiring black and white photos from their journeys around the world. While Natu traveled from exhibit to exhibit, Jan Brosious Bhavsar clicked. She was pursuing her art while helping him with his. What a marriage! Here I had worried that Jan had subjugated her life when all along this was a marriage with art as the mortar between embraces and children. A marriage in which partners nurtured each others creativity.
Then upon returning to my home in suburban Philadelphia, there was an email from Jan Brosious announcing the acceptance of four of her photos for an exhibit by the Museum of Contemporary Art in Australia. This show is put on by MCA and will tour Australia until 2015. Her photo, Shadow of Palm, inserted here had been purchased by the Power Collection of the University of Sydney and will be part of the touring show titled Remain in Light.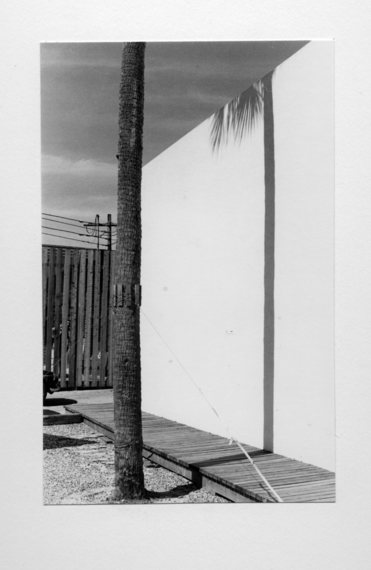 I could not be happier for my friend and thrilled that her marriage has rewarded the creativity of both partners. While teaching art to children, Jan had come into her own as an artist as she supported her husband's career. Today she no longer teaches, but focuses on her photography when she isn't making her husband happy. Oh, to have more fifty year marriages that nurture each partner's careers. Knowing Jan Brosious and Natu Bhavsar demonstrates that marriage can work and introduced me to the throbbing pulse of their modern art and its significance.