On the first night of Vienna Fashion Week 13, designer Susanne Bisovsky shook up the catwalk with a breath taking show. Her vibrant patterned dresses fuse Viennese chic and traditional folklore. Glenn Belverio and I were blown away by the collection. After the show we tracked down the reclusive designer and were invited by Bisovsky and her creative partner Joseph Gerger to visit their home and work space.
Located in Vienna's up and coming 7th district where Miu Miu mixes it up with Marcos Valenzuela's Tiberious, the studio is a profusion of floral patterned furniture and bouquets of cloth flowers. The space is home to Bisovsky's collection of 700 dirndls, religious iconography, beads and ancient fabrics. The kitchen walls highlight a collection of cookie tins and Madonnas. Gerger who designs the shoes for Bisovsky's collections, showed us dyed indigo fabric from China that had been submerged in animals blood. Bisovsky took me on a tour of her closets that overflow with dresses. In the 1990's Bisovsky freelanced for Jean-Charles Castelbajac and created lace and latex dresses for her one time mentor Helmut Lang. He wanted Bisovsky to move to New York but she had no desire to play the traditional fashion game. Instead she created the everlasting collection. Her ever evolving work is more like that of a fine artist who incorporates new technology and old world history. She puts together pieces as you would a dowry, handmade for each of her clients.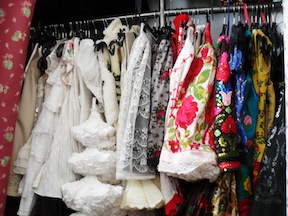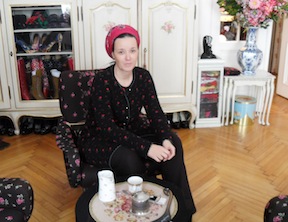 Every Friday Susanne and Joseph open their home for a 1950's style couture salon where prospective clients can see her creations on a live model. Bisovsky reproduces versions of her couture pieces with up to 80 percent accuracy. This is subject to the availability of fabrics contributed by jet-setting friends or found at flea markets or on eBay.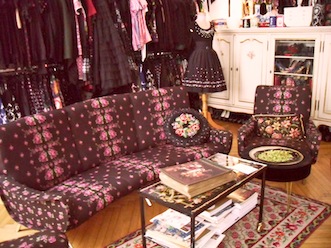 The fabulous Iris Apfel and Suzy Menkes were recent visitors. Menkes wrote an extensive piece on Bisovsky and Vienna Fashion for the New York Times.