The back-to-school TV commercials have been running since July, but it's finally time to get into the routine of a new academic year for kids and adults alike. Professional development is essential for all those serious about advancing their career in a competitive marketplace. Whether you are looking to grow internally where you are, or externally in a new organization, your professional growth is your sole responsibility.
Consider a fresh start towards your career goals and create a strategy to learn new skills and brand yourself in a way that puts you in play to be promoted or recruited. From degree granting programs to experiential learning, you must stay fresh and relevant in your career field to protect the job you have and be ready for the new the opportunities you desire.
Here are some ideas to get you jumpstarted on your road to professional growth.
Up Your Game - I have coached hundreds of professionals over the years and so many have shared that they have lost their mojo or gotten stuck in a monotonous career routine that left them wanting more. Professional development is a tangible way to reboot or refresh your career so you can thrive.
Start by seeking out the professional development offerings in your organization. Check with HR or Talent Management if you are in a workplace large enough to staff these functions. If these options are not readily available, check out conferences or even professional enrichment lunches with speakers who can share tools and resources to help you reinvigorate your career. Start with your local Chamber of Commerce and also look to area colleges, universities and professional organizations in your field for career development offerings.
Micro Credentialing - is an efficient option in professional development that allows you to focus on specific competencies or skill sets to enhance your career marketability. Perhaps you are vying for a new role and need to ramp up your project management know-how. Earning a micro-credential online will acknowledge your training in this area and often comes with an e-badge that you can showcase on professional networking platforms.
It shows your employer that you are serious about the new opportunity and that you took it upon yourself to gain a new competency by completing a course, workshop, or other professional learning opportunity.
We can thank the Girl Scouts and the Boy Scouts for inventing this effective way of proving the new skills and experiences they learned and then showcasing their badges to peers and beyond. No need to wear your badge on your lapel, but by all means, put it on your resume, on LinkedIn and your About.Me profile!
Experiential Learning - as a speaker, I always aim to provide valuable tools and resources to my audience when I give a presentation. I also consider myself a professional development junkie and I never pass up the opportunity to attend a conference, online webinar, or even read a new book that is relevant to my personal career goals.
This experiential learning helps keep me fresh, well-informed and also invigorates my network with new contacts, which has been incredibly useful in my professional growth. You won't have to look very far for a myriad of conferences and online offerings so get on some email list serves in your career field and see what intrigues you.
Online Degrees and Certifications - not everyone has the money or the time to leave their current job to pursue a full-time, in-residence advanced degree. If you have the desire to add a degree worthy credential to your pedigree, consider earning your degree online.
Online programs have come a long way in recent years and afford busy professionals flexibility to live, work, and study at a pace which suits their busy lives. I have seen many professionals partake in online MBA programs, for example, to up their earning potential and grant them access to executive level roles.
"An online MBA is a great option for people who are unable or don't want to relocate to attend a top-ranked program, as well as for those who want to continue working and not forgo a salary while earning their MBAs. And for those working professionals who already travel frequently, the flexibility of an online MBA program means they can study wherever they are in the world. In short, online MBAs provide flexibility for students to remain employed while pursuing their degrees, and students can apply what they learn in class to their job the next day. These reasons demonstrate why the MBA is a very popular online degree." -Douglas A. Shackelford, Dean and Meade H. Willis Distinguished Professor of Taxation at UNC Kenan-Flagler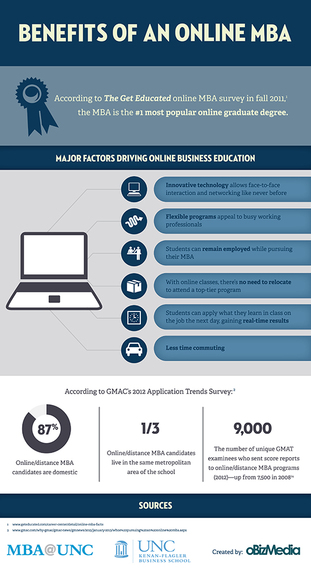 Lifelong Learning Feeds Your Brain - I interviewed Dr. John Arden on my show: Your Working Life about his book The Brain Bible and he spoke about the necessity of exercising your brain as you age. Lifelong learning feeds your brain and keeps it engaged and sharp.
"Engaging in learning activities on a regular basis boosts your brain's longevity. It has been widely shown that people with higher levels of education show symptoms of dementia much later than do people with less education. When applied to the brain, the maxim 'use it or lose it' means that the less you use your brain for learning the less it will be available to make learning possible. Alternatively, the more you use your brain for learning, the more 'cognitive reserve' you will have for use later in life. Cognitive reserve represents structural changes to the brain, which will promote greater longevity." - Dr. John Arden, Director of Mental Health Training for the Kaiser Permanente Medical Centers
Your brain will thank you for pursuing professional development as well!
Ask Your Employer to Pay - always ask your employer to pay for your professional development - from conferences to online workshops, or full-on degree granting programs. Pitch it as an investment in your future in the organization and be clear about the return on their investment in your productivity and competitive advantage to the firm. You'll never get it if you don't ask, and even if your employer declines you can write off these expenses on your taxes. Seek out the expertise of an accountant to help you itemize accordingly. Consider it an essential professional investment in your career future no matter who pays the bill.
It's the season to get back to school with a new lease on your career and your professional future. Plan for engaging experiences to reignite your career passion and your marketability. You may be pleasantly surprised when the phone begins to ring from competitors in your industry, which empowers you with an edge as you navigate your next move.
Caroline Dowd-Higgins authored the book "This Is Not the Career I Ordered" and maintains the career reinvention blog of the same name. She is Director of Professional Enrichment at the Indiana University Alumni Association and contributes to AOL Jobs, CNN Money, London based - The Rouse and More Magazine. She is working on a TV series about career & life empowerment for women and hosts the podcast series Your Working Life -check it out on iTunes. Follow her on Facebook,LinkedIn, andTwitter.