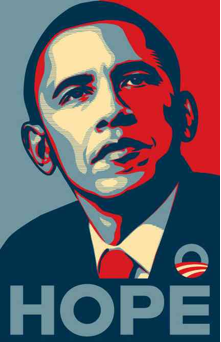 This post was originally featured on All That Inspires Me.
HOPE. The image above was an ever-present portion of the discourse surrounding the 2008 presidential campaign, an image designed by artist Shepard Fairey. This poster evoked a direct link to social realism and meant to contrast heavily with the exiting Bush administration. The night Senator Obama became President Obama, I was in a midtown bar in NYC with friends. We poured into the streets and gathered in Times Square after he was elected to express our elation. Surely, our world was immediately going to shift to the betterment of all and we had made the difference. I attended the inauguration in DC and felt the same elation palpable in the freezing cold Capitol air.
I had hope in 2008. In 2012, my hope has been marred with indifference, transformed by the lack of change evident in our antiquated political system. The youth of this country were meant to evolve into volunteers of the new economy, a crowd-sourced dream of a system run by an actual democracy. It appears, however, that a black hole of homeostasis has befallen our country.
This was my emotional state upon entering a high school classroom in the Brentwood section of Los Angeles to conduct college interviews for my alma mater. Brown University, one month ago. I have been interviewing college candidates for Brown since 2005, beginning when I was living in New York City and continuing during my last two years in Los Angeles. There's a marked difference between the interviews I have so far conducted in New York City and Los Angeles, which bears mentioning. In New York, I predominantly met with private school kids from wealthy backgrounds. In Los Angeles, I meet children from varied wealth backgrounds and school types from private to public. I should also note that I only manage three interviews per year so my sample set is quite low. I mention the difference in wealth and school types simply to demonstrate that I am now meeting with a much more diverse list of high school seniors.
In this particular instance, I met one candidate that day in January who truly brought inspiration my way, re-connecting me with an all-exuberant YES WE CAN. I hope that sharing this story can highlight something which rarely goes noticed, the amazing lives of certain teenagers in this country, who against all odds, have held on to that hope with both hands blazing into a new tomorrow.
My most beloved slam poet, is Saul Williams. While in college, I dabbled in the slam poetry arts, spending my time working at the local Creperie, scribbling on yellow-ruled paper and practicing in my head. I performed rarely, afraid that my soul would be laid too bare and my vulnerability would cause internal bleeding. My writing ignited my passion in all things from art to politics to learning Arabic slang from my Creperie cohorts. Over 12 years later, my writing has shifted from poetry to journalism, and the fire that was scratchy pencil-markings on ruled paper has dimmed. Such is age.
Back to the moment when one inspirational candidate walked through the classroom door for her college interview one morning in January. To protect her identity, I will refer to her as Sara. I recognized in Sara immediately a light from my distant past, a light she did not realize was blinding in its effervescence. Sara grew up in the Watts section of Los Angeles, a neighborhood historically categorized by the Watts Riots in 1965 and gang violence since then. In short, it's a predominantly black neighborhood blemished by more violence than any community should see. Sara's mother died of drug-related issues and her father abandoned her. Thus, she was raised by her mother's sister and husband, which she re-named 'grandparents.' This is Sara's starting point. One troubled neighborhood. A difficult family background. A community without diversity.
At the age of 12, Sara decided to start volunteering in a local library, with the instinct that her work and education there would shift her to a new perspective. This decision demonstrates unbelievably rich character, a personality who would not settle for the challenges before her. She is a slam poet and rapper, and after a brief search on YouTube, quite talented for her eighteen years. From listing out Andrea Gibson as her favorite poet to passing on inspired examples of other pieces that she felt drawn to, I was mesmerized.
In a world laced with Tommy Jordan shooting holes in his 15-year old's laptop for writing obscenities about her parents on Facebook, it is inspirational to meet a teenager like Sara. Focused, driven, and incredibly talented with only her economic constraints to hinder her.
Knowing that I went to Brown University, most would think that I had an easy line of ascension, a spoon firmly lodged beneath my tongue. This was not indeed the case. At the time of my college acceptance, my mother, recently divorced, was in college herself to become a social worker and my father abandoned ship. I received my acceptance letter to Brown and responded with the typical overt teenage exuberance exhibited in movies like Clueless. Teenagers don't recognize the reality set before them immediately. We could not afford Brown. That said, I was not raised to be a quitter.
Someone told me that successful people are not founded by how quickly they ascend the mountaintop but instead, on how they maneuver around speed bumps. My mother and I marched back into the Financial Aid office at Brown, which was not need-blind at the time, and requested more assistance. Before Kickstarter, there was my telemarketing campaign. I called every possible family member with one simple request: help me go to my dream school. Help me ascend. Turns out, determination wins. With my Brown diploma in hand, the world opened to me in ways I never thought possible.
With Sara's special brand of enthusiasm and perseverance, she reminded me of how inspired some in this world really are. It is thought that hard work and determination don't pay off as much as they should. With Jeremy Lin racking up wins left and right for the NY Knicks, teenage bloggers like Tavi Gevinson taking the fashion world by storm, and a 15-year old ascending the summit of the highest peaks in all seven continents, young people are bringing hope back into business. So, to all young and older alike, keep fighting, keep innovating and the world will shift one square peg at a time.
To donate to a college student in need, find your match here.