This past week in Austin for SXSW, I let Highlight roll free with reckless abandon. If you're not familiar with the supposed darling of this year's SXSW, Highlight is a social discovery app meant to connect you with new people around you. My blurb in the app was "Free Hugs" but I'm sad to say, I never had the chance to give one. The issue for Highlight at SXSW was that the environment was the exact wrong place to test proper usage as the noise of that many people led to an overwhelming app which drained battery life at a conference where battery is akin to water in the desert.
That said, the mere fact that Highlight did not overwhelm us all with its success at SXSW is not an indication that the overall category of social discovery is not a good one. In fact, I think this is the most important trend to come out of this year's SXSW but it is surely not brand new. This trend was likely made most famous by the gay 'dating' app Grindr which launched in 2009. Many of my best friends are gay, and thus, I have spent quite a bit of time helping them ogle potential love interests from NYC to LA. The application is simple and the intent is clear. Hook up partners for casual sex. OK. OK. You cry that the application is meant for true dating for some. I won't argue that here.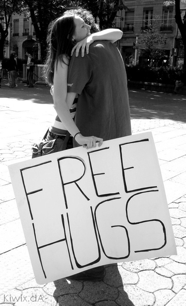 I had my first taste of successful social discovery after I had just moved from NYC to LA two years ago. I was using a mobile app called Meet Gatsby which acted as a third party client to Foursquare recommending interesting new people based on similar check-ins and incredibly bland categories like, we both like social media. This is how I came to know my good friend Barb Dybwad, then Senior Editor at Mashable, now Head of Content at Tecca. I found the Meet Gatsby notification intrusions frustrating as for the most part; they offered nothing more than a generic reason why I should meet this person.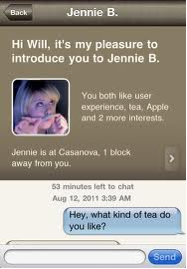 In this case, Barb had popped up on my iPhone screen on three separate occasions confirming that we apparently like to go to very similar places. The location similarity was the defining factor of our connection. The categories that linked us included social media and music and while true links, they were so generic as to be unimportant. Barb sent me a message on Twitter, I responded and we ended up on a lady date at the Banksy documentary, "Exit Through the Gift Shop." We have been friends ever since and I still marvel at the way we met. Apart from the CEO of Kismet, she is the only person I have ever met in person from a social discovery app. For that, I have Meet Gatsby to thank.
Clearly, real friendships can be made but then why did I delete Meet Gatsby a few days later? Primarily, I did so because the notifications were too numerous and the reasons for linking me to each new person seemed random and therefore, not of significance to me. Two years later, social discovery apps were numerous at SXSW.
Apps in the Space:
Highlight, Glancee, Kismet, Sonar & Banjo
Highlight, Kismet and Glancee work on the principles of passive sharing, tracking your location in the background. Sonar & Banjo only track your location when you check in on applications like Foursquare or through Instagram.
Objective:
Connect people together either solely digitally or in the real world to facilitate real connections and ease the barrier in connecting.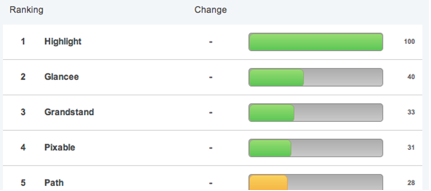 Winner:
Highlight. Above, is a trend chart from Mashable of social buzz surrounding mobile apps on the last day of SXSW Interactive. While at the conference, I sat down with Paul Davison, CEO of Highlight. When describing the objective of his application, he remarked, "We look at it as reducing friction in the real world." Every single one of us has had a moment when we're standing next to someone and want to say something but fear that the other person will reject us or consider the comment a come-on when simple conversation was intended.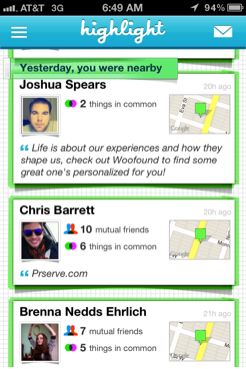 Davison described an email one of his users sent describing a connection on Highlight. A man was walking through Union Square in NYC when he received a message from a woman walking nearby. He saw that they were connected by the twin brother of someone who had died years earlier, someone who had meant quite a lot to him. These two users never met up but instead exchanged a moment via Highlight messages about someone who was dear to both of them adding some clarity to an emotional situation which had gone by years earlier.
In this conversation in the lobby of the Hilton in Austin, Davison reminded me of my friend Naveen Selvadurai, co-founder of Foursquare. The beauty in Foursquare's beginning came from the spirit of why it was developed and the focus on the consumer. Foursquare was created simply because its two co-founders wanted to share cool locations with their friends. Davison created Highlight because as he claims, "it just makes life better" and I can see that this is his true main objective. When you start with the intention of making something to make our lives better, you have a chance of building scale. When you start with the intention of simply making money, the user experience usually suffers. That said, if this is the way of the future, why hasn't Foursquare included it? Well, some could say that they have, with features like Radar.
Are there problems? Yes.
What to Fix:
• Privacy at home. Just like Foursquare recognized that your home should not necessarily be a check-in, these apps need to hide this location as well. Some, like Kismet, do offer this feature, but sadly Kismet seems to think my office is my home.
• # of connections. The hard part here is that I really don't want to be connected to people at all times of the day. I'm too busy for that. In chatting with most 'normal folks,' they feel like the app is creepy until I say something like, what if it only connected you with co-workers or what if it only connected you to people at your college? Giving the app a walled-in approach could help people trust using it. When I worked at HBO, there were 1,700 employees in the NYC office. I would have loved something that helped introduce me to more of them and the company would flourish more given these interactions. The airline KLM recognized this insight in letting passengers choose their seats based on Facebook and Linkedin data.
• Battery Drain.
• The importance of location. Some, like Sonar and Banjo, use location-data as the starting point. Here is where I think Highlight missed something. Locations bind us together over, for example, our similar love of Handsome Coffee. Just like with music, locations tell a story about the user, which is a bit more immersive than simple likes on Facebook. In the beginning, location-based apps like Loopt used map coordinates as well but as soon as Foursquare turned on place, it was a game-changer. Highlight should not overlook this importance.
One Final Note:
• Enjoy the Bieber Easter Egg in the Banjo screen. You're welcome.