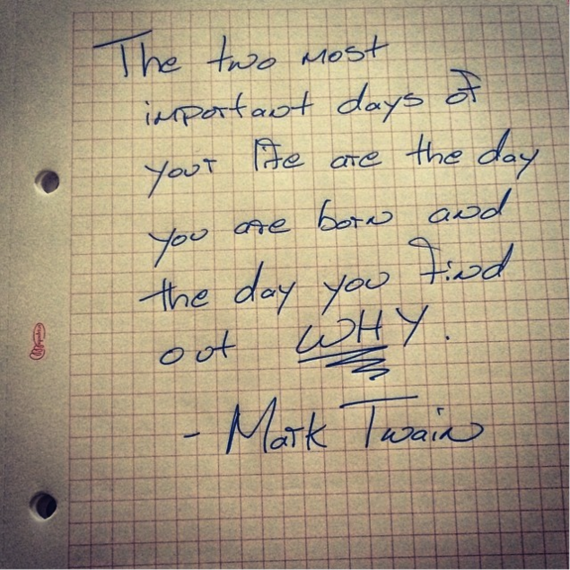 Yesterday, my baby sister Mel Giegerich graduated college at Davidson College in North Carolina. Yesterday, many of your loved ones graduated as well. You attended commencement services and sat proudly in your seats beaming as you watched your loved one walk across the stage in black gown and mortarboard. You listened to powerful speeches about the next steps they will take in the world and the precipice of greatness they stand before.
I was not at my baby sister's commencement yesterday and hope that she accepts this love note as a small gift to the awe-inspiring woman who walked across that stage.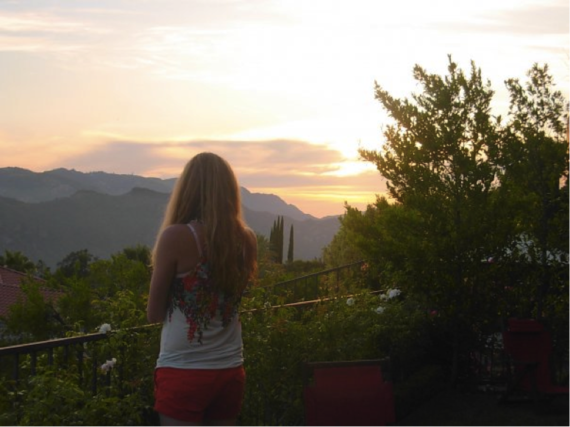 Mel, Pacific Palisades CA, August 2009
Mel has championed her way through college with difficult challenges in her way. She paid for college awarded a full basketball scholarship, a blessing for a girl who did not have a silver spoon.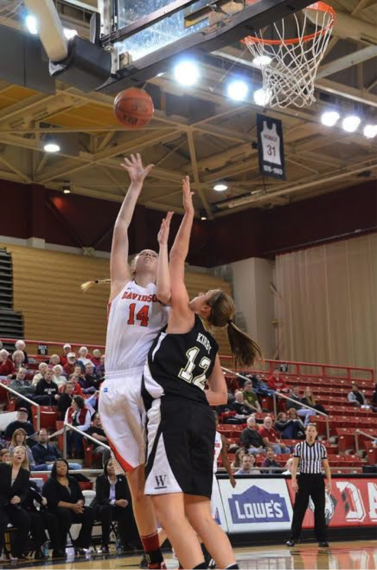 Mel (left) in February 2012 / Photo courtesy of Davidson College
Between her hours of basketball training, games, psychology major, volunteering with autistic children and friend engagements, I'm lucky if I got to speak to her in the last four years. When I was in college, I showed up to row crew for a week and promptly discovered that five hours of practice a day was not something I could mentally or physically handle. Mel shoulders all of this effort with extra energy in tow.
We weren't the type of children who had the financial easy street to college with full support from mommy and daddy.
We've become resilient. My younger sister, in comparison to me, has a lightness of being which is inspirational. In her transparency and honesty, she has taught me so many coping mechanisms I have found invaluable.
Not only does she support herself taking whatever jobs she can find to pay for whatever remaining expenses she's had, but she spends her time taking care of her friends and roommates, making sure everyone is taken care of. She has been, since her younger years, one of the most generous human beings I have ever been blessed to meet.
When she was seven, she used to rescue bugs and other disgusting creatures in the yard, chronicling her achievements to me as I looked on with fear, a woman who hates bugs of all kinds. She would pack up her bug discovery in a glass container, screwing in the little fiend with air holes to let it breathe, and then chase me down in the yard to show me. She was the Mother Theresa of her yard, taking care of all creatures cute and not so cute with her equanimity.
The first thing you should know about my baby sister is that she's no longer a baby and she surely isn't the size of one. At 6'5", my sister surpassed me in height when she was twelve years old, a discomforting feeling for the sister fifteen years her senior. I held her in my arms when she was one year old, a nugget so small I thought I would harm her with my clumsiness. Now, she towers over me like the World Trade Center and I have to wear heels to be present in photographs.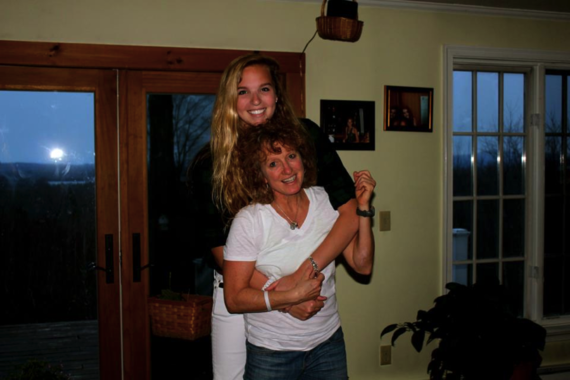 Mel: 6'5" and her mom Robin: 5'6" in April 2013
Being an avid cyclist, I used to bike Mel around the neighborhood in a bike carrier fitted on the back of my bike. She would bounce up and down uncontrollably with glee making California hills an atrocious challenge. "Mel, quit it!" [giggle giggle giggle giggle] "Mel, seriously, quit it!" [giggle giggle tee hee heee heeeee]
I never told her how much these bike rides meant to me. Bike riding is my favorite activity, the two-wheeled thing I do to feel free from the chaos of the world. I got to do it with my baby sister co-pilot laughing hysterically like a hyena and that is a memory I will never forget.
We didn't bike together again until she was twenty-one years old, this time along the coast of California in Venice Beach for July 4th.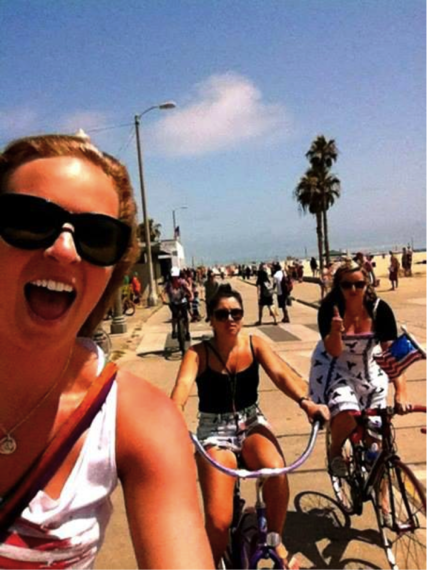 Mel, Brittany, and Caroline Venice Beach, CA in July 2013
This time we each had our own bicycles and her bouncing had subsided...a bit. It was equally magical to ride alongside her and her friend pointing out the odd participants of the Muscle Beach scene and merging around the tight sandy beach turns narrowly avoiding the children who never seem to have watching parents. On this trip, she convinced me to get tattoos with her and her friend Brittany.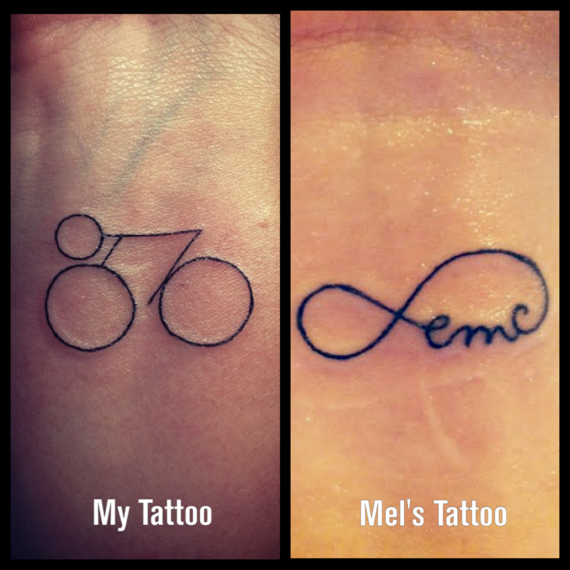 Quintessential Mel is that she got a tattoo which symbolized her love for her sisters: an E for Elisabeth, M for Mel, and C for Caroline encased in an infinity sign. She's so precious. I continue to be in admiration of her spirit. Meanwhile, I got a bicycle tattoo, which in comparison made me feel like a selfish asshole.
In the summer of 1997, I was a radio DJ for a small commercial radio station called 95.5 WBRU in Providence, Rhode Island. My sister came for a visit. I invited her to the studio and ambushed her with a microphone in front of her face during my show. At first, she silently looked at the metal contraption in front of her peering skeptically from the microphone to me and back again. Then, she breathed something that sounded like a whisper and I asked her to speak up. A peep here. A giggle here. Her first radio show and as always she jumped to the occasion.
The next day, I brought her with me to the radio station's summer concert series, a free concert held down by the water in Providence. My job this day was to introduce the bands on stage including the Goo Goo Dolls and The Specials. My sister was five years old and had no idea who any of these bands were. While I was on stage, I left her with a Yo Yo to pass the time and asked the guys from The Specials if they would watch her. I came back to find her teaching singer/guitarist Lynval Golding Yo Yo tricks which mainly consisted of her lassoing the Yo Yo around him or twirling it around in circles. They were giggling like school girls, he showing her his new kicks and she showing him her mighty flip flops. Mel became the most popular person backstage inspiring throngs of people chuckling everywhere she flitted.
While introducing another band, I returned to overhear her telling lead singer John Rzeznik from the Goo Goo Dolls that "You should really eat more. You know, you're far too skinny Mister." At the time, it was rumored that Rzeznik was anorexic. My eyes grew wide and I scooped her up, laughing nervously; These kids today say the darndest things Mr. Rock Star. She had no idea of course. She just smiled at me while I scurried her away.
Mel has always lived her life with an adventurous spirit that knows no bounds, a girl who always puts all the windows down every time she gets in her car. While writing this, I thought of all the wise things an older sister can say to a younger sister on the day of her graduation.
I worry about her as I have been in her shoes, about to exit the comfort of the college life and enter the world. The world immediately humbles you with its vast expectation and demands. I have risen and I have fallen flat on my face. I so want her to always rise and never fall. However, what those commencement speeches should tell all of us is a message sometimes forgotten.
Failure should be expected.
It is a part of success as it creates an understanding of what not to do, an understanding just as powerful as what to do.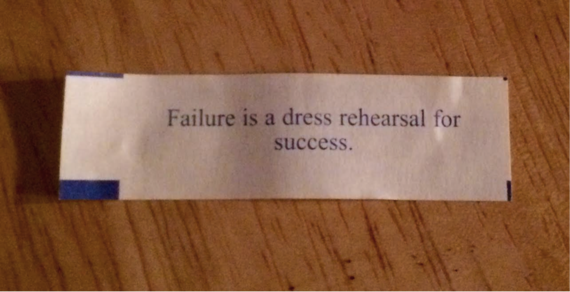 Mel, on your graduation, I want you to know how proud I am of you today and every day. I am proud not because of your physical achievements or because you are gaining a diploma on this day. I am proud because of the person you are, a generous empathetic young woman, so rare in this world. I am the lucky one, because I get to know you.
As you enter the world and strive to figure out your why, know that it will come to you when it comes, not when you want it to. It will come and it will be the second most important day of your life. Give me a call. I want to hear all about it.
Happy Graduation to all you graduates. Go LIVE IT LOUD.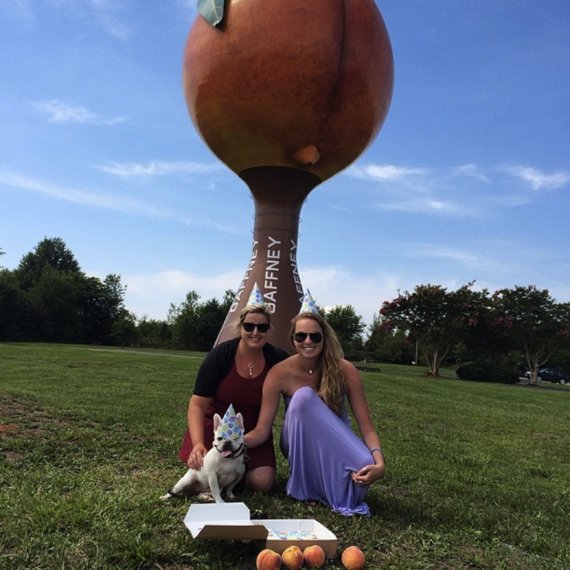 Blanca, Caroline, & Mel on Blanca's 2nd birthday in July 2014 from Gaffney, South Carolina / Home of the Giant Peach from House of Cards