In villages and towns across Suruc district, in south-eastern Turkey, there's almost nowhere you can travel these days without encountering a Syrian refugee.
Hundreds of thousands of Syrians fled the city of Kobane and neighbouring areas in September in a matter of days, when their homes came under attack from ISIL Islamic State in Iraq and the Levant). They sought refuge in Turkey and while many scattered across the country, the largest numbers -- around 92,000 -- have remained in Suruc district, close to the Syrian border.
Many villages and towns have doubled or more in size, as they struggle to accommodate the new arrivals. Some refugees are staying in government and municipal-run camps. But the well-run camps are full, forcing other refugees to seek shelter where they can: in shops, warehouses, mosques and unfinished buildings.
Khalil Mahmud and his wife, Kathawar Khalil live in one empty, unfinished building in Boztepe village, a small farming community, with five other families. They've tried to make it as habitable as they can, installing doors and windows, putting in some electricity. Local people have rallied to their help.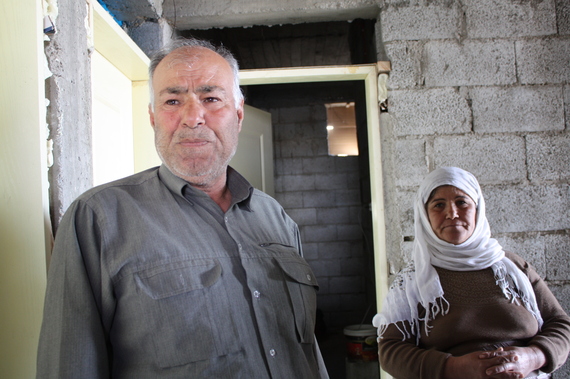 Khalil Mahmud and his wife, Kathawar Khalil
"The villagers here have been very hospitable, they welcomed us so warmly", said Khalil. "Everything we need, they have helped us with, from food to mattresses and kitchen sets. Even this mobile water tank", he says pointing across the yard. "Local people have filled it for us, to help us get water."
The family have been here for more than two months and is also supported by Concern, a partner funded by the European Commission's Humanitarian Aid and Civil Protection department (ECHO), which has provided food and non-food items. The biggest concern for Khalil, a farmer back in Syria, is the lack of work opportunities. "There is no work here. I cannot find a job and without any income, it's very difficult."
His wife, Kathawar, is worried about the winter. "We need stoves...it will be so cold", she frets. But Khalil's worry is longer-term. "We could be here for years. It's difficult in Syria - everything is full of war and conflict."
The arrival of the refugees has meant that Boztepe village has almost doubled in size. Yashar Ali, a dentist back in Syria, is staying in a school stockroom with his wife and parents. "It's so hard to rely for help with everything, but we left our village empty-handed",. He said. "It's not just that we've left our jobs; we've lost our land, our houses, our friends. We don't know where they have gone. We have lost so many memories. We have lost everything."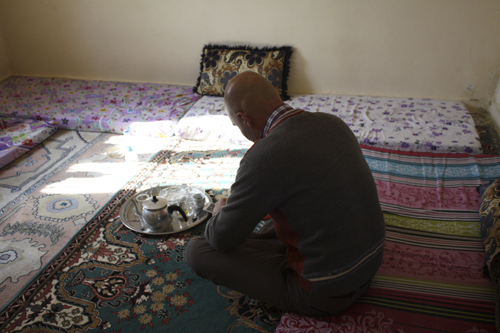 Dentist, Yashar Ali
"I never thought I would ever become a refugee", said his father, 65 year-old Ahmed Naoh, a landowner in Syria. "We were satisfied with our lives then ..but then ISIL came. We're just very thankful for the help we've got - from the Turkish government and the people and from international organisations."

The arrivals have had a big impact on the community, said Mehmet Kilic, the locally-elected village head. "There are more power cuts, because so many people want to use electricity", he said "and waste management is a problem too. Water is more scarce. But we are in solidarity with these people, we see them as one of us and we welcome them", he added.
But such large numbers of refugees and their long-term impact in Turkey is a cause for concern. It's estimated that Turkey now houses over 1.6 million registered and unregistered refugees. Under Turkish law, registered refugees have access to health care; but it is harder for those living in urban and rural areas to access services that are available, including education. Refugees currently can only work informally , although in areas where they are able to find illegal casual labouring work, such as seasonal cotton-picking, many complain they are paid half of what their Turkish counterparts could earn.
Donors like the European Commission are increasing the humanitarian support they can offer, especially to refugees living outside of camp settings, who account for around 85% of the total refugee population. The EC's Humanitiarian Aid and Civil Protection department (ECHO) recently allocated €3.9 million to support the delivery of emergency aid through partners to help families who fled conflict in Kobane.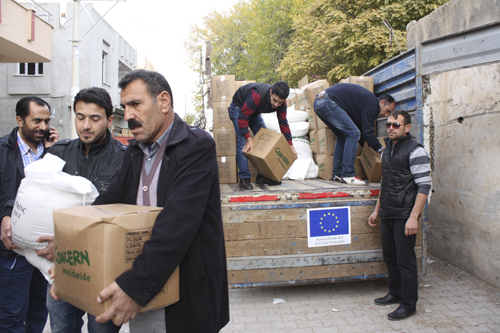 ECHO-funded distribution of aid, Suruc City
More will need to be done as new arrivals continue to flow into the country. "Turkey is not alone" said ECHO's head of office in Turkey, Jean-Christophe Pegon. "We are working with institutions and member states to do more.
"We'd like to reach out to more refugees in more places; there are many areas where we believe assistance is not reaching", he said. "We believe as well we can contribute to the establishment of stronger system in terms of providing basic assistance through our international and Turkish partners with a view to looking at viable, durable solutions."