For decades, people in Kadiwa village, Laak municipality, a picturesque farming village in Compostela Valley province, on the southern Philippines island of Mindanao, had watched the damage that typhoons could cause from afar -- on their television sets only.
Despite the many typhoon warnings in the past, the area remained untouched by the kind of devastation that typhoons have often brought to other parts of their country. So when warning signals were given that Typhoon Bopha was approaching, the sixteenth to affect the Philippines this year, most residents weren't too concerned about evacuating.
But four days after their homes, crops and possessions were destroyed or damaged by strong winds and rising waters from Typhoon Bopha, villagers still remain in a state of shock.
"I feel very thankful that I've survived and my family has survived," said farmer and father of six Gary Pido.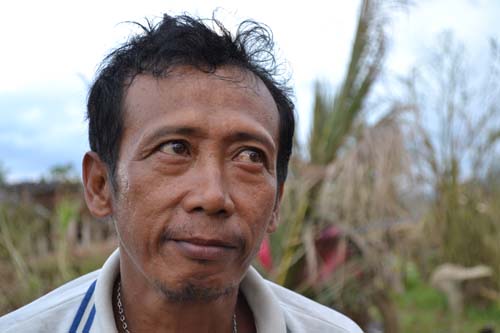 Farmer Gary Pido
"I have lived here for the last 44 years. We've never experienced a typhoon. In the past, we sometimes received notices that a typhoon was coming. But when they came, they never affected this area before. We have seen the worst effects of the typhoon only on television. I never thought this would happen to us."
More than three hundred families in the village, about half of the population here, are living under makeshift shelters: plastic sheets, normally used to dry rice, reinforced by banana leaves, and propped up by bamboo sticks. They've moved onto higher ground, fearful that their homes could once again be flooded.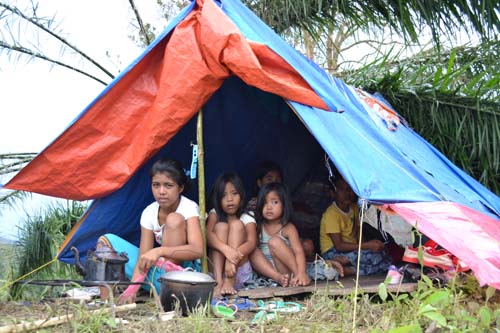 Families in makeshift shelters
Some are wading knee-deep into river waters to check on what remains of their devastated homes and if they can retrieve any belongings.
There's no electricity and water systems have been damaged. But their biggest concern is access to food and worries about how they will survive in the future. Some emergency food supplies have been brought in by road from Laak municipal headquarters, but it will only last a few days. Women told us they'd started foraging the mountainsides for root crops.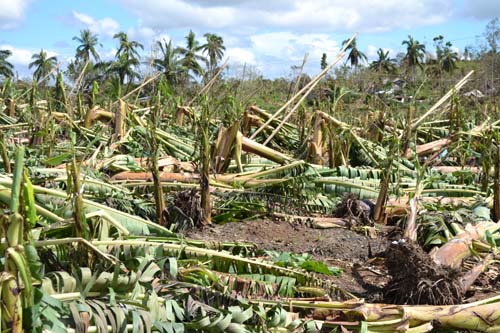 Damaged crops
The municipal center is less than 40 kilometres away, but it's a bone-grinding, bumpy ride along unpaved roads that takes more than two and a half hours to reach. A bridge connecting Kadiwa village was partially destroyed by the typhoon so an Oxfam technical assessment team -- the first international relief workers to arrive here -- had to make part of the journey on foot.
Families are still in a state of shock, crammed together in their tiny shelters. Some rebuilding work is going on; others are trying to reinforce their flimsy makeshift homes.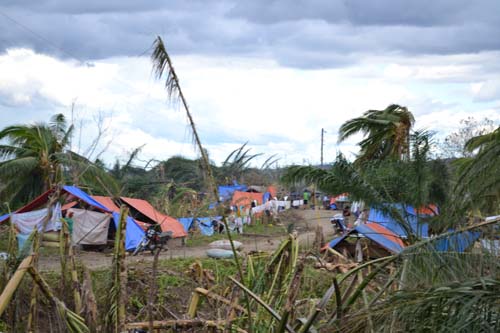 Plastic "tent city"
A big worry is not just how they're going to get through the next few days and weeks but how they can recover their livelihoods.

The area was the rice granary for the entire municipality and as much as 1,000 hectares of rice fields now totally destroyed, submerged by mud and flood waters. Banana, coconut, oil palm and rubber plantations have been wrecked.

"Food is our most important priority. We were only given enough to last 2 days and there's only enough left now for half a day," said worried mother-of-nine Fatima Espinosa.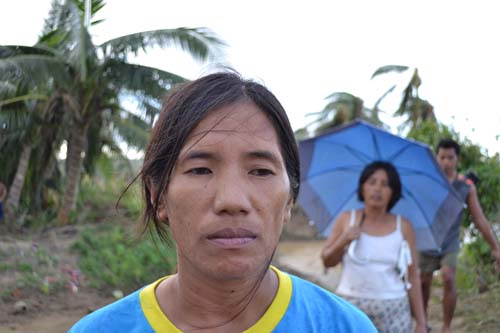 Fatima Espinosa
"Everything that we worked to build up has been destroyed. If the village captain hadn't gathered everyone together during the typhoon, we probably wouldn't be here right now. Our homes have almost all been destroyed or washed away, except for a very few."
Unlike last year's tropical storm, Washi, which is estimated to have killed at most 2,000 people, Typhoon Pablo hit mostly farming not urban areas and recovery will take far longer. Oxfam and its humanitarian partners in the Philippines are starting an emergency response in Laak as well as other severely affected areas in Compostela Valley and Davao Oriental provinces. It will be the biggest rural response to a natural disaster that they've mounted in the Philippines.
The mayor of Laak, Reynaldo B. Navarro, called the devastation the worst-ever crisis to hit the municipality and said it could take three to four months before families were able to produce any crops. His advice was for farmers to plant new crops, temporarily leave the area and to seek part-time employment elsewhere.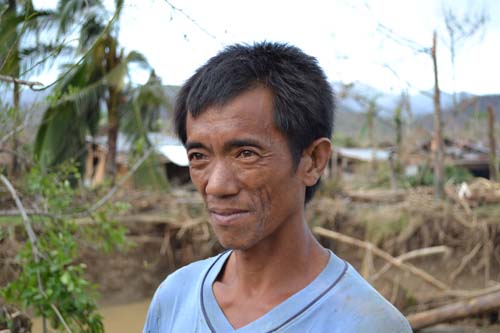 Farmer Richard Carado

"It will take two years to properly recover... it took that time for all my crops to grow," said farmer Richard Carado, looking forlornly at flooded fields in Kadiwa village. He grew coconuts and bananas on two hectares of land and is wondering how to support his family now. "It will take two years to get back to how things were."