In the end, the traumatic two-day journey as they fled for their lives proved too much for 90-year-old Solia Bah. She ran barefoot with 10 members of her family as armed men attacked the city of Bloléquin in western Ivory Coast in March. Their final destination was a site providing shelter for thousands of displaced families at the Catholic Church of St Nazareth in the town of Guiglo.
"My mother's feet were cut and infected and she got really sick", said her daughter, Taha Marguerite Doukpa, as she sat under the shade of a tree to tell me her story.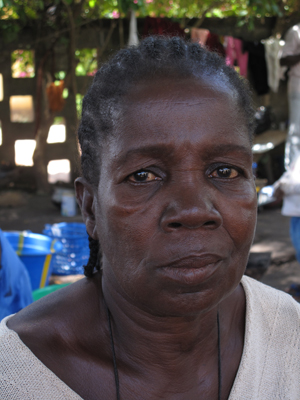 Taha Marguerite Doukpa
We had no money to buy food; and it was a long journey to get here. When we arrived here we still had no food or shelter. We don't have any mattresses. We have to sleep outside and it is cold at night. All of these problems brought about my mother's death. She fell sick and never properly recovered. She died two days ago.
Every week, sometimes every day, people are dying in the makeshift camps that have become temporary homes for thousands of people displaced by the political crisis, which for months engulfed this West African country. Difficult living conditions and the lack of access to food is hitting people hard and making them vulnerable to disease.
Aid agencies like Oxfam have started to provide basic services -- making sure people have access to clean water, toilets and can practice safe hygiene in the sites -- many of which are dangerously overcrowded. A key concern is to prevent the spread of disease and the outbreak of epidemics.
Up until now, there has only been a limited distribution of food aid. And that's had a big impact on many, weakened and traumatized by their journeys to safety.
The lack of food is one of the main worries people raise when they're asked about their top concerns. Some have resorted to begging.

Many families say that things are so bad that they're considering returning to their villages even though they're not at all convinced it's safe for them to return.
Insecurity and killings are still reported in many pockets of western Ivory Coast, where some of the worst violence occurred over the last few months.
In some villages and districts, people have started to return home. But other areas -- including the region towards Bloléquin and beyond -- are still highly unstable and dangerous. They're still considered too insecure for UN and aid agencies to start to become operational.
But amid the misery and uncertainty, there is also some hope in the camps. 26-year-old Marlene Tointe was lying limply on a mat on the floor of a church building in Guiglo when I met her. Less than half an hour before I arrived, she had given birth to a baby boy -- her third child.
She doesn't know where her husband is and if he's alive. Only that he had gone to Abidjan weeks earlier to look for work.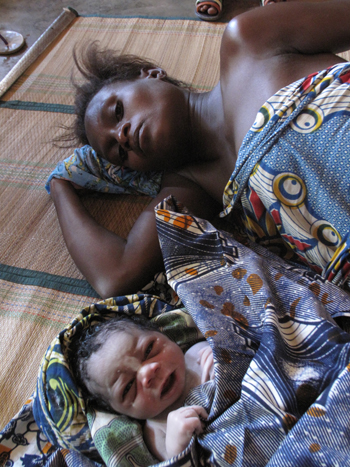 Marlene Tointe and her newborn son
Marlene fled the town of Toulepleu when violence broke out -- and, heavily pregnant, spent two weeks walking before she felt safe enough to stop.
She says she's exhausted and hungry; and has no breast milk to feed her son. Even so, she says, she looks to the future with some hope. "He has given me hope; my son makes me think things can be better."
And then she asks me to name her new son, still pale and wrinkled, swaddled in a cotton wrap on the floor next to her.
I choose the name "happiness." It is translated as "Mlan" in the local language. Marlene smiles and moves her son closer to her. Life for now is harsh and uncertain. But at least she can hope and imagine a better future.
Oxfam has launched a £10 million appeal for the Ivory Coast crisis, which has forced more than one million people from their homes.
To donate to Oxfam's appeal in the UK, phone 0300 200 1999, go to www.oxfam.org.uk/ivorycoast or text "DONATE" to 70066 to give £5*