Amid a bustling crowd, 12 year-old Akram sat quietly on top of some bags cradling and stroking a white cat. Around him, hundreds of Syrian refugees who'd escaped attacks by ISIL (Islamic State in Iraq and the Levant) on the Syrian border city of Kobane and surrounding areas were gathering their belongings, preparing to board buses at the Ibrahim Khalil border checkpoint.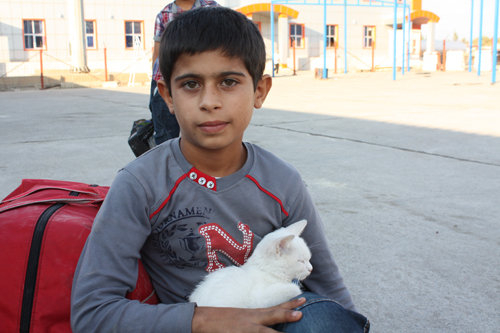 Akram and his cat
They'd fled their homes in northern Syria, crossing into Turkey before travelling onwards to Iraq's Northern Kurdistan Region (KR-I). The buses, arranged by the International Organization for Migration (IOM), will take them to refugee camps for Syrians inside the semi-autonomous region of Kurdistan.
Akram tended his cat-like it was a baby. His wide-eyed face appeared to take in the scene around him, but gave no clues that he was part of it. He appeared calm and self-contained.
Akram always loved animals and back home in Syria he cared for abandoned street animals brought to him by neighbours. Briefly, in Turkey, it was the same. He hadn't yet named his cat, but decided to bring her with him and his family of eight on the journey to Iraq.
But he wasn't speaking much. "Akram was always a very quiet boy back in Syria" said his father, Ali, "but since the war and all the fighting, he's got quieter and quieter. His younger brother jumps and gets scared when he hears anything. It's been difficult for the children".
Akram and his family are among more than 10 000 Syrians who have fled Kobane and other areas of northern Syria via Turkey and into Iraq's Northern Kurdistan region (KR-I) over the last few weeks, joining around 220 000 other Syrian families who have sought safety in Iraq over the last three years.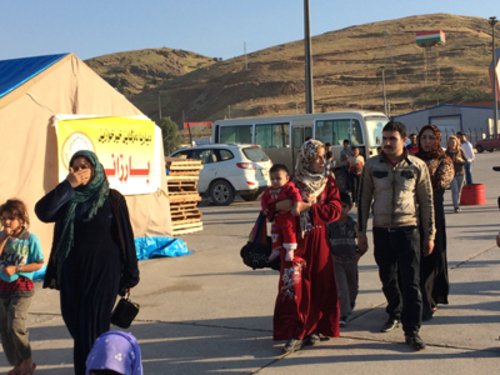 Syrian families from Kobane and neighbouring areas arrive at the border, northern Iraq
The new arrivals are placing a huge strain on the ability of aid agencies and the authorities to respond to the worsening humanitarian crisis in Iraq.
Local, regional and national authorities, as well as the humanitarian community in Iraq, are having to deal not only with the needs of Syrian refugees, but also those of internally displaced Iraqis. Since the beginning of this year, 1.8 million people in Iraq have had to leave their homes due to ongoing conflict between armed opposition groups, including ISIL, Kurdish peshmerga forces and Iraqi security forces.
Thousands of families are on the move inside Iraq, seeking safety. The struggle to find safer areas, shelter, basic services, food and work is getting harder every day.
Kawergosk refugee camp for Syrian refugees in Erbil governorate is already full to capacity. It was built for 10 000 residents but currently houses more than 13 000, due to the recent arrivals of two new groups of refugees from Kobane and other nearby areas this month.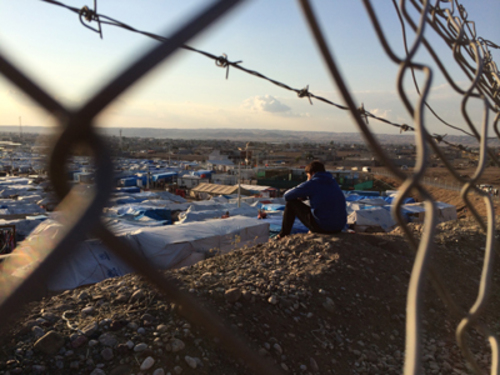 A man looks towards Kawergosk refugee camp
The new families are temporarily housed in UN offices while new tents are prepared for them.
"It's exceeding our capacity to help these people... but it's an emergency so what can we do?" said camp administrator, Khawam Arf, from the Kurdistan Regional Government, appealing to international donors to do more to help.
Donors like the European Commission's Humanitarian Aid and Civil Protection Office (ECHO) -- one of the biggest donors in Iraq -- are increasing their support for the humanitarian aid effort. This month, ECHO announced an extra €3 million to help internally displaced Iraqis in the country -- on top of €17 million already announced for 2014 -- while €3.5 million has been allocated for programmes assisting Syrian refugees in Iraq this year.
While conditions may be difficult at overcrowded camps like Kawergosk, mother- of-six, Mayasa Mohammed Ali, whose 9-year old daughter, Sibal, was killed when a mortar hit their house on the outskirts of Kobane, is relieved to be there. "We feel safe now. I can sleep, I can see my children around me; I can eat", she said.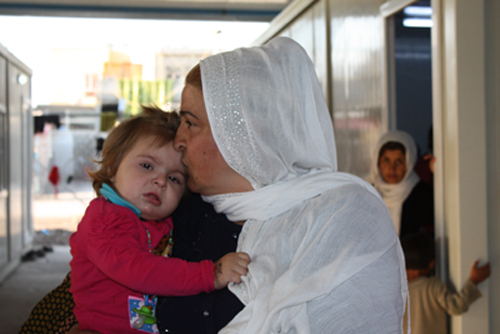 Mayasa and her one year old daughter, Yasmin
In Kurdistan, refugees are free to leave the camps any time and try to find work. Many end up in low-income neighbourhoods, struggling to earn enough money as day labourers to pay rent for the most basic of housing.
In Mamzawa neighbourhood, about half an hour's drive from Erbil city centre, father of 13, Mohammed Ali, a driver from Aleppo, is contemplating moving home within the next few weeks - even though both of his wives are heavily pregnant.
He pays around $150 in rent for a two room building with a leaky roof and broken windows but landlord wants to raise it to $250. He'll receive some cash vouchers from an ECHO partner, the Norwegian Refugee Council (NRC), to do basic improvements to his house and to buy other items that families can take with them if they move. Mohammed says he can't afford to remain there for much longer.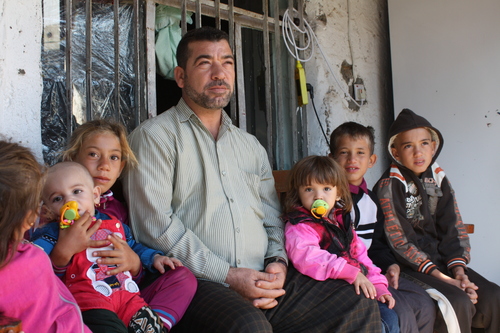 Mohammed and some of his children
"We've been trying to find another place before winter. We are looking at unfinished buildings because they are cheaper or free", he said. "We'll have blankets," he tells me when I ask whether his family will be able to endure the winter sub-zero temperatures. "It will be safe for us. It will be better than being on the street."
Finding adequate shelter before winter sets in is a key priority and a huge challenge for humanitarian agencies helping vulnerable families, many of whom are living in collective shelters like schools and unfinished buildings.
Many schools in Iraq delayed opening for the new academic year because thousands of displaced people sought emergency shelter in the buildings during the summer holidays. While many schools have now re-opened, the new school term in Dohuk governorate, in the Kurdistan Region of Iraq, which is hosting the greatest numbers of refugees and displaced families, will not start until December. Alternative shelter solutions will need to be found for families staying in the schools during that time.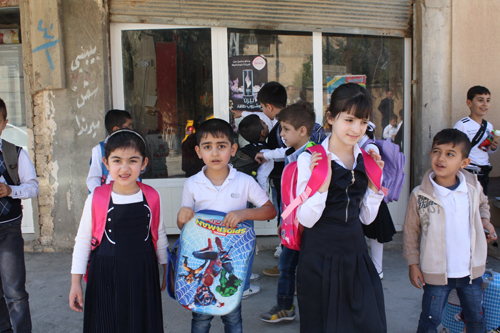 Schools have opened for some - but not all in Iraq
"This is a humanitarian crisis which has the potential to become a humanitarian disaster for people unless they receive assistance", said ECHO's head of office in Iraq, Javier Rio-Navarro. "Continued fighting is also impacting the humanitarian community's ability to access families unable to escape from conflict-affected areas of Iraq, especially the central belt.
"It's vital that all the parties to the conflict facilitate humanitarian agencies so they can reach areas where there are vulnerable populations desperately in need of help."
For more stories about how the EU is helping in Iraq visit http://ec.europa.eu/echo/en/blog