Oxfam has begun scaling up its operations in the Ivory Coast to respond to the humanitarian crisis sparked by months of political violence in the West African country. The agency has launched a £10 million emergency appeal for the Ivory Coast crisis which has forced more than one million people from their homes. Oxfam is already providing clean water and sanitation services to thousands of refugees who have fled into neighbouring Liberia. Now, it has started work in the Ivory Coast itself, where more than a million people have been displaced. For now, the agency is based out of the western city of Man, in Montagnes region. But Oxfam's West African humanitarian co-ordinator, Philippe Conraud, who has just visited one of the most conflict-affected zones, driving along what he has called the "road of death", says providing aid assistance still remains extremely difficult due to ongoing insecurity.

"The road from Guiglo, through Bloléquin and Toulepleu, near the border with Liberia, is where some of the heaviest fighting took place in the Ivory Coast several weeks ago. Tens of thousands of civilians were displaced by the violence and harassment. Many thousands fled across into Grand Gedeh, in Liberia, where Oxfam has an emergency response. But others remain displaced in the Ivory Coast, living in the bush or in temporary sites along the road. I call it the road of death.
"Very few humanitarian actors have been there since the fighting took place. Some UN agencies have been there, travelling with UN peacekeeping convoys. But we wanted to make our own assessment trip, travelling without an armed escort, with the goal of stopping in some villages to talk to people there.
"It's not an area where we had been to before; so naturally, one of the biggest worries is the fear of the unknown: what we would see, what kind of people we might meet and what kind of behaviour they would have towards us. You never know what might happen and what kind of people you will meet.
"We travelled with some apprehension, but we made sure we had all the contact numbers of the official military commanders based in the region and met them as soon as we arrived .
"We passed through many checkpoints. A week before, we were told there were 17 checkpoints over a 60 kilometre stretch of road. We passed through 12 checkpoints this time, so the number had gone down a bit. The main road is controlled by the FRCI, the Republican Forces of Côte d'Ivoire, who report to the capital. But in cities like Bloléquin, its like the wild west. We saw many different military groups; and weapons everywhere. There were many young men with kalashnikovs on their backs; different armed "self-defence" groups and Liberian mercenaries, who had been fighting on both sides during the conflict.
"We definitely felt uneasy. It was not a place where I would feel happy staying overnight. But we were foreigners, travelling in the daytime in a vehicle with Oxfam stickers and a flag which offered us some kind of protection. As a civilian, I imagine it would be very, very hard.
"We were all a bit shocked, and stunned by what we saw...even though as aid workers, we have experienced different conflicts in different countries.
"We passed through many villages that were completely destroyed. They were ghost villages, totally deserted, totally burnt down, with many corpses. Nobody had returned there. They were empty.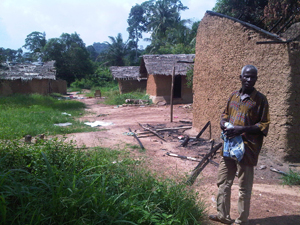 "But there were some surprises for us too. One thing that surprised us was that there were more civilians than we would expect in some villages on the road. It was amazing to discover people had returned to villages that were totally burnt to the ground and where bodies remained on the street.
"It was difficult to understand why they were returning. Some people said they felt safe and had returned..but that doesn't seem to be the whole answer to me. And, although there are many tribal and ethnic reasons, it wasn't totally clear to me why one specific village was burnt down yet another was almost untouched.
"In the months to come, there will be a huge need for rehabilitation and reconstruction...both of people's houses and the wells - their main sources of water. They haven't been used now for weeks and will need to be properly cleaned before they can be used again. Another issue is that some bodies were thrown into some the wells and psychologically, people won't want to use them again.
"Villages were completely looted. The houses that remain have no windows, doors, or roofs. Many people move around with weapons and those who have returned to the villages are the men - there are no women; a clear sign that they don't feel its safe to return.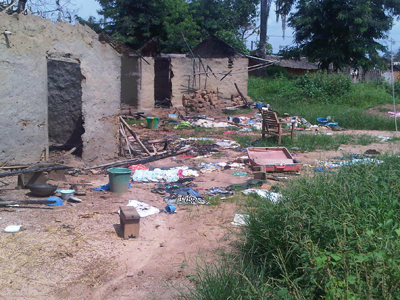 "Oxfam plans to work here. Our strategy is to help people eventually return to their homes there. And people will need a lot of help with recovery and rebuilding. They need help so they can start earning a living again.
"But we cannot work there for now...its too insecure. It's not going to happen tomorrow, next week or even next month. But within the next few months, we have to be there. This is our humanitarian mandate.
"We are working with people in Liberia, and with internally displaced people in the Ivory Coast, in areas like Duekoué, who will need to move back to their homes when they have more confidence that its safe to return. And we will go back with them to help them rebuild.

"The political crisis maybe over, but for the people there, no... The crisis is not over. Villages are still empty, there are still thousands and thousands of people displaced living in areas that are not appropriate places to live: either in camps or with host families; and they will have to stay there for a while; getting back to these specific villages where we visited will take a long time to recover, that's for sure.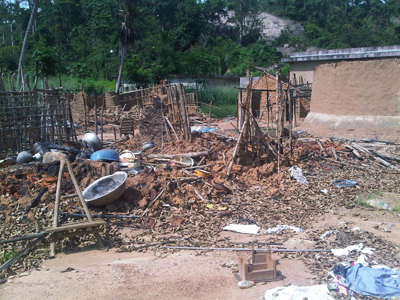 "Firstly, it will take quite a long time for people to agree to go back there, to feel that it's safe enough to go back there. Secondly, they will need to recover their lives and the activities they used to have there. And that could take years.
"I'm an optimistic guy anyway; I believe in life, I believe in hope, I believe in the future but its not going to be easy at all. There are still a lot of weapons everywhere and a lot of people who depend on their weapons to survive. As long as those people are not disarmed, people will remain scared, will be harassed and will not be able to live a normal life. "
To donate to Oxfam's appeal, (UK only phone 0300 200 1999), go to www.oxfam.org.uk/ivorycoast or text "DONATE" to 70066 to give £5*