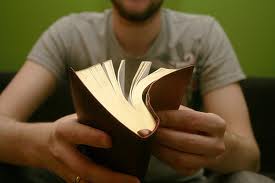 I was struck by the directness of the message from the holy man: "To have a meaningful spiritual life, you must read Scripture."
That was the simple, straightforward advice I received from John-Julian, Episcopal monk and founder of the Order of Julian, at an afternoon spiritual retreat I attended several years ago. (Yes, some monks and nuns are Episcopalian. Not all are Catholic).
"Sacred texts are very much alive, they are continually new," John-Julian explained. "When you read a passage of scripture, even if you've read the passage countless times, notice there will be something there you've not noticed before, and often it will relate directly to your life today."
The Bible and other sacred texts can, of course, be read for historical or literary knowledge and instruction, he said, but they also can be read in a way that transforms our inner, spiritual lives. They can be read allegorically.
Some believe the traditional way of interpreting scripture is to read its texts literally, as "the inerrant word" of the Divine, when, in fact, this method of interpretation is not traditional. By contrast, the practice of reading any sacred text in a spiritual sense -- allegorically -- has been an accepted and even encouraged formative discipline in most wisdom traditions for thousands of years.
When we allegorize scriptural texts, we allow the texts to become dynamic. Concrete details can then become more abstract -- metaphors for a different time -- and may often pertain directly to our own experience.
We engage in allegory, for example, when we imagine our personal connection to the story of the Jews' exodus from Egypt into the Promised Land, contemplating ways that perhaps we, ourselves, have been freed from "bondage" in our lives.
Or when we hear the story of Abraham and Sarah being called to leave their homeland and venture into the unknown, and we imagine them as the souls of anyone who listens to the still, quiet voice within, and takes the courageous step toward something new and unfamiliar.
The Rev. Marek Zabriskie, rector of St. Thomas Church in Ft. Washington, Penn., recently initiated The Bible Challenge, a challenge to read the Bible in one year's time. In 2012, he edited a book by the same name, making it easy to follow which passages to read each day, one through 365.
Readings on most days require only about 15 minutes to a half an hour of time, which covers three chapters of Hebrew scripture, one psalm and one chapter of Christian scripture each day. Thousands of individuals, in 27 countries worldwide, are taking up The Bible Challenge.
Whether we read scripture every day, or ponder spiritual writing occasionally, we would be wise to honor the advice of Marek Zabriskie when we read scripture:
"See what happens when you read passages of scripture slowly, meditatively, as you would a poem or a prayer, allowing them to be active and dynamic in you. Remember, as you're praying the sacred texts of Scripture, those sacred texts may also be praying you."