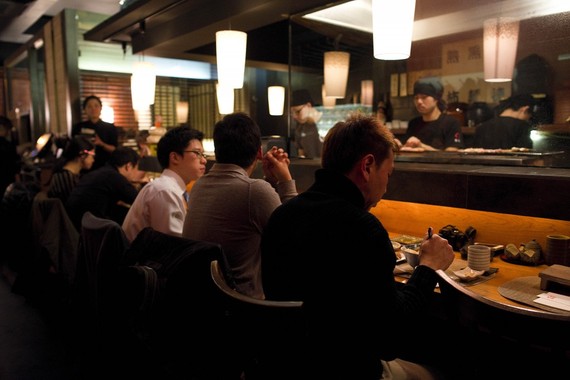 Photo: Planmb
Here is a list of exceptionally good Japanese restaurants offering specialties other than the beloved sushi and ramen- Itadakimasu!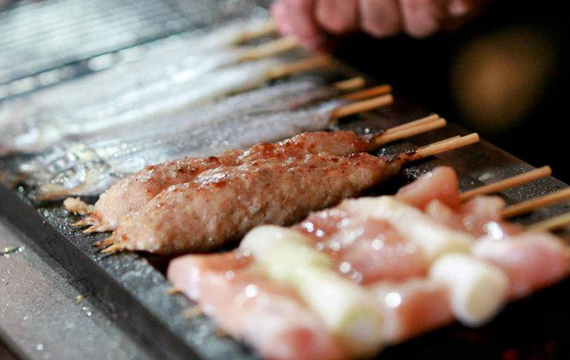 Photo: campaign.etdguide.com
Best for: grilled skewered chicken, chicken innards and gizzards, best to share with a group of people.
Located in Midtown, Yakitori Totto is a laid back izakaya style bar that focuses on chicken parts grilled and served on skewers. Here you can scarf down chicken hearts, soft bones and other innards, sprinkled with salt or dipped in tare sauce. Come here to satisfy your chicken craving. This place also offers plenty of other side dishes, including a spectacular homemade tofu that puts the store bought blocks to shame. $$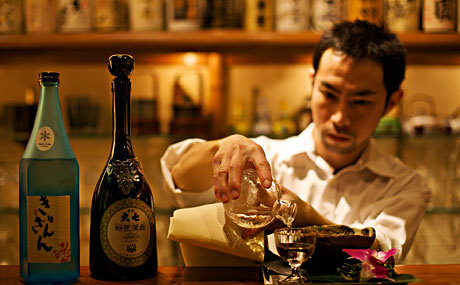 Photo: nycgo
Best for: Laid back atmosphere, extensive selection of sakes, beers and snacks.
Located in the basement of a building at the corner of 3rd avenue and 43rd street, this Japanese izakaya offers a selection of more than 200 sakes to choose from and to pair with their tapas style dishes. Here you will find anything from classic izakaya fare like daikon salad, fried kara age chicken, rice balls and agedashi tofu, to original dishes like jaja dango (mashed potatoes coated in sweet donut batter and deep fried) and chilled roasted duck wrapped with scallions and served with a basil vinaigrette. $$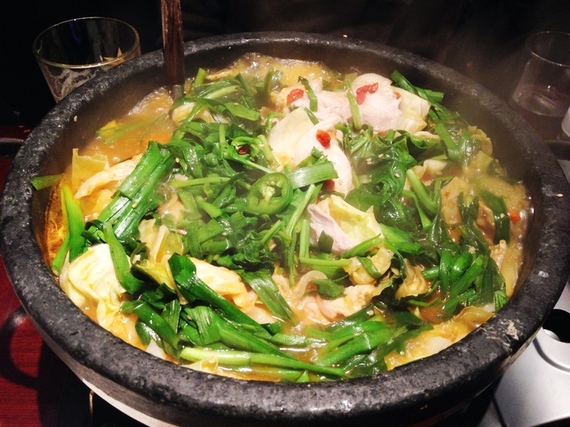 Photo: Fattykat.com
Best for: Hot pot with tonkotsu broth. Fun place to share food with friends.
Hot pot made with pig foot broth anyone? This is a unique experience in Southern Japanese dining where the famous tonkotsu ramen hails from. Pig offal, snout and feet are at the core of the menu at Hakata Tonton: collagen soup gyoza, sautéed pork tongue, grilled pork belly, pork pate and many more pork based dishes occupy the menu and aren't for the faint-hearted. But you can also get plenty of other delicious dishes such as monkfish liver, grilled mentaiko (spicy salted pollock roe), snow crab cream croquettes and crispy dumplings. $$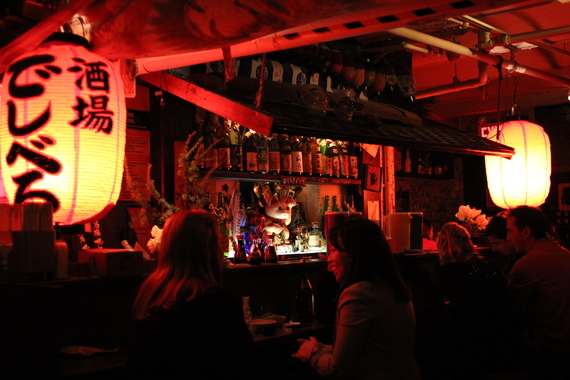 Photo: kampai.us
Best for: Late night, laid back atmosphere, great sake selection.
Primarily a sake bar, Decibel feels like you could be boozing it up somewhere in a dingy, low lit bar in Tokyo. Sake is poured until the cup is so full it overflows into a box sitting underneath. The food menu is small but solid; classics like okonomiyaki, kurobuta sausage and katsuo no tataki (lightly seared bonito) are some of the options to snack on. This is the perfect late night joint to chill out in if you feel like getting away from the bright lights and touristy crowds. $$

5. Brushstroke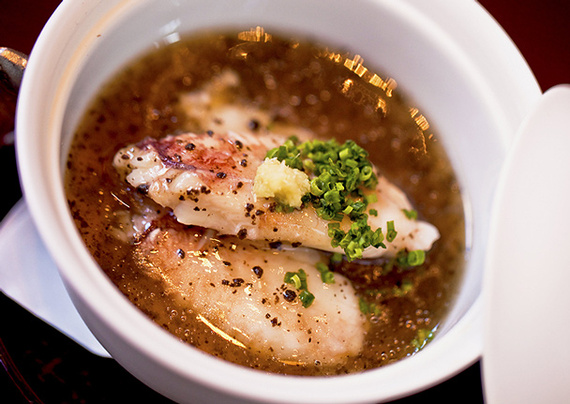 Photo: Gourmet.com
Best for: Upscale, kaiseki dining (vegetarian options available) with a delicate touch, romantic dinner.
David Bouley hit a home run with this upscale Japanese restaurant. You can choose between a vegetarian or non vegetarian seasonal kaiseki menu, or go a la carte. We sat at the bar and got to watch the chefs hard at work in the kitchen, putting complex dishes together one after the other. The food is exquisite and esthetically stunning. A simple chawan-mushi is elevated with lobster, chanterelle mushrooms and truffle ankake, while grilled octopus is topped with lobster flakes and a squid ink black sesame sauce. And just to keep things interesting, mirin ice cream and soy sauce ice cream are on the dessert menu. $$$$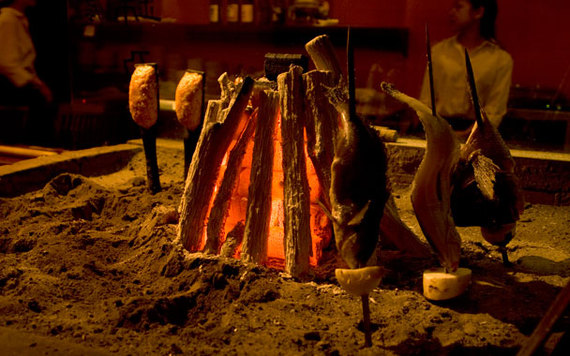 Photo: Gourmet.com
Best for: robata grilled food, private rooms, dinner with friends.
This is the upscale version of an izakaya with a focus on robata grilling. Most of the menu consists of meats, fish and vegetables roasted on stakes by a mound of charcoal. The menu is difficult to read if you are unfamiliar with Japanese food but the staff is friendly and excellent at explaining and recommending dishes.
$$$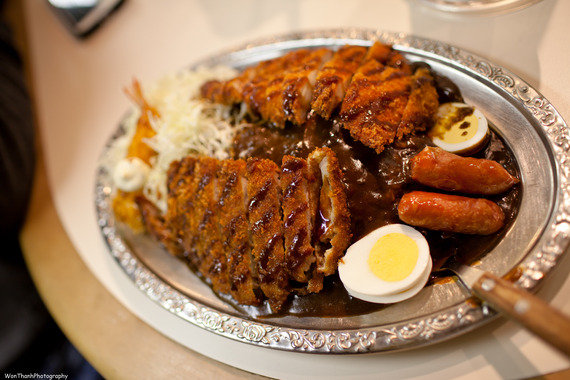 Photo: Won Thanh
Best for: Curries, insanely hungry people looking for something amazing and cheap.

Every family restaurant in Japan has curry on their menu. Named after Hideki Matsui's jersey number 55 ("Go" means "five" in Japanese), Go!Go! offers classic Japanese curry that will make any salary man cry with joy. Served with pork katsu (breaded pork), chicken katsu, sausage or shrimp, you can create your own flavor with extra toppings such as a boiled egg, natto, cheese and fukujinzuke (Japanese pickles).
$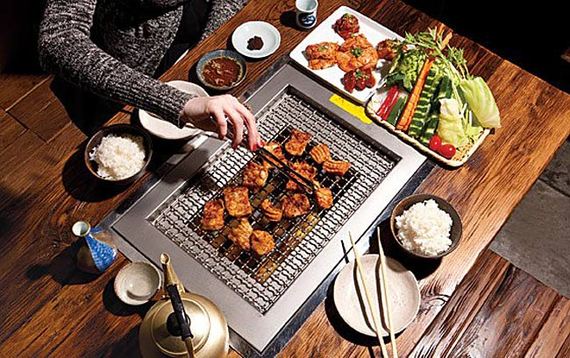 Photo: newyork.com
Best for: Yakiniku (Japanese/Korean barbecue), beef lovers, a meal to share with one person (or more).
Yakiniku is another extremely popular style of cooking in Japan. Plates of raw wagyu beef, short ribs, tongue and other beef cuts are on the menu and brought to the table where you get to play chef and cook it yourself on a tabletop electric grill. Takashi's signature soy based dipping sauce enhances the natural flavors of the high grade, sustainable meats he works with. Ordering two or three appetizers before the grilling begins is recommended.
$$$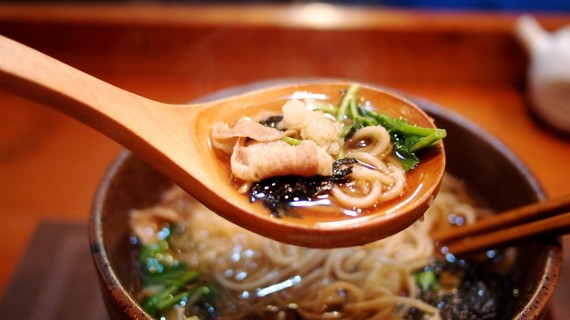 Photo: whatshieats
Best for: Soba noodles, lunch, vegetarian options.
There's nothing boring about a bowl of buckwheat noodles at Cocoron! The noodles are handmade, stretchy and tasty and served with a bonito based broth that packs plenty of flavor (vegetarian broth is also available). With over two dozen soba dishes on the menu, you can choose to have your noodles in soup, or served cold or warm with a dipping sauce on the side. Cocoron is also known for their exceptional homemade silky tofu and yuba (tofu skin).
$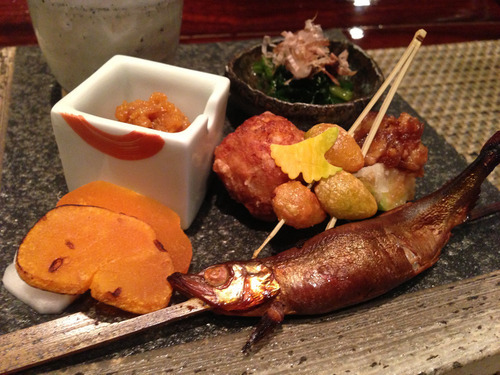 Photo: Eataku
Best for: Kaiseki dinner, upscale traditional Japanese dining, romantic dinner.
If getting three stars in the NY Times isn't enough to convince you that Kyo Ya reigns supreme in kaiseki dining in NYC, maybe the fact that they have no website or Open Table account and still manage to hold a two day wait list after being open for five years will. Focusing on traditional Kyoto style dishes, chef Sono's food is graceful and epic in flavor. Seasonal ingredients are used to create the menu so you can rest assured that whatever makes it to your plate is the best and freshest around. Kyo Ya is also known for its excellent selection of teas.
$$$$