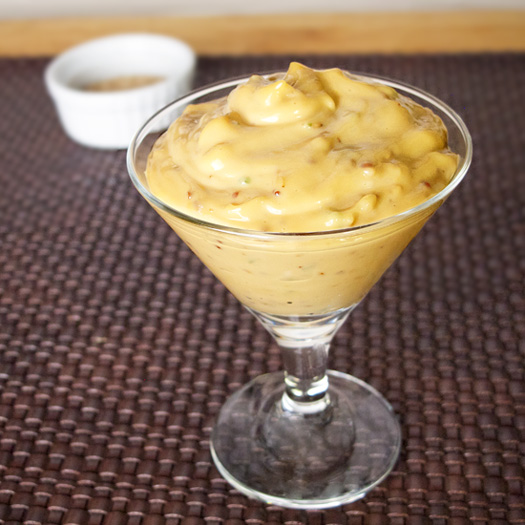 Taken from Jean-Georges Vongerichten and Mark Bittman's cookbook Simple to Spectacular, this Asian mayonnaise is creamy and savory, and pairs well with fish , vegetables or pickled tea eggs. It's very easy to make and will wow your guests for its uniqueness.
Ingredients:
1 egg yolk (from a large egg)
1 tsp grain mustard
1 tbsp peeled and finely grated ginger
1/4 roasted sesame oil
3/4 cup neutral oil, such as grapeseed or canola
1 tbsp soy sauce
1 tsp fresh lime juice
1 tsp minced chile (I used jalapeno)
1 tbps sesame seeds
Directions:
1. To make by hand, use a wire whisk to beat together the egg yolk, mustard and ginger in a bowl. Combine the oils. Begin to add the oil very slowly, a little at a time (otherwise it won't thicken) as you beat, adding more as each bit is incorporated. Once a thick emulsion forms -- you'll know it -- you can add the oil a little faster. Depending on how fast you beat, the whole process should take two to five minutes.
To make by machine, put the egg yolk, mustard and ginger in the container of a blender or food processor and turn on the machine. While it's running, add the oils in a very slow steady stream. Once an emulsion forms, you can add the oil a little faster. Transfer to a bowl.
2. Add the soy sauce, lime juice, chile and sesame seeds and stir.
For more Asian inspired recipes, visit pickledplum.net