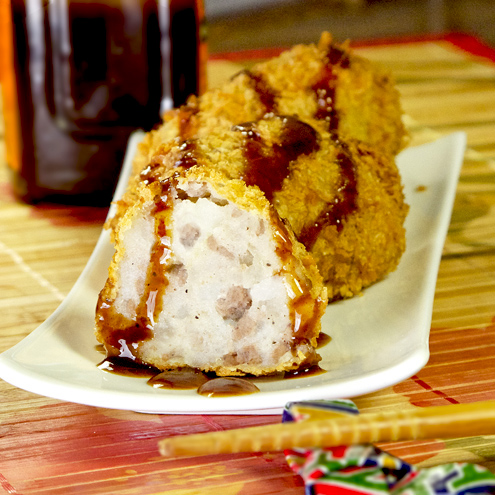 My husband calls them 'the Japanese version of shepherd's pie' and it's easy to see why as the croquettes are made of beef and mashed potatoes. Coated in panko and deep-fried, these fluffy balls are usually served with tonkatsu sauce and a side of shredded cabbage. Not only are they fun to make, they're also a crowd pleaser for children and adults! This is an easy recipe your family will ask for again and again.
Ingredients:
- 2 large potatoes (about 1 1/2 lbs), peeled and roughly chopped
- 300 grams (a little less than 2/3 lb) ground beef (I use ground chuck)
- 1 medium size onion, finely chopped
- 1 garlic clove, finely chopped
- 2 tbsp butter
- Vegetable oil, or other neutral oil for frying
- 1 large egg
- panko breadcrumbs
- all-purpose flour
- Tonkatsu Sauce
- Shredded cabbage
Directions:
Bring a medium-size pot of water to boil. Add potatoes and boil until they are cooked through.
Drain and put them into a mixing bowl. Mash the potatoes and set aside.
In a large pan on high heat, melt the butter then add onions and garlic. Cook for about 2-3
minutes, add ground beef and cook until beef is fully cooked. Add the beef mixture to the
potatoes and mix well. Season well with salt and pepper.
You can now begin to heat up the oil to 340F (cooking thermometers are easy to find and
very useful).
Meanwhile shape the mixture into balls; mine are usually about the size of my palm. Dust
them in flour, dip in egg and coat with panko breadcrumbs.
Fry until golden brown and crispy (be careful not to overcrowd the pot as this will decrease
the oil temperature).
Serve with tonkatsu sauce and shredded cabbage.