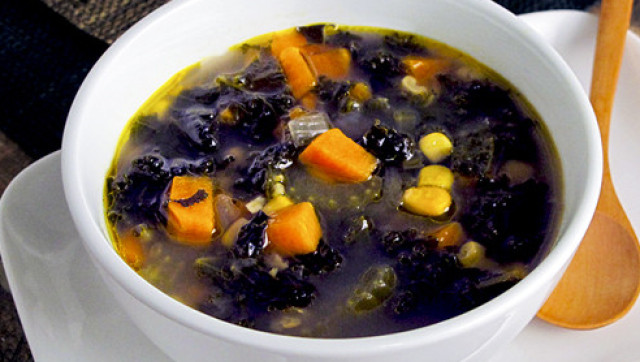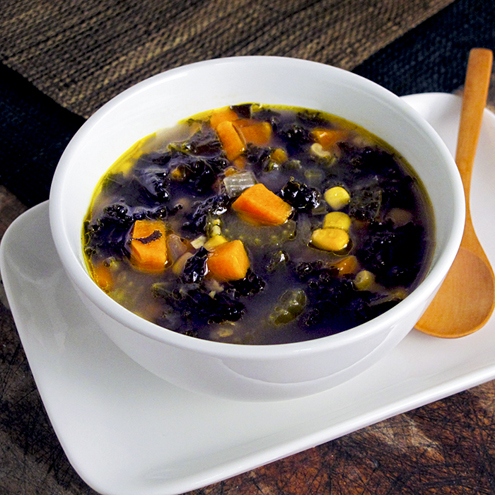 Packed with vitamins and nutrients, this easy kale and sweet potato soup makes a great late night snack or healthy lunch.
Kale And Sweet Potato Soup
(Serves 4 people)
Ingredients
3 celery stalks, chopped
1 bunch kale, ribs cut out, leaves chopped
1 can (15.25 oz) corn kernels, rinsed
1 small onion, chopped
1 large sweet potato (yam), peeled and diced
2 tbsp extra virgin olive oil
2 32 oz (2lb) boxes low sodium chicken broth, or 8 cups chicken broth (you can also use vegetable stock if you're vegetarian)
2 garlic cloves, chopped (optional if you don't like garlic, omit)
1 small thumb size ginger, minced (optional again, I only add it to make it healthier)
Cooking Directions
In a large pot over high heat, add your olive oil, onions, garlic and ginger. Cook for a couple of minute until the onions are see through (add a little salt to soften the onions). Slowly add the kale, one handful at a time and stir. When the kale has wilted, add the sweet potatoes and stir. Add celery and corn, stir and add chicken broth. Bring to a boil and cook for about 30 minutes.
Season with salt and pepper.
For more easy, healthy recipes, visit www.pickledplum.net