Colorful and easy to make, this dish has heat, smokiness and is hearty without being too heavy.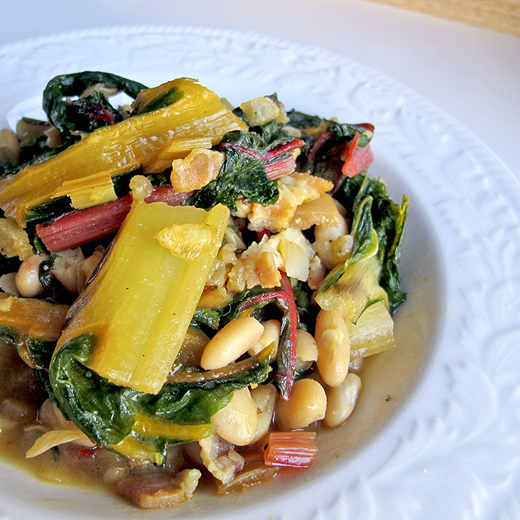 Ingredients
1 bunch rainbow chard (or regular), stems cut into bite size & leaves kept separate and roughly chopped
3 bacon, cut into small strips
1/2 tsp red chili pepper flakes
1 small can white beans (navy or other small/medium sized beans), drained
1/2 tsp powdered chicken stock (+1/3 cup water) stock 1/3 chicken stock
1/3 cup water
salt and pepper to taste
Cooking Directions
In a pan over medium heat, add oil and chili pepper flakes, and cook for a minute. Add bacon strips and cook for three minutes. Add the chard stems and cook for five minutes, until they are beginning to soften.
Add the chard leaves, broth and beans, and cook for about seven minutes.
Season with salt and pepper and serve immediately.
Visit www.pickledplum.com for more recipes.