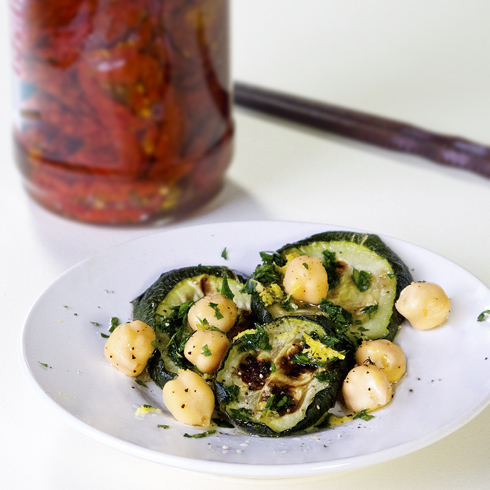 The juice and zest from the lemon makes this dish sweet and tart, while the caramelized zucchini adds smokiness. Quick and simple to make this little salad pairs well with almost anything!
(serves 2 -3)
Ingredients:
- 2 medium size zucchinis, cut 1/2 inch thick slices
- 1 small can chickpeas (297 grams/ 10.5 oz), or about a cup, drained
- 2 tbsp extra virgin olive oil
- zest of 1 lemon
- juice of 1/2 lemon
- Salt and fresh pepper to taste
Directions:
Pre-heat oven to 425 degrees. Meanwhile prep all your ingredients. In a sheet tray, lay some
parchment paper and put the zucchini slices on top, spacing them apart evenly (it's best if no
slices are touching otherwise they may stick together). Put in the oven for about 10 minutes,
until the bottom is caramelized. Turn each slice over and cook for another 10 minutes or so.
Take the tray out of the oven and let cool.
When the zucchini is room temperature, add all the ingredients in a bowl and mix well.
Season with salt and pepper and serve.