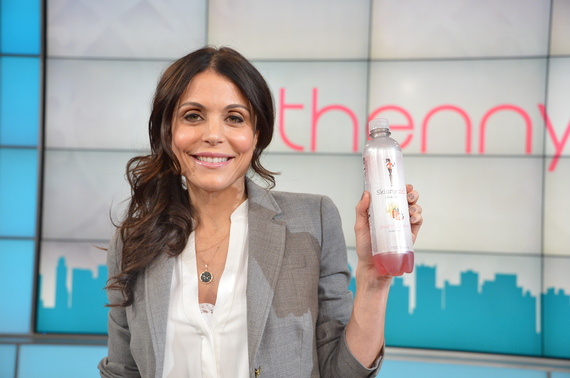 Photo Credit - Warner Bros./Telepictures "bethenny" Michael Coppola.
There's something about Bethenny Frankel that's raw and real. It makes her a compelling personality to watch in a juicy open-book way. Her authentic-self exposed makes you want to turn the page to learn more.
With several reality TV shows under her belt, best-selling books, a new syndicated talk show, and a beverage empire that has turned into liquid gold, Bethenny epitomizes the postmodern mogul.
But it's her openness about her life's journey -- the struggles and the success -- that help her connect with a growing and loyal fan base of millions of women.
In an intense, no-holds-barred interview, I asked Bethenny about her talk show and businesses, and then as you hope with Bethenny, it got personal.
On Bethenny the Talk Show
In the beginning of the season, syndicated talk show, Bethenny got slammed in the media for low ratings. Now the tide is shifting. The show has beat out The Queen Latifah Show for the first time and seen a bump in the ratings.
Bethenny said: "People are finding the show, they're liking it, and they're staying...the show is hitting it's stride now, and like anything else, you can feel it. It's an energy with the audience, the staff, the crew -- it's a great feeling."
Was the rating's bump because of more controversy with guests like Omarosa and Farrah Abraham? According to Bethenny, no, they haven't had a game change. But, Bethenny isn't afraid of owning controversy. She's interested in human behavior and likes celebs on her show who, "come to play" by revealing a different side of themselves.
It is Bethenny's mission to have a forum where women feel free to have open conversation. She said the show is "what women talk about when they are out, talking about men, their marriages, their business struggles, their struggles to try to balance it all."
On Being a Fighter
Bethenny is fighting for her talk show just like she fought for all she has achieved in her life. Picture a glam chick version of Rocky -- an underdog who you're likely to find yourself rooting for. She emphasized, "Nothing for me has ever come easy. I fight for what I believe in. It's always a nail-biter with me."
Does she get hurt or deterred by criticism? It's a definitive no. She's all about powering through. "When you're in the middle of a marathon, it's not the time to take a nap," she said.
On Sparkle
Bethenny is excited about her new partnership with AriZona Beverages and the launching of Skinnygirl Sparklers, a line of non-alcoholic sparkling waters mixed with real fruit juice. This comes after the success of the Skinnygirl low calorie cocktails line. "It's fun when your ideas come to life," she said.
Where do the multimillion-dollar ideas come from? Bethenny said, "Every minute of the day is a brainstorming meeting." Also, some of it's about timing. For her, it's important to, "save ideas for the right moment and partner."
On Dating
With the demands on her time and in the midst of a difficult divorce from Jason Hoppy, I asked if she was in a place where she could think about dating. "I can think about it. I can't really execute it." But she added, "I'm not saying no to meeting people, I'm open to dipping my toe in."
Talking with her it's clear that her relationship wounds are still healing. Bethenny said, "I've had a negative relationship experience that has made me very gun-shy about men." She added that she has a "low ability to trust" right now.
When she meets someone, Bethenny said it takes her about 20 minutes to size them up, but then laughed as she said, "I'm often wrong and never in doubt."
Bethenny doesn't quite know where she fits in the dating world yet. Her mindset in her 20's and 30's was more goal oriented: Go out and meet someone. Now there's no goal.
On Reality TV
After doing reality shows including Bravo's The Real Housewives of New York, Bethenny Getting Married, and Bethenny Ever After, Bethenny says she has no plans for another reality show in the future.
In response to which is harder to do, reality TV or a talk show, with 10 being an off-the-chart challenge, Bethenny said doing a reality show is a three and the talk show is a nine or 10. A talk show is "moving water that you're navigating," she explained.
On Motherhood
As Bethenny talked about the joy from the connection she has with her 3-year-old daughter, Bryn, it was an emotional moment and she teared up. "Of all the things I have noise about, I don't have noise about the kind of mother I am... I could not love a human being more...she's what true love is."
Bethenny would like to have another child, but because of life circumstances doesn't feel that's going to be possible.
"(Being a mom) is the most important thing to me in the entire world, so much so that it makes me think that I would like to have another child. (But) I don't think that is even possible because of my not being in relationships, because of my personal complicated situation. So I put everything into my daughter. This is the one chance that I have at parenting and I make the most of it."
What lessons has Bethenny learned from her talk show experience that Bryn can take away as she grows up? Bethenny's hopes for her daughter are that she will "Be true to herself, be confident, be what she loves -- I shoot for the sky and I want her to do the same thing."