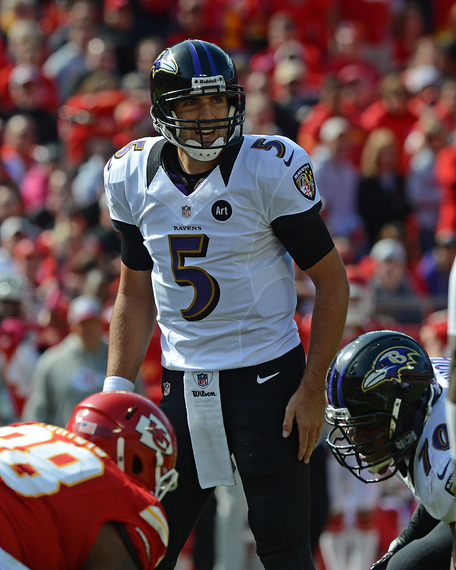 Joe Flacco Photo Courtesy of Baltimore Ravens/Phil Hoffmann
In celebration of Father's Day, I interviewed several members of the Baltimore Ravens about parenting and what being a dad means to them. I asked about the life lessons inherent in football, the best parenting advice they have received, as well as the joys and anxieties that go along with fatherhood.
I had a Q & A with the following players:
Joe Flacco (Quarterback) is the Baltimore Ravens' all-time leading passer and the Super Bowl 47 MVP. Flacco won the Super Bowl in his fifth season in the league, leading to him signing a contract that made him the highest-paid player in the NFL at that time. Flacco has two sons: 2-year-old Stephen and 9-month-old Daniel.
Dennis Pitta (Tight End) is in his fourth season in the NFL and was a member of the Super Bowl Champion team in 2012. He was an All-American at Brigham Young University. Pitta's son Decker is 14-months-old.
Steve Smith, Sr. (Wide Receiver) is a veteran NFL player who signed this year with the Ravens after playing for the Carolina Panthers. He played on the Super Bowl Champion team in 2003 and holds multiple Panthers' team records. Smith, Sr. has two sons, one daughter, and one son on the way who is expected in a few weeks.
Torrey Smith (Wide Receiver) is one of the stars as the starting wide receiver known for his speed and was a member of the Super Bowl Champion team in 2012. Smith's son Torrey Jeremiah (T. J.) is two months old.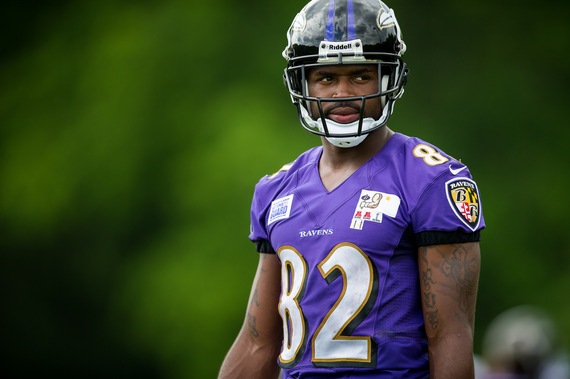 Torrey Smith Photo Courtesy Baltimore Ravens/Phil Hoffmann
What lesson(s) have you learned from football that you want to teach your kids?
Flacco: "There are a lot of things that you can learn from football -- discipline, hard work. There are so many things that translate from football over to real life, a lot of great lessons, but those are the two that stand out."
Pitta: "I think it's the work ethic. Football is not a sport that you can just get by with... You have to be mentally and physically tough to play it."
Smith, Sr.: "Hard work, playing the game with integrity, being honest and also, at times, playing for something greater than yourself."
Torrey Smith: "You're going to have good plays, you're going to have bad plays, and you have to get back up and keep on fighting... I have a son, so I'm going to be tough on him. He has to learn how to handle success and also handle failure."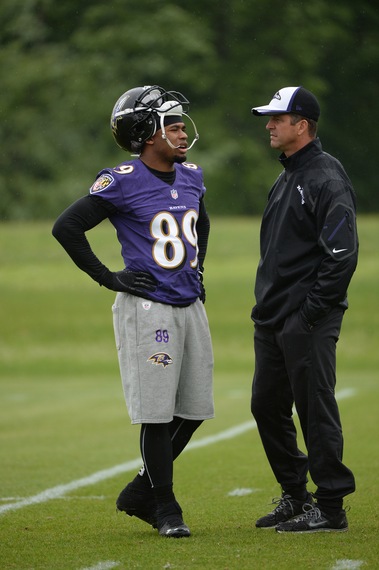 Steve Smith, Sr. and Coach John Harbaugh
Photo Courtesy of Baltimore Ravens/Phil Hoffmann
What is the best parenting advice you have received?
Pitta: "My parents always taught me to work hard and be humble, and that's something that I'll try to instill in my son when he gets a little bit older."
Smith, Sr.: "My folks said to just remember all the days that I gave them headaches. Having children of your own is payback!"
Torrey Smith: "I've received a lot of advice, but the best advice has been learning from my own experiences... I was raised by my mother, so just understanding what it took to be a man -- the sacrifices you had to make, the decisions that you had to make."
What do you worry about as a father?
Flacco: "There are a lot of times when you look at your parents and say, 'Why are you so worried about this? It's only this.' But when you become a parent, you quickly realize why they were so worried about it... There's not too much right now, but I can already foresee a couple things in the future that I'm probably going to be worried about."
Pitta: "There are all kinds of worries. You worry about everything. You first worry about if they're healthy. You want them to be healthy and you want them to be able to grow up and live a full life. That's your first worry, but you also worry about them being able to learn and being able to make good decisions for themselves. You have to teach them and let them make decisions for themselves, and hopefully you taught them well enough that they make some good ones."
Smith, Sr.: "My biggest worries are, will they grow up and make smart decisions? And will they choose the right spouse, especially my daughter? Of course, my hope is they will make the right decisions."
Torrey Smith: "I don't really worry about anything. I just remember that I'm still being parented. You learn something from your parents all the time. I don't really fear anything. I'm confident that I can do a great job at raising him because I know what's important. I know that I want to be the best 'me' that I can be so he can trust what I say and believe what I say. That's important to me. My son looks like me. When you look at someone you're 100 percent responsible for, you can't pass them off to anyone. I brought another man into this world and I have to help him be the man that -- twice the man that -- I feel I am. I look forward to that challenge."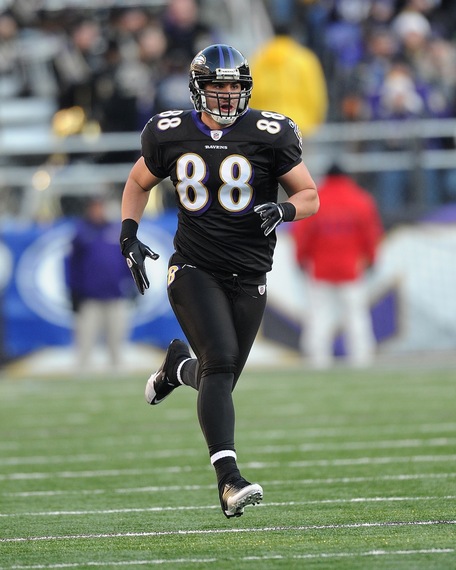 Dennis Pitta Photo Courtesy of Baltimore Ravens/Phil Hoffmann
What are your biggest joys as a father?
Flacco: "Every day just getting to wake up and see those guys and see how much they grow and how eager and ready they are to just attack every day and have so much fun. Every day is a new day and they're always smiling and running up to you. It's pretty cool to have somebody look up at you and realize that everything they have going on you're responsible for."
Pitta: "It's unbelievable. It's so fun. It's such a blessing to be a father. You never realize how much you can really love somebody like that until you have a child of your own. It's a blast. I love it."
Smith, Sr.: "There is nothing more encouraging than having your jersey come in that onesie or seeing your kids with that jersey on. Seeing my boys wear it is great, but seeing my daughter with that jersey is pretty cool."