With the surge of wearables and new fitness apps, we've seen a new abundance of tracking tools and mechanisms. It's becoming seemingly easier to know how many steps we take and calories we burn, however, calorie intake still seems to be a challenge. How do you know exactly how many calories sirloin steak and mashed potatoes has? Or the nutritional value and breakdown of carbs and fats of your Sunday brunch? Anthony Ortiz, the CEO and founder of Fitly, may have the answer with SmartPlate.
"SmartPlate is the most intelligent plate on the planet," Ortiz says. "Using digital cameras and weight sensors, it instantly tracks and analyzes everything a consumer eats with up to 99.7 percent accuracy."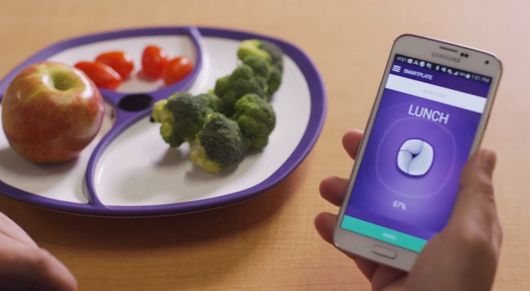 So how does SmartPlate track all of this? "Our "secret sauce" is our food recognition technology. Given the absence of food recognition coupled with load sensory technology on the market, SmartPlate's proprietary algorithms recognize single and prepared foods in less than a second. Current solutions require tedious manual data entry which is highly inaccurate, time-consuming, and frustrating. ." Ortiz explains.
Going even beyond just counting calories, SmartPlate will even let you know if you are short of any carbs, proteins or fats for the day. There is an accompanying app where users will essentially receive a customized plan of required "macros," the SmartPlate, serving as the mechanism to hold you accountable.
After speaking with Ortiz, I could sense his immense passion for creating this product and bringing it to the masses. As someone who lost his father at a young age due to heart disease and an entrepreneur at heart, it was only natural for him to start a company focused on health.
Since launching SmartPlate on Kickstarter, the company has partnered with the American Heart Association to raise awareness on nutrition and healthy eating. SmartPlate will be donating 1 percent of their revenues to the cause, "our hope is more people will learn how to use accountability tools like SmartPlate," Ortiz recently explained.
To find out more about SmartPlate and Ortiz's efforts go to getsmartplate.com