In a world where it seems as though virtually everyone has a smartphones (sometimes several), it is all too common to walk into a Starbucks to see at least three different people looking for an outlet to charge their phones. A solution to this problem? External chargers. Nowadays they come in all shapes and sizes, coming in handy when you are on the go and don't have time to sit down and charge. However, none on the market allow you to actually wear your charger...until now. QDesigns,a startup co-founded by James Kernan and Alessandro Libani, is looking to make charging phones sexy and fashionable through newly launched QBracelet.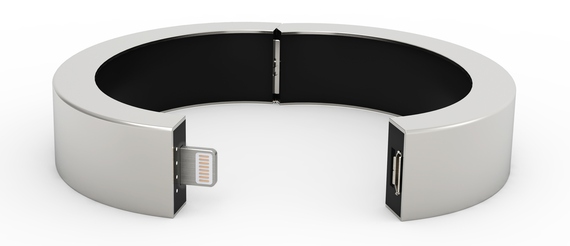 In a recent interview, I get the scoop on the bracelet that might make all of our lives a lot easier:

1) What is QDesigns?
Kernan: QDesigns is a consumer technology company that creates beautiful, technology-centric products that make every day just a little bit simpler. Our team blends style and technology to build real world products that are elegant, effortless and extraordinarily useful. With cutting edge technology, smart design and remarkable beauty at its core, we aim to bring simplicity and creativity to every aspect of life.
2) How did you get started and where did you find the inspiration to
make the QBracelet?
Kernan: The inspiration behind the product first struck me one day after an unfortunate routine occurrence where my phone died at a very inconvenient time.

Although my phone is constantly dying all the time, I have never been a fan of the large and bulky external battery chargers available on the market. I was vacationing in Italy, and had made plans to meet up with an old friend months in advance. On my way to dinner, not only did my phone die, but I realized I had gotten on the wrong bus. As I got off the bus in the pouring rain I had no way to call my friend who had been waiting for me, no way to look up directions on my phone and no way to communicate in Italian. It was a disaster. That incident inspired me to come up with a solution to this universal problem almost all smartphone users experience. At the time the idea was to create a simple, convenient and innovative solution to the external battery that any person would feel comfortable owning and carrying. However, that quickly became something much bigger as realized through my passion for technology and fashion I could build an entire brand that focused on combining the two to create amazing products that would make peoples lives just a little less hectic. When brainstorming for a solution to my problem, I had a few ideas before I came up with the idea for a wearable external battery disguised as jewelry.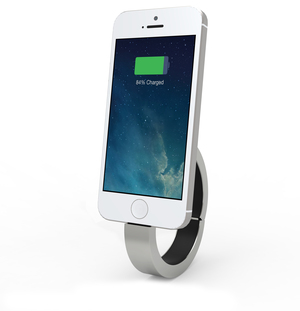 3) Do you imagine that QBracelet will evolve over time? What other feature add ons or design changes do you think it might have?
Libani: Our goal when creating the QBracelet was to seamlessly integrate style, smart design and technology in a way that hadn't been done before. We definitely think we achieved that, but are committed to improving the QBracelet in anyway possible. Over the next year you can expect us to rollout limited edition Qbracelets as well as collaborations with various designers and fashion house!
Follow us on Facebook to here when we launch new collections of the QBracelet.
4) The wearable space is starting to get quite crowded, how does QBracelet stand out from the rest?
Libani: Generally speaking, in our opinion, most of the wearable devices available on the market today are not considered to be stylish and many times their purpose serves as an unnecessary luxury instead of offering a useful functionality.The QBracelet is radically different from the rest of the wearables on the market because of its unique design and functionality! We decided to stand out from the crowd and embrace fashion over technology, and as result we have already seen numerous fashion publications, stores and influencers contact us.
The fashion world hasn't embraced wearables previously because they were just plain ugly! With the QBracelet they've finally said, now this is something that I would wear.