An open letter by #fastfortheclimate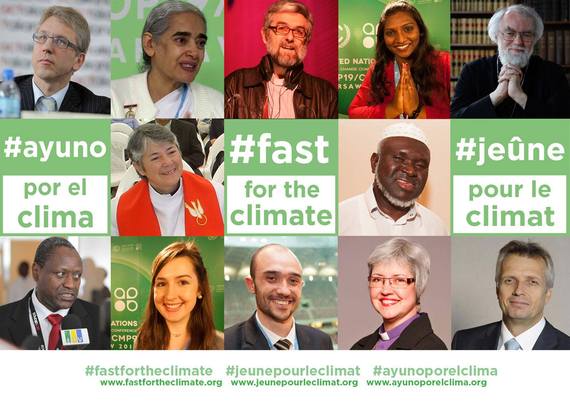 Dear Heads of States of Brazil, France, Germany, India, Peru, South Africa,
Ordinary people are taking action into their own hands to deal with the issue of our time - climate change. Whether it be deploying renewable energy or building the resilience of their communities, or fasting to show their solidarity with those impacted by climate change, more and more people are pushing for this world to be fairer, safer and cleaner.
We are writing to you on behalf of the Fast for the Climate movement that started at the UN climate negotiations in Warsaw in November 2013 after Typhoon Haiyan/Yolanda devastated the Philippines.
By choosing not to eat on the first day of every month, a growing movement of fasters including many youth groups, environmentalists and faith communities, are calling for world leaders to act to confront the climate crisis. we are fasting in solidarity with the poor and vulnerable who are disproportionately affected by extreme weather events.
Climate change is a matter of social and economic justice, as it most affects the poorest people and impacts the most vulnerable. Additionally, the climate crisis is a moral and ethical issue. We require bold leadership to tackle the political impasse and put the good of the planet and of all our citizens ahead of the short-term considerations that are impeding a binding and robust climate agreement.
We need you to have faith that now is the time to act.
As we take up the fast, we will be praying for you to meet this civilizational challenge with the courage that is required.
The United Nations Secretary General's Climate Summit in New York on September 23 is a moment at which you can show that you have heard these people.
We write to seek your attendance and leadership at the Climate Summit in New York.
We invite you to make it your personal priority to address the human contribution to Climate Change, and make firm commitments for deeper cuts in carbon pollution.
We urge you to promise the timely delivery of a global climate action plan by 2015 - a shared and agreed strategy for rapidly growing the scope and scale of the ongoing transition, so that a safe climate with all its benefits for people and planet is possible. The choice is between ignoring the biggest risk we face, or leading the orderly transformation of our societies. We hope as a leader you will choose to be on the right side of history.
Specifically, We - the voice of the people impacted by climate change in developed and developing countries - urge you to do the following:
Attend the Climate Summit and commit in New York to the timely delivery of a global climate action plan by 2015 - reaffirm your countries positive engagement around a new post 2015 agreement by COP 21 by committing to stay engaged and provide political guidance till COP 21.
Announce new and additional climate action commitments both in terms of lowering pollution and increasing support to other countries to take their own action
Commit to mitigation targets post or pre 2020 and or announce commitments to national Renewable Energy/Energy Efficiency (RE/EE) targets.
Declare your countries financial commitments towards the Global Climate Fund (GCF) and commit towards raising these through innovative sources.
In your speech in New York, share your vision of the successful economic transformation, i.e. ambitious long and short-term emission reduction targets, fossil fuel divestments and renewable energy investments. Hence, mention in your speech in New York support for a global goal to phase out fossil fuel pollution and phase in 100% Renewable Energy.
Acknowledge at the Summit that climate-related risk and damage is already a harmful reality and needs to be tackled by adaptation and risk prevention programs that improve climate resilience.
Respect the principles of equity, ensuring that the response includes provisions to assist the most vulnerable communities to adapt to the impacts of Climate Change already being experienced, and to account for the loss and damage being caused.
The fasting movement is concerned that many people face climate-induced loss and damage. In some cases, people will be forced to migrate. Lack of ambition today will lead to more loss and damage tomorrow.
We request you to take courageous action, for which you can count on our support. God bless you and be with you in showing leadership.
Yours sincerely,
Yeb Saño, Climate Commissioner, The Philippines
Nicolas Hulot, Special Envoy of the President of France for the Protection of the Planet
Martin Junge, General Secretary, The Lutheran World Federation
The Metropolitan Emmanuel of France, President of the Assembly of Orthodox Bishops in France Imam Ebrahim Saidy, Muslim Cleric, Norway
Laura Vargas, Representative of the Inter-Religious Council of Peru
Wael Hmaidan, Director, Climate Action Network
Somboon Chungprampree, Executive Secretary, International Network of Engaged Buddhists (INEB)
Pastor François Clavairoly, President of the French Protestant Federation
Rafael Soares de Oliveira, Director of KOINONIA and Ogan priest of the Afrobrazilian Religion, Brazil
Claudia Florentin Mayer, Deputy Director and Editor of the Spanish news service of ALC Archbishop Serafim Kykotis, Representative of the Greek Orthodox Archbishopric of Zimbabwe and Angola
Bishop Geoff Davies, Southern African Faith Communities' Environment Institute Gloria Ulloa, Presbyterian Church of Colombia, Latin American President of the World Council of Churches
Ekedy Sinha, Priestess of the Afrobrazilian Candomblé Religion, Brazil