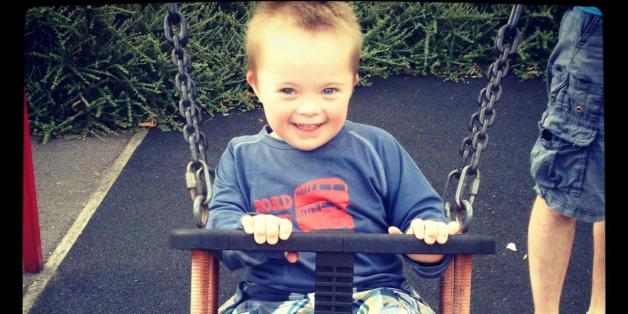 When my first baby was born and we were told he had Down's syndrome, I was shocked to my core. I knew nothing about the condition and was absolutely gripped with fear of our future and the unknown. What should have been the happiest day of my life was the worst.
I imagined a lifetime of "difference" and exclusion. I had never known anyone with Down's syndrome and I worried about our future and how we would cope.
To gain some control, I threw myself into research and read about all of the characteristics and possible health problems we might face. Every time I looked at my baby, I saw "Down's syndrome." It was a tough and confusing time. I was never in doubt that I loved my baby, but the information overload was both daunting and exhausting.
Bit by bit, the hurt began to lift as I fell in love with Seb. He smiled, he cried, he laughed, he rolled, he walked and he talked, just in his own time. Before long I realized that he was an individual, not a syndrome or a list of characteristics in a text book, and his likes and dislikes and his personality reflected us as a family, not other people with Down's syndrome.
It also became clear that Seb was my best tool to help change outdated attitudes and shift perceptions relating to the condition and for people to see beyond the label. I made it my heartfelt plight to show the world what a typical little boy he is and what a typical family life we lead together. He is full of magic and mischief, very bright and witty and he loves all the things 5-year-old boys love -- his scooter, football, ice cream, chips, sausages and Buzz Lightyear.
I started a Facebook Page to share little insights into our lives together. I wanted to get the message out there that "different" isn't any less wonderful, or even all that different.
In the early days, just after Seb was born, it really struck me how our family was never represented in advertising campaigns. Even adverts featuring hundreds of people, my family was never there. That added to my feeling of isolation and "difference."
I wrote to various retailers and production companies and had very little, if any, response -- apart from retailer Jojo Maman Bebe. Seb has since done two seasons of modeling for them. Coming from an aspirational brand that markets beautiful clothes, this sent out a really powerful message, but I wanted to take it to a bigger audience.
I knew that getting Seb's face into mass marketing would be two-fold. It would help banish outdated stereotypes about the condition, removing fear and ignorance, and would also represent diversity and inclusion.
As my previous attempts to get buy-in to the idea had been fruitless, I turned to Facebook. As an open forum, I knew that the retailers would have to read my plea and I hoped I would also gain public support. I decided to target Marks and Spencer, a major retailer in the U.K. and around the world.
I nervously pressed "post" on the photo and the words I had pulled together and shared my idea on the M&S Facebook Page. Within hours the response was incredible and within a week, Seb was invited to a print photo shoot. He performed brilliantly and he earned himself a place at the M&S TV ad shoot. The commercial was cleverly directed by Jake Nava, who has worked with Beyonce and Kylie Minogue, so that Seb was just one of the kids, not singled out or tokenistic.
Seb was the first U.K. model with Down's syndrome to feature in a major high street retailer's TV ad campaign, and at Christmas -- the biggest and most eagerly anticipated campaign of the year.
The news spread fast and wide. We made it into every U.K. national newspaper, including the front page of The Times and got people talking around the world. We were interviewed by Sky News, CNN and various BBC stations including BBC World Service. We trended on Twitter and we were the front cover story on various search engines. Perez Hilton and Liz Hurley tweeted about us.
Best of all though, we received countless messages from new parents who had been told their babies had Down's syndrome. Seeing Seb had lifted them immeasurably, allowed them to see their babies as individuals and given them faith that everything was going to be OK.
From the messages of support I received directly or read online, I know that this representation has made a huge impact -- to new parents facing a diagnosis, to young adults with Down's who have been boosted by the representation, and even to those who have no experience with disability who have been able to see my son as a person, not a condition.
I am now working with other retailers and creative agencies to continue to champion diverse representation in mass marketing. I truly believe through inclusion in schools, communities and the media, we can breed a new generation of acceptance and society who will see our children as children and not "Down's syndrome."