Tucson is a bad-ass town. There. I said it. From the early days farming the desert along the Santa Cruz River, to later years fighting off Apache raiders, to recent years battling drought, the people of Tucson have had to face up and knuckle down. The bring-it-on attitude shows in everything from the street art to the symphony, from the barrio to the ballet, from the tacos to the theater.
Nowhere is this Tucson badassery more notable than at the iconic Hotel Congress where John Dillinger and gang hid-out in 1934 after a string of violent bank robberies across the Midwest. It was from the third floor of the Hotel Congress that they fled a fire and were later busted by a group of tough Tucson cops without a single shot fired. The Hotel Congress commemorates this feat every January during its "Dillinger Days" re-enactments. Hotel Congress also boasts the oldest continuously operating taproom in the West, Tiger's Tap Room, which has been serving brews and spirits since 1919 (okay, minus the years when the US went drier than the surrounding desert sands). Club Congress, a retro music venue and dance club brings in emerging acts from all over the country.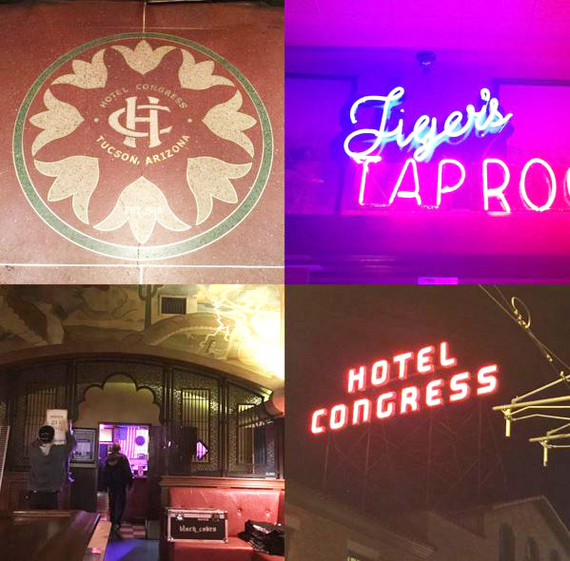 Hotel Congress opened in 1919 and remains at the center of Tucson nightlife. Photos by Carolyn Burns Bass
During prohibition Tucson's proximity to Mexico where liquor flowed like water made the dusty desert town quite popular among those with automobiles and train fare. Socialites and Hollywood stars flocked to Tucson seeking a sense of anonymity and a dose of sunshine. The Hotel Congress took in those who wanted to be in the middle of it all, while The Lodge on the Desert and The Arizona Inn on the outskirts of town were renowned for their privacy, hosting virtually a who's-who of Hollywood elite. They came to Tucson to sun themselves by the pools, the golf and tennis courts, to socialize among their own kind, and to eat.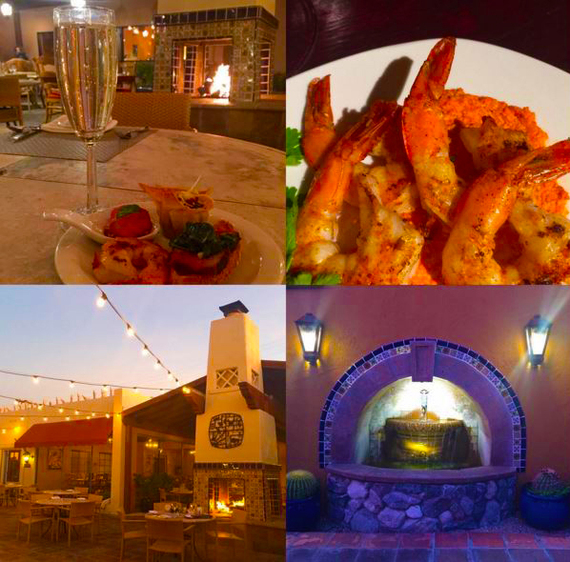 The Lodge on the Desert was originally an expansive private estate, built up over the years to accommodate visitors seeking a private oasis under the desert sun. Photos by Carolyn Burns Bass
Eating in Tucson is an experience. Even UNESCO thinks so. The international cultural organization recently named Tucson the first American city among the UNESCO Creative Cities Network for its gastronomy. In Tucson you'll find a couple of James Beard award winning chefs--or at least their restaurants. Janos Wilder of Downtown Kitchen won best chef Southwest in 2000 and Chris Bianco of Pizzeria Bianco in 2003. Several modernist cuisine restaurants fusing the chilies and native flora of the Sonoran Desert flourish amid the array of typical eateries. But what puts Tucson on the map for ordinary eaters are things like the Sonoran Hot Dog, a frankfurter wrapped in mesquite-smoked bacon and grilled, stuffed in a cushy Mexican bolillo roll, then topped with beans, tomatoes, onions, chilies, mayonnaise (aka called "cremona,") mustard and a buffet of other after-burn toppings. Tucson boasts 23 miles of Mexican food restaurants, taquerias and street vendors, many of them operated by the same family for generations.
WHERE TO EAT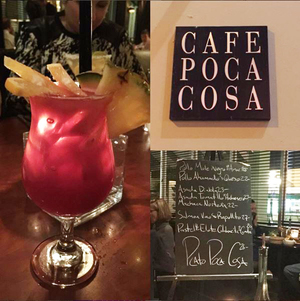 At Café Posa Cosa, owner and chef Suzana Davila creates food that goes beyond the occasion and becomes the event itself. True to the maverick spirit of Tucson, she has no printed menus and her selections change twice per day depending on what is freshest. Her food is steeped in the heritage of her home state of Sonora in Mexico--just across the border from Arizona--and authentic in the way of the rancheros of old Mexico. Her plates are works of art, styled with the entree and framed lavishly with greens and fresh fruit.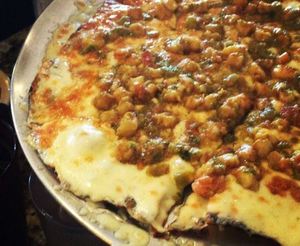 El Merendero looks rather ordinary from the outside, sitting alongside a strip mall on food-gorged 12th Avenue. Instead of the kitschy Mexican baskets, blankets and handicrafts so often displayed in Mexican restaurants, the interior is bright, with contemporary art on the walls and comfortable seating. The menu offers familiar choices of traditional Mexican foods, tacos, burritos, enchiladas, but amidst the beef, pork and chicken, you'll find seafood prepared with the flavors of Mexico.
Try the Sonoran hot dog at El Guero Canelo on 12th Avenue. Owner Daniel Contreras opened his first hot dog stand in Tucson in 1993 and although you can order tacos and burritos and other familiar Mexican food here, why would you want to when they make the Sonoran hot dog the authentic way. By this, I mean, they don't scrimp on the bun like some other vendors who use ordinary American split side hot dog buns. It's the cushy Mexican Bolillo roll sliced down the middle that cradles the hot dog and supports all of the luscious toppings.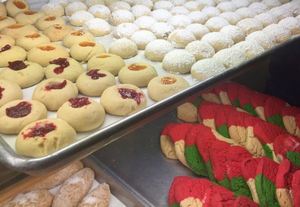 You can buy those dreamy Bolillo rolls at La Estrella Bakery on 12th Avenue, along with fresh Mexican sweetbreads, cookies, rolls and tortillas. Be forewarned, the aroma of freshly baked bread at La Estrella will bowl you over.
When the heat gets too much, stop over at Oasis Fruit Cones on 12th Avenue for raspados. Raspados are snow cones on steroids. Well, actually, they're shaved ice maxed out with fresh fruit, sweetened cream and fruit syrup.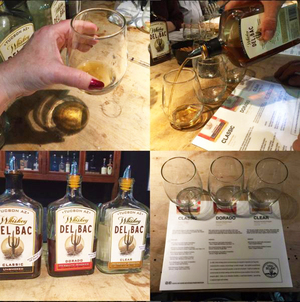 Every town these days has craft breweries and Tucson's kept up with the trend. Dragoon, Ten Fifty-Five and Pueblo Vida come highly recommended. In true maverick spirit, Stephen Paul turned from artisan furniture crafting, to craft distiller when he acted on his idea of malting barley with mesquite wood smoke, rather than peat smoke typically used in Scotland, to create his malt whiskeys. The result is Hamilton Distillers where you can tour and taste Paul's three varieties of Whiskey del Bac: Classic, a golden unsmoked malt; Dorado, a caramel smoked malt, and Classic, a clear, mesquite smoked, unaged "white dog" style malt. You can't call it scotch because it wasn't produced in Scotland, but what looks like scotch, tastes like scotch, and feels like scotch going down, well, call it what you want.
If you really want to take on the foods of Tucson, consider the four-hour, Gray Line Best of the Barrio tour. For as few as six people, Gray Line will pick up your group at your hotel and whisk you along 12th Avenue where you'll stop at many of the best Mexican eateries in the city.
WHAT ELSE CAN YOU DO IN TUCSON?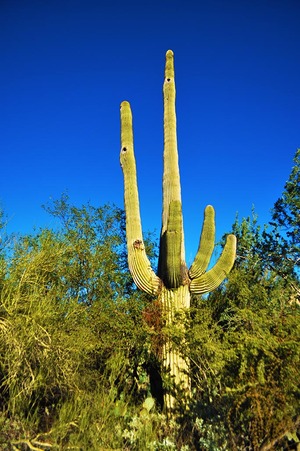 So you want to go to Tucson to enjoy the eats and explore the environs of this spark-kicking town. We've mentioned the symphony, the theater, the ballet and galleries. These are all worth visiting if that's your thing.
With Tucson surrounded by desert, a trip to the spectacular Arizona Sonora Desert Museum should not be missed. Don't expect an air conditioned vault of artwork and Native American artifacts here. This place covers 98 acres of trails through the native flora--more than 1,200 varieties of cacti and indigenous plants. Natural habitats are carved into the sprawling outdoor museum for viewing native wildlife such as javelina, bobcats, ocelots, foxes, coyotes, reptiles and birds.
Saguaro cactus are the guardians of the Sonoran desert--the only place on earth this species thrives--and you see them everywhere. As emblematic as the coyote howling at the moon, they cut great silhouettes in the bright desert light, while casting giant shadows across the earth when the sun angles low. They are slow growing giants, prickly with spines and not to be embraced, reaching their arms up to the sky as if always in praise of the sun. Or giving it the finger. It's no wonder Tucson sprung from this ground.
This story also appears in Travel Ovations.
Also on HuffPost:
PHOTO GALLERY
Pocket Neighborhoods