At this year's Chef's Dinner at Monticello's Heritage Harvest Festival, everyone was buzzing about the duck confit and ricotta gnocchi. More than a dozen local restaurants, wineries and breweries served small plates in a roving feast of culinary exploration. There were many delicious offerings, but still, everyone was going back to the C&O Restaurant station for seconds of the duck confit and ricotta gnocchi.
While I am not a devoted fan of duck, I too was taken by surprise at the tender, juicy, flavorful duck confit. I've always enjoyed traditional potato gnocchi, but I was astonished by the ricotta gnocchi's confounding combination of chewy and creamy. How is that even possible?
I went back to the C&O station for seconds and asked executive chef and proprietor Dean Maupin if the duck confit and ricotta gnocchi were regular selections on the restaurant's menu. The duck confit is available on the appetizer menu, while the ricotta gnocchi is offered with several other selections. I decided to use my last night in Charlottesville for a visit to C&O to sample more of Maupin's culinary creations.
C&O Restaurant is a Charlottesville favorite since 1976. Maupin bought the restaurant from Dave Simpson in 2013. While respecting the enduring guest favorites, Maupin has mixed it up a bit with his own culinary creations. Maupin grew up in a small town nearby where his family enjoyed typical Southern foods such as fried chicken and fresh vegetables. A job washing dishes at a local restaurant when he was in junior high school inspired a food fascination that became his life's work. He completed an intensive culinary apprenticeship at the Greenbrier Resort in Sulfur Springs, W.Va. From there he worked at several fine restaurants in the area--including C&O under Simpson--before buying the business and putting his own stamp on it.
Maupin has maintained the C&O's commitment to quality and creativity. He's stayed true to many of the ongoing menu favorites, while adding dashes of his own here and there. Food quality was important to C&O before Maupin took over and he's sustained the ideal. At C&O, you're not getting mass-grown produce, slaughterhouse meets and boilerplate cheeses. Maupin sources every ingredient on the menu from local, farm-to-fork providers.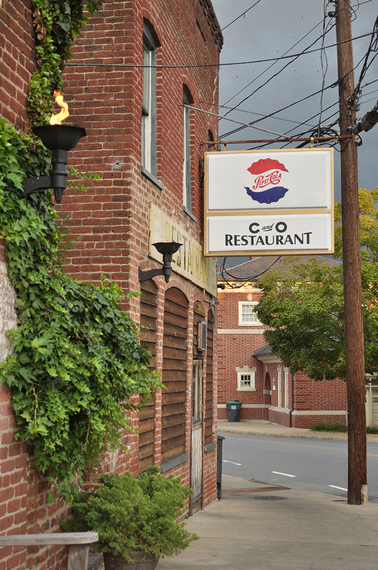 Housed in an old, brick railroad bunkhouse, C&O looks like nothing fancy from the outside with its simple C&O sign below a huge Pepsi logo.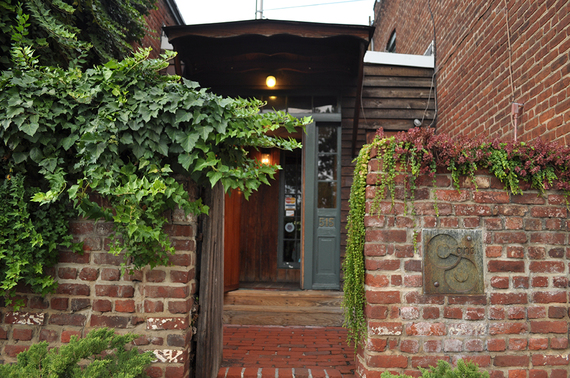 Stepping through the wooden fence and into a tiny courtyard, you're faced with an unassuming door reminiscent of an old world adventure movie. Dark paneled walls illuminated by low amber lighting and candles greet you in the small mezzanine area where you check in for your table.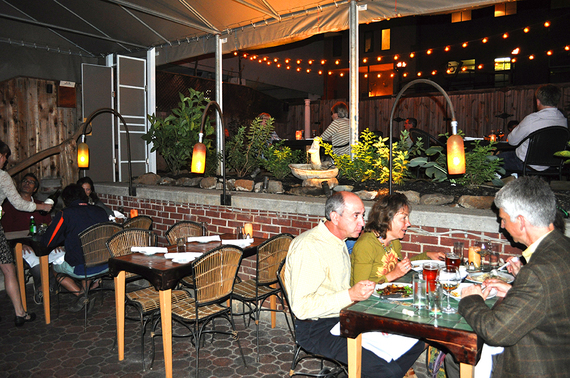 C&O has six dining areas, public and private, spread across multiple levels. Public areas include the mezzanine area, the bistro tables set inside the downstairs bar, the covered patio and the outdoor terrace. Upstairs you'll find a large private dining room for special events, while the gallery is a smaller room available for private dinners and meetings. C&O could fill up every night with reservations, but Maupin maintains several tables throughout the night for walk-ins.
My husband and I are seated at a small table in the corner of the bistro. We're immediately transfixed by the expansive wall of liquors stretching behind the long bar. The host gives us an impressive wine list, along with a menu for cocktails. Truly, this is a bar that means business. We don't order cocktails, but I immediately pour into the wine list. There's a vast selection of old and new, French and Californian, and notable wines from other regions. Virginia has an emerging grape-growing and wine-making culture and I see several Virginia wines offered. Many of the premium wines are available by the glass. I order a glass of Sivas Sonoma Cabernet Sauvignon. My husband orders a glass of non-alcoholic brew called Buckley and our dining adventure begins.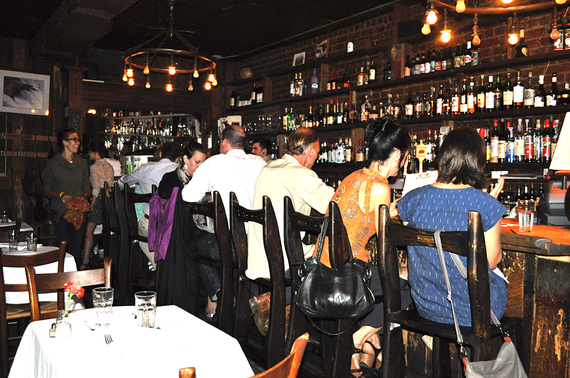 The food menu is less extensive than the liquor choices and the wine selections, but that doesn't mean it's less impressive. There are only six entrees on the printed menu, plus a chef's special. Among the entrees you'll find Steak Chinoise, a marinated beef tenderloin served with gruyere-thyme potatoes and topped with tamari-ginger pan sauce; ribeye steak topped with maître d'butter, roasted garlic mushrooms, baby potatoes and beef jus; Rag Mountain trout served with Parisienne gnocchi in lemon-caper sauce and heirloom tomato-basil relish; seared halibut topped with buttered lump crab, cioppino broth and saffron rouille; pork saltimbocca seasoned with sage, complemented by surryano ham, butternut squash and madeira pam sauce; and roast chicken baked with black truffle butter, served with local mushrooms and potato-herb gnocchi.
Appetizers at C&O are essentially small plate servings of fabulous food. The bibb lettuce salad with pommery dressing and shaved Gruyere is a longtime customer favorite. So is the vegetable soup. You'll find creative combinations in such starters as Manakintowne Farm mesclun topped with cheddar cheese, spiced pecans and a Virginia maple-sherry dressing; pear, manchego and walnut salad; torn pasta served with that fabulous duck confit; fettuccine with mushrooms, arugula and truffled pecorino; beef sirloin carpaccio; grilled Carolina shrimp with cannellini bean puree, avocado and roasted jalapeno butter; braised Retreat Farm lamb and that sumptuous ricotta gnocchi; and another longtime customer favorite, veal sweetbreads.
We've decided to try one of C&O's longtime favorites as well as one of the newer selections--a beef and a fish entrée--along with two appetizers. Before our appetizers arrive, our server brings a basket with dreamy-soft white bread rolls. This alone--the absence of a crusty baguette of French provincial fare--is a delicious reminder that this is haute cuisine.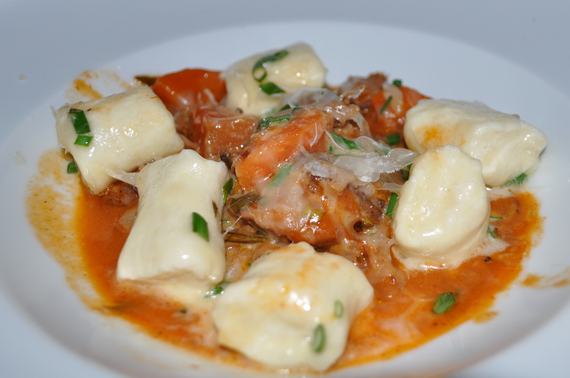 My husband has ordered the Retreat Farm lamb for starters and I've ordered the beef carpaccio. The lamb is braised and served in a savory sauce with hint of rosemary and garlic. Nestled amidst the lamb are several pillows of those sumptuous ricotta gnocchi. This gnocchi is every bit as tasty and tender as last night's offering at Monticello. The lamb is a bit fatty, several bites, in fact inedible, yet the meat is so tender, knives are unnecessary. My carpaccio is dressed with aioli, baby arugula and hashed potatoes. The beef is paper thin as carpaccio goes, tender and melted in my mouth. Seriously, I could make a meal of this carpaccio.
Service here is understated, efficient and attentive. We no sooner lay down our forks after enjoying our starters when the server removes the plates and flatware. She's back only moments later with fresh flatware and refills of our water glasses. She's like this throughout the evening, inquiring of our needs and anticipating our wants.
After a brief interlude when my husband and I reminisce over 28 years of marriage--after all, it is our anniversary--the server returns with our entrees. My husband, ordinarily a beef lover, and I have switched it up tonight. He's ordered the Rag Mountain trout and I've selected the steak Chinoise, which Maupin tells me is one of the longtime house favorites.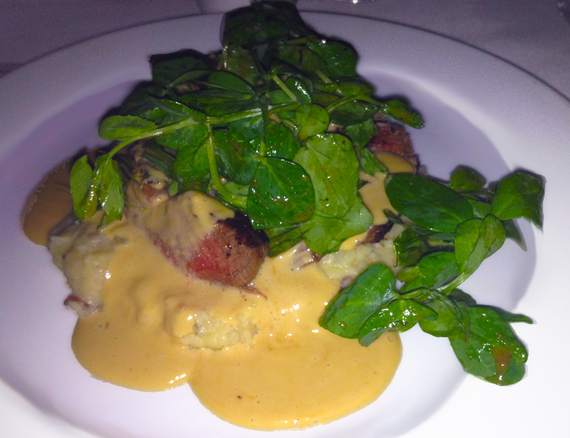 The tenderloin is cooked to a perfect medium rare, is sliced thin, laid across a mound of smashed potatoes and topped with a sauce so divine, it could grant wishes. No wonder this plate has remained on the menu as a guest favorite all these years. The Simas Sonoma Cabernet is a brilliant pairing with this entrée.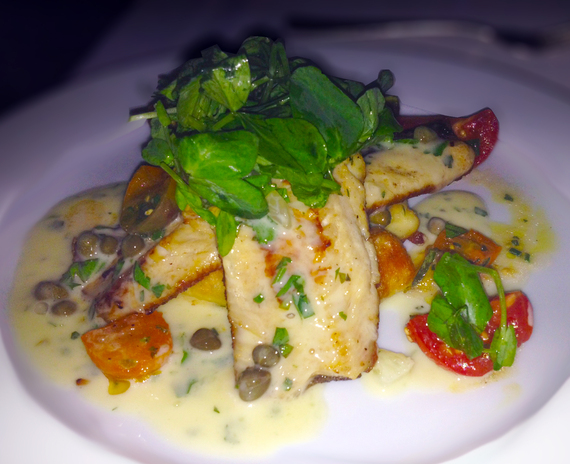 The trout is sweet, light and flakey in the lemon-caper sauce. The Parisienne gnocchi differs much from the ricotta gnocchi. First off, it's made from neither potato (as with traditional gnocchi) or ricotta. Parisienne gnocchi begins with a pâte à choux--the same dough used for profiteroles, cream puffs and éclairs. The choux is shaped, then poached, and in this preparation, it appears to be pan fried. My husband's only complaint is that there isn't enough of it. We share a side dish of Brussels sprouts, julienned and sautéed with capers and shallots.
C&O is renowned for its desserts as much as for its savory selections. We were tempted by the pot au chocolate and the brioche chocolate bread pudding, but we were so completely satiated by our dinner, we didn't dare ruin it by overstuffing ourselves. Although we'd never before dined at C&O, from what we saw and tasted, the legendary restaurant is still in good hands.
Menu items are a bit pricey, but comparative to other fine dining establishments. While in Charlottesville, go ahead and splurge at C&O. You won't be disappointed.