You could easily drive right past Piedmont restaurant in Durham, N.C., but if you did, you would never experience the gastronomic adventure inside the unassuming building on Foster Street. Only blocks away from Duke University, the Durham Bulls Athletic Stadium, and the American Tobacco Campus, Piedmont is tucked into the brick shell of a former Nash Motors dealership in a section of Durham that has undergone extraordinary revitalization.
The Nash dealership was long gone before Piedmont was even a dream in the eye of Eno Hospitality Group partners Jamie DeMent, Richard Holcomb, Marco Shaw and Sarig and Nancy Agasi. Throughout the decades the building saw many other businesses come and go, including the restaurant's previous incarnation of the same name. Just as the new replaces the old in history, Eno Hospitality Group brought an entirely new menu and vibe to Piedmont, starting with executive chef Ben Adams and general manager Crawford Leavoy. The result is decidedly urban with a Southern spin on farm-to-fork freshness. Inside you'll find wooden tables and rustic chairs on cement floors, with heating and cooling pipes open overhead. Instead of pricy wall art, the walls have strips of weathered and repurposed wood arrangements. There's even a cool loft above the bar area, bringing the capacity to an intimate 90 seats.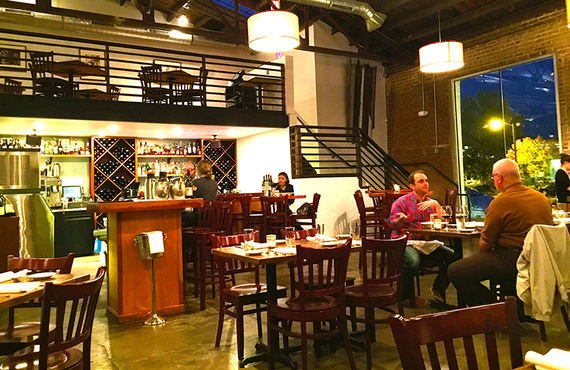 Much of that freshness comes from ingredients grown at DeMent and Holcomb's 55-acre Coon Rock Farm in nearby Hillsborough. A former software engineer, Holcomb purchased the farm in 2004 and began raising vegetables and pigs to supply Raleigh's Zely & Ritz, his first restaurant outing with Eno Hospitality Group. Coon Rock Farm operates purely organically and sustainably, using fertilizer from its own livestock to grow crops that feed the animals and nourish the produce. The farm now provides garden crops, as well as pasture-raised antibiotic and hormone-free poultry, eggs, pork, lamb, beef and goat not only to Piedmont and Zely & Ritz, but to farmer's markets as well as online specialty providers Bella Bean Organics and Heirloom Provisions.
Piedmont is open for dinners each night of the week and for Sunday brunch. Menus rotate periodically as Chef Adams introduces new fare for each season. The current menu features such creative combinations as sweetbreads glazed with Duck-Rabbit stout; crispy duck leg confit atop farro antica; smoked pork loin with Shotgun Betty-braised cabbage and sweet potato and bacon hash, and a New York strip steak with bone marrow crust. In a culture that worships excess, I found the sleek selections at Piedmont refreshing, with choices to satisfy paleo to vegetarian palates. In addition to daily specials, the appetizer menu offers eight items, while the entrée menu features six selections. Rather than list the choices, take a moment to peruse their menu here.
On the Tuesday my husband and I visited Piedmont, I was celebrating the completion of a long writing project. Piedmont's manager Crawford Leavoy suggested we celebrate with something bubbly. He brought out Jean-Claude Thevenet's, Blanc de Blancs, a Champagne-like chardonnay with citrusy brut characteristics. Piedmont has adopted use of the Coravin system for dispensing wine by the glass. The Coravin fits atop a full bottle of wine, pierces the cork and allows for a pour without introduction of air to oxidize the remaining wine in the bottle. Piedmont has an extensive wine by the glass menu (as well as bottled wine) which uses the Coravin for preservation to ensure the wine is aged naturally.
We started with the smoked Carolina trout dip, which delighted both of us with hints of horseradish, pimento and paprika blended with the smoky trout. Don't be fooled by the name "dip," though. The dip was more of a terrine, or pate if you will, formed on a plate surrounded by house-made lavash crackers. We both felt the plate was rather dull and monochromatic in presentation and would benefit from a different color of lavash crackers.
Soup and salad came next. Lil Farm's heirloom pumpkin soup came out hot and smooth, with crème fraiche, truffle oil and a dab of NC blue crab meat floating atop. We chose a salad of local lettuces, with shaved squash, pea tendrils, pickled leeks, benne seeds and a crispy soft-boiled egg. The egg had been lightly coated with a crispy seasoning, then deep-fried. To my joy, it popped open with the slice of the knife to reveal just enough soft yoke to blend into the salad with the oregano-buttermilk dressing. Leavoy's suggestion of the crisp and fruity Domaine Vincent Stoeffler 2010 Kirchberg de Barr Alsace Grand Cru Riesling paired beautifully with both soup and salad.
Risotto is one of those dishes that can easily be ruined by over-cooking, under-cooking, over-heating, etc. and I'm pleased to say Chef Adams stirs a good risotto. Using a local cheese called Calavander from Chapel Hill Creamery for the base sauce, Adams added foraged chanterelles and Woodfruit mushrooms, along with butternut squash and crispy dandelion greens.
Our entrees came shortly after the risotto was cleared. My husband ordered the Maple Leaf Farm's duck leg confit and I ordered the Springer Mountain Farms' chicken roulade. Leavoy paired these with Brunello di Montalcino by Le Ragnaie 2008, a well-structured Sangiovese red wine with a fruity nose and spicy finish velvety tannins.
The duck leg confit was swoon-worthy. The skin was crisp and savory, while the meat inside was melt-in-your-mouth tender and juicy. The duck leg was served with farro, carrots and shaved beets covered with a rich pan sauce. The chicken roulade was not terribly distinctive, a bit bland next to the delicious confit thigh served alongside it. When eaten together, the peperonata and butternut squash mostarda added a tasty zing to the roulade.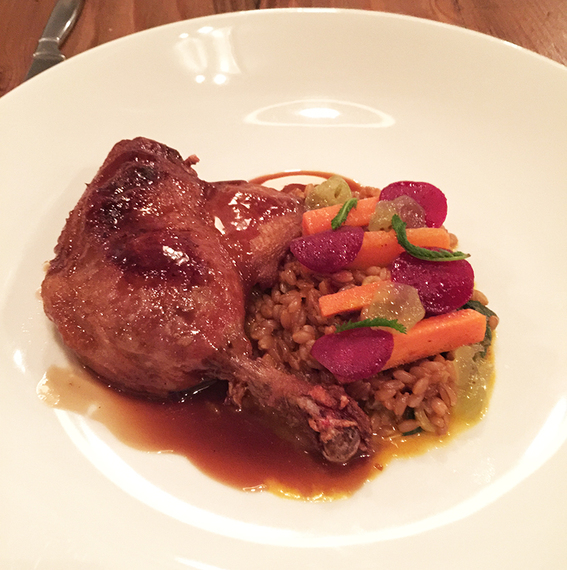 We shared small bites of three decadent desserts, including a house-made fried apple pie with cider caramel and ginger ice cream; sticky date cake covered with dulce de leche, caramelized white chocolate and salted caramel ice cream, and frozen chocolate peanut butter pie with candied peanuts, house-make chocolate caramel, and brûléed (caramel crusted) banana slices.
We left Piedmont full, satisfied and ready to take our celebration home.