Many U.S. Military members, veterans and their families are facing extraordinary financial hardships during this time of worldwide economic upheavals. In late 2011 Businessweek reported that the job crisis is dire, citing for example that the youngest of veterans, aged 18 to 24, had a shocking 30.4 percent jobless rate in October, way up from 18.4 percent a year earlier.
Joblessness often leads to homelessness and our veterans are not immune from this frightening reality.
According to the Veterans Administration: "Current population estimates suggest that about 107,000 veterans (male and female) are homeless on any given night and perhaps twice as many experience homelessness at some point during the course of a year. Many other veterans are considered near homeless or at risk because of their poverty, lack of support from family and friends, and dismal living conditions..."
While we can't solve all the problems our veterans and their families might face, we want to offer support and encouragement where we are able. For the past several months, in cooperation with the leadership and chaplain corps of National Guard units nationwide, Operation Gratitude has assembled and distributed thousands of Military Family Care Packages (MFCPs) to Soldiers who cannot find civilian jobs and/or who are homeless, living in cars. These packages contain basic necessities, including food, toiletries, household products, blankets and clothing.
In addition, at least 200,000 U.S. troops are still deployed in harm's way throughout the world. We continue to send to them our individually addressed care packages filled with snacks, entertainment items, hygiene products, and personal letters of appreciation.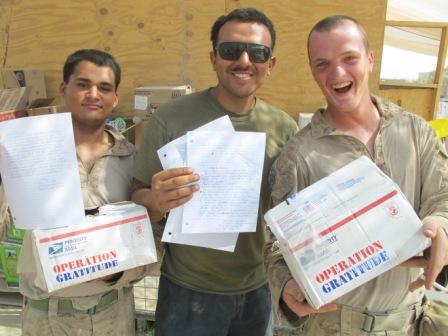 Operation Gratitude has started several new programs in response to developing needs within the Military Community. Here's a brief description of these important developments:
Troop Care Package Program: Since 2003, we have assembled and shipped over 700,000 packages to deployed Soldiers, Sailors, Airmen and Marines. This year we plan to send another 75,000+.
Battalion Buddy Program: We have sent over 50,000 cuddly stuffed animal "Battalion Buddy" packages since May, 2011 to the children of deploying service members. We plan to send another 50,000+ in 2012. Word of our Battalion Buddy program has spread rapidly throughout the family readiness community and we have thousands of orders waiting to be filled! (Family Readiness Officers and battalion leaders wishing to request Battalion Buddy packages should send an email to: BattalionBuddy@gmail.com.)
Wounded Warrior Program: Our "Purple Heart" Care Packages provide comfort items to troops recovering in Military Hospitals and Wounded Warrior Transition Units.
First Responder Care Kits: Essential supplies are collected, assembled into easily transportable kits and provided to emergency response teams deploying into crisis situations.
Military Family Care Packages: Basic necessities, including food, toiletries, household products, blankets and clothing are given to Military families and veterans facing financial hardships and homelessness due to unemployment.
Concerts that Care & Hiring Fairs: We are producing free comedy and music concerts for troops and their families plus opportunities to connect with potential employers on Military bases around the country.
We rely on the generosity of the American people to continue these efforts in support of heroic troops, veterans, wounded warriors, first responders and military families. By writing letters, knitting scarves, organizing fundraisers, conducting item collection drives, making Paracord bracelets, recycling cell phones or through many other activities, our goal is to provide every American a means to express their personal appreciation to those who sacrifice for our nation.
Find out how you, your family and/or your community can say "Thank You" to our Military by visiting our website: Operation Gratitude or send questions to opgrat@gmail.com.