It begins with my mother's recollection of a visit to Belgium on her honeymoon 50+ years ago.
To fill in their story just a bit, my father was young, British, Protestant and an only child. A rather dashing chap with an avid love of travel and geography.
Mom was a black-haired, blue-eyed Irish-Catholic. She was one of seven children, and in her own words, "having barely traveled out of the borough of Dublin," she thought my father a fine catch with his fancy car, film star hair and English ways. He thought she had beautiful eyes, elegant hands and, I suspect, fun brothers.
Despite major family oppositon due to the Catholic-Protestent issue, they married and off they went. To hear them both tell it now, which in fact I did just last night, is a tale of two very different honeymoons but that, dear readers is another story for another day.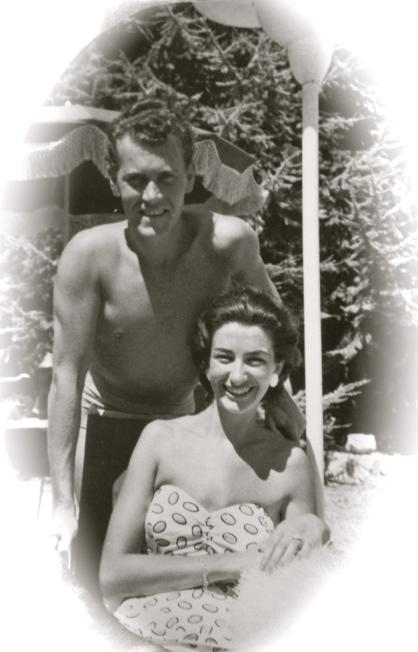 Their itinerary included seven (or eight) countries, possibly a boat, or not (father rolls eyes here), untold amounts of bacon and eggs (according to him, she wouldn't eat anything else -- mother rolls eyes here) and the car robbed of everything (clothes, camera and all the honeymoon photos) outside the Folies Bergere.
But, this post is about the day they went to Belgium.
My father's grandfather had been a soldier in the first World War. He lost his life, alongside literally thousands of others that day in Belgium, in 1915, when seemingly endless tides of brave yet unimaginably terrified young men and mere boys rising from the trenches to be caught in barbed wire and machine gun fire. He left a widow with seven children back home in England. Some 40 years later, his grandson now wished to pay his respects at his grave.
My mother; "Of all the places we'd planned to see, your father's visit to his grandfather's grave was very important to him."
When they arrived at their destination in Belgium they were overcome with emotion at the immense size and immaculate condition of the beautiful cemetery. On this, they both agree.
Meticulous care had been taken honouring the memory of all the heroic foreign souls who had lost their lives in battle on Belgian soil, even after all these years. My mother remembers searching the rows of identical headstones for what seemed like hours, to no avail, almost reaching the point of giving up. My father recalls he had a map of sorts; a grid of numbers and letters, I presume sent to the families of the deceased after the war. In any case, after quite a hike, they came upon a lone gardener to whom my father spoke a few words en francais. When the gardener heard my father's last name, he lifted his jacket from where it was placed... directly upon my great-grandfather's headstone.
My father: "Can you imagine the emotion, upon finally arriving there amongst thousands of graves, to find it was my grandfather's headstone being tended at that precise moment?"
So, I'm dedicating this post to my great grandfather, and his son, my grandfather, who also served in the British Army in World War II
and to all the brave troops who are serving now.
Without them we have nothing.
In Flanders Fields
In Flanders fields the poppies blow
Between the crosses, row on row,
That mark our place; and in the sky
The larks, still bravely singing, fly
Scarce heard amid the guns below.
We are the Dead. Short days ago
We lived, felt dawn, saw *sunset glow,
Loved and were loved, and now we lie
In Flanders fields.
Take up our quarrel with the foe:
To you from failing hands we throw
The torch; be yours to hold it high.
If ye break faith with us who die
We shall not sleep, though poppies grow
In Flanders fields.

Thank you to my parents for allowing me to share their tapestry of memories with you.
Have a Beautiful Memorial Day Weekend!
xoxo
SP