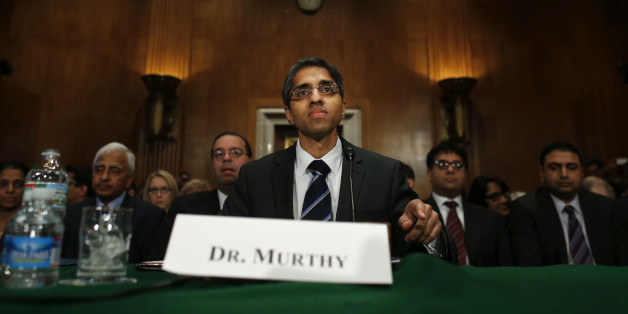 "Enough is enough." Former Surgeon General C. Everett Koop growled those words as he criticized the tobacco industry in 1989. He lit a fire for prevention that inspired public health action and awareness. His leadership helped define the vital role of the Surgeon General in educating the public and protecting public health. The impact he had during his tenure made the Surgeon General a household name and a trusted voice.
Now, as we work to combat the Ebola virus at home and abroad, Americans are looking for information and wondering: where is that trusted voice on matters of public health? The answer, unfortunately, is mired in the partisan obstructionism that has ground Washington to a halt.
Americans need their top doctor, the Surgeon General, more than ever. Currently, we have a well-qualified nominee, Dr. Vivek Murthy. Dr. Murthy is an exceptionally qualified, compassionate, and caring physician who was nominated by President Obama over a year ago and whose nomination already passed the Senate HELP committee on a bipartisan vote. He has all of the credentials you could ask for, including the endorsement of former Surgeons General and hundreds of major medical and public health organizations; an extensive resume detailing his research, innovation, entrepreneurship, leadership and advocacy; and, last but not least, a quiet, unassuming nature that invites candid conversation and understanding. One would be hard pressed to find a more visionary physician and leader.
Like any great team, our nation's health agencies require every key player in order to best respond to this relatively novel public health threat. With one vote from the Senate, Dr. Murthy could use his experience and leadership to mobilize a grassroots community of health professionals across the country. With one vote, he could help ease fears and clarify health risks by being the point person for providing public health information to the American people. Unfortunately, instead of being the voice of public health and prevention, Dr. Murthy's voice is prevented from being heard. Talk about politicians getting between you and your doctor.
Beyond Ebola, our communities need to address many far more common public health concerns. Every year, nearly half a million Americans die smoking-related deaths. Vaccine-preventable diseases have risen to a 20-year high and we lose over 112,000 people to obesity-related deaths annually. This doesn't have to be. This is preventable. We need a leader who will bring diverse stakeholders together to imagine innovative solutions that can meet these challenges head-on.
As a Preventive Medicine physician, I firmly believe in preventing illness and improving population health. All of our Surgeons General have taken on the mantle of disease prevention and health promotion during their tenure. Dr. Murthy, a trailblazer for prevention and public health, would be no exception. He helped shape our National Prevention Strategy. He is also one of the leaders from around the nation that has been called to evaluate and advise on the best evidence-based practices for health and wellness as a member of the National Prevention Advisory Group.
The delay in confirming this highly qualified physician during a public health crisis strictly for political reasons is shameful. It's time to put patients over politics. It's time to put science over special interests. We can be a healthier and safer nation, but we need to act. Let your Senators know that enough is enough. The Senate should confirm this Surgeon General nominee during the lame-duck session.
Our nation needs its doctor. Our nation needs Dr. Vivek Murthy.