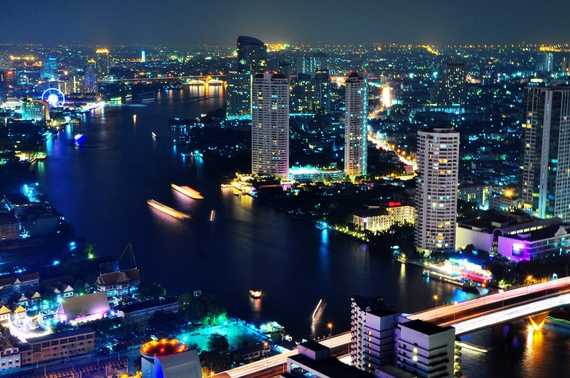 Sparkling by night: The Chao Phraya River as seen from Lebua at the State Tower.
With five establishments from Bangkok featuring on the Asia's 50 Best Restaurants list, there is no shortage of great places to eat in the Thai capital. Becoming ever more confident and innovative, some restaurants now aim to take diners on a culinary journey that has elements of theater and adventure.
Trundling to Malaysia after a recent Bangkok trip aboard Train 35, the overnight service to Butterworth (the name may sound English village, but the food stalls and general chaos of this train/bus/ferry station on Penang mainland are pure Asia) I chose Set D for supper from Thai Railways catering. As I ate pork stir fry and green chicken curry off plastic plates, I thought longingly of some exquisite meals savored the week before in Bangkok, while exploring recent additions to the restaurant scene where the food was not just excellent, but presented with a definite flair for the theatrical.
On these gastronomic ventures, I was fortunate to be accompanied by Madame D, Bangkok resident and discerning imbiber of spice-laden snacks and premium spirits.
Hint Cafe opened a few months ago (corner Soi 10, Thonglor) by Chef Gigi, who trained in Las Vegas, a city where food and showmanship are second only to gambling, before returning to her homeland. The cafe's concept is: "You Hint, we cook" -- or, customers can describe what they feel like eating, and Chef Gigi will create dishes for them. Of course, she has menus, too, and her all-day brunch is tempting, including eggs Benedict with salmon, parma ham or foie gras.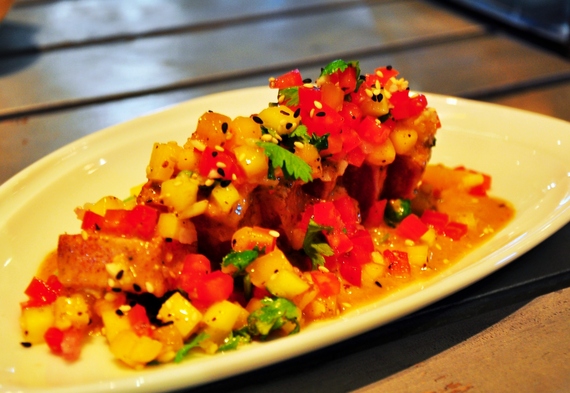 Perfect for those who don't like reading, after a brief consultation, Chef Gigi sent over some cocktails, seared ahi tuna with mango salsa (above), velvety Australian wagyu beef with chilli and coriander ponzu dipping sauce (below) and Chinese bun with shredded pork belly. These are excellent, small plates for sharing. Chef Gigi then went to the kitchen for inspiration (she also gets ideas in the car and the bathroom) and surprised us with John Dory fillets in spiced cream, capers and shallot sauce, along with a Gigi special, a "secret seafood crepe" with passionfruit sauce. This might sound strange, but the acid sweetness of the sauce added a tangy zest to the crepe's spinach filling.
She also makes her own spice mix (lime, chilli, paprika) for the delicately battered onion rings for nibbling. Madame D pronounced her Cosmopolitan just about perfectly, and said the spicy onions were good crumbled on everything.
Chef Gigi "loves eating and drinking," and enthusiasm bubbles through her fusion cooking, executed with big, fresh flavors, a light touch and (if desired) an element of surprise that adds up to great food in a relaxed setting.
Lebua at the State Tower is known for its "destination restaurants," offering magnificent views of the city and Chao Phraya River. Its Asian restaurant Breeze hovers on the 52nd floor in a dramatic confluence of walkways and vistas, which the food more than matches. It recently launched China 2020, an interactive menu predicting the taste and feel of China in 17 years' time, and China 2020 foretells that the most populous country on Earth will desire appealing drinks that resemble cocktails, only more exciting. "Experiment" is probably the most fun, being like a chemistry set, but with fun components to play with, like frozen passionfruit balls and syringes of vodka. "Fire," with its ice glasses and flaming preparation, a table, was a dramatic accompaniment to desserts of mango-apricot cheesecake and dark chocolate mousse with Japanese green tea.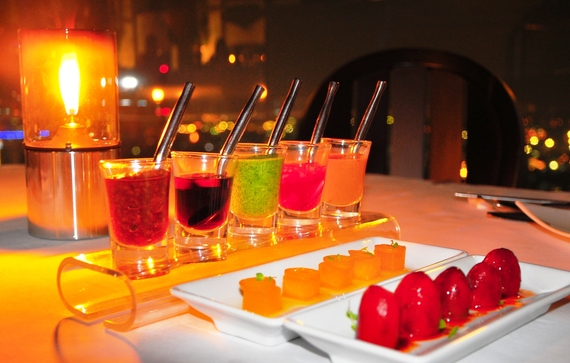 But before we got to those, sauces and gorgeous amuse-bouches of candied tomatoes and winter melon appeared (above). Then there was a dice-rolling ceremony to establish our lucky number, and hence which sauce we had with the silky ohmi beef. In between there was a stunning trio of dim sum, including wagyu beef in puff pastry.
Other mains included succulent Chilean sea bass, and Appearance, or "7 Stars Around The Moon" featuring eight small and exquisite truffles featuring lobster, King Crab and sea urchin (below). Madame D was already planning a return visit on the way out.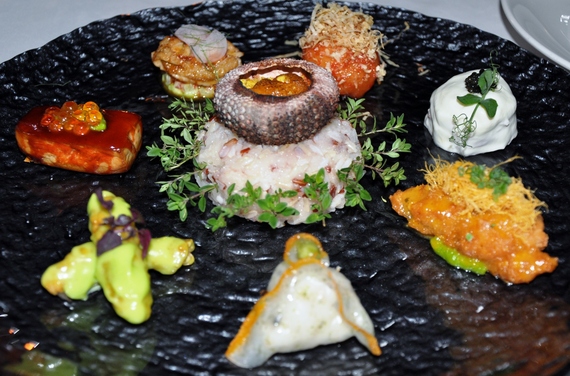 With Bangrak market and glimpses of old Bangkok at the State Tower's bustling base, staying in one of Lebua's lofty suites offers urban panorama and an extensive array of free snacking opportunities amidst a range of Bangkokian experiences, also being close to riverboats and the SkyTrain at Saphan Taksin, street food and the city's raw fervor for shopping.
Aston Dining Room & Bar inhabits an "unfinished building," covered in vines that since August has been bringing the "jungle back into Bangkok" on Soi 31 in Sukhumvit (the architects of this "greenhouse" feature on the website too). Fully embracing cooking as theater, the kitchen is the dominant feature of the restaurant, and seats at its bordering counter provide a clear view of chefs rolling out pasta, saucing and using tweezers to plate tiny leaves just so.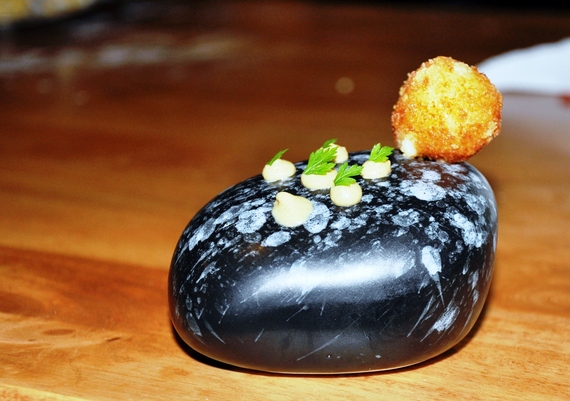 Chorizo croquette with parmesan and Dijon served before serious eating begins at Aston.
Aston is the vision of award-winning Chef Zra Jirarath, who has been behind the stove professionally for five years. He trained in computer programming and cordon bleu, but his passion is cooking rather than binary code. He produces modern European cuisine, influenced by France and with a dash of Asia, and channels this into a sophisticated five-course, seasonal tasting menu for 28 diners. And that's not counting the amuse-bouches or petit fours (champagne marshmallow, Madeleine, chocolate).
Jirarath is dedicated to fine ingredients -- some, such as foie gras, quail and butter are imported from France -- some sourced locally or from the King's Project in northern Thailand. He likes cooking for a sophisticated clientele who not afraid to experiment with him, whether it is pairing lamb with smokey eggplant and Spanish pepper "ketchup" (below), or salmon with puffed wild rice, caviar salad and garden herb emulsion.
Jirarath thinks of himself as a culinary artist, and though relatively youthful, he has already cooked on television and for royalty. If you want to see this rising young chef in action at close range, now's the time.
Eating can be about so much more than simply food on a plate. Study the Bangkok skyline at night, and it will feel as if the city is already delivering on some futuristic promise. Eat at some of its dynamic new restaurants, and you can taste it.