As a journalist mom I enjoy interviewing interesting entrepreneurs and companies that are passionate about kids and community. King Arthur Flour is one such company.
Over the past six months I've been on an extended interview with King Arthur Flour -- our email strings could circumnavigate the earth.
And it's all because of their amazing Life Skills enrichment program that teaches elementary and middle school kids how to bake.
And you can't beat the price to schools... FREE!
And yet I never imagined I'd have this much trouble selling something FREE to local schools in my life.
In a nutshell, King Arthur Flour (or KAF) is located in Vermont. They are the oldest most respected flour company (think George Washington) in the U.S. KAF views success as not just making money... but by giving back to community.
One of the many ways they do this is through the Life Skills bread baking program.
"The point of the Life Skills program is for kids to have a fun, real-world application for skills they're already learning in school -- math, science, reading, planning, problem solving, and more. And they get to use their new skill to help people in their community."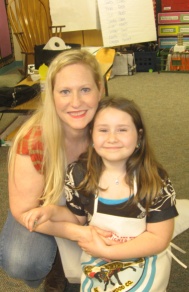 I don't think I could have kept trying to get the Life Skills program in my community if I didn't understand the power of kids cooking first hand through cooking with my own four kids and more recently with my daughter, Amelia's class.
Every month I cart a wagon full of supplies to Amelia's second grade class to cook with the kids.
Students help me rearrange the desks into cooking stations and help pass out whatever King Arthur Flour recipe we'll be following that day.
I know I sound like I'm King Arthur Flour crazy... but it's a part of my belief as a writer mom to support companies that give back to community and kids.
"Who has never cracked an egg before?" I recently asked a group of extremely focused eight-year-olds excited to make homemade Belgium waffles.
In unison, arms shot upwards like Blue Angels. Twenty-plus kids wiggling fingers, zigzagging arms, undulating wet noodles and an over-the-top wind shield wiper wave. All wore the same expression, "Pick me!"
Although it's not a competition, watching kids work the recipe together is as fun and intense as an episode of Top Chef.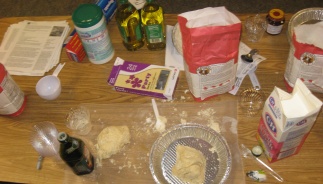 Each group of individuals has a separate process for stirring, adding and navigating through the ingredients: how to take turns, measuring, working together and sharing.
The experience is very rewarding. However, what King Arthur Flour does with Life Skills is so much more.
KAF sends out a baking team to a school. The school hosts an assembly where the baking team teaches the kids the skill of baking bread, then the KAF team sends each and every one of those kids home with a baking kit to make bread.
One loaf to enjoy with their family... the other to bring back to school and collectively donate all the loaves to a local food bank.
I live near Seattle.
King Arthur Flour Life Skills program has never been to a school further than California. They were excited to bring the program to our state and their only requirement was just two schools in my area to apply... though they would love to visit as many schools as possible when there in the area.
Paula Gray, Life Skills Program Manager, was ready to fly up when I received an email from my contact at the kids school district.
"I learned from the elementary and middle school staff that they are getting ready to prepare students for testing, so they are unable to fit this program into the early-February timeframe. Unfortunately, we are going to have to pass on your offer."
WTF?
A wonderful opportunity for elementary and middle school kids to take advantage of a free opportunity in these dismal economic times and they're too busy.
"It seems like the message of wholesome fun and learning with kids should be much easier to promote," Allison Furbish, King Arthur Flour web media coordinator said in a consoling email after I heard the news.
"Thanks for keeping in touch - I love your enthusiasm and have confidence that we will get Life Skills out there eventually..."
After that I had to move on from the King Arthur Flour story that seemed so promising and yet had eluded me.
A week later I was interviewing Willie Moneda the owner of a local indoor beach facility where you can play volleyball year round. I was there because Willie had recently added a Lil Diggers program that Moms were all abuzz on Facebook.
"Moms are powerful." Willie said.
"Would you mind repeating that?" I asked.
"Moms are POWERFUL!" He said again and his eyes were all lit up like he was surrounded by superheroes.
I glanced around at over thirty moms with pant legs rolled up wriggling their toes into the white squishy sand as their toddler offspring were happily shoveling, sliding, giggling, and playing ball.
"We now offer chair massage for Moms so they can relax and chat with other parents. We also offer beverages and snacks," Willie said. "We've done zero advertising to promote the Lil Diggers. It's all word of mouth...Moms."
Smart companies understand that Moms are powerful.
According to
Blog Brandigity
:
A recent study conducted by NPD Group shows that moms have the most social media power in the United States. Close to 80% of mothers in the United States with a child under the age of 18 are active in social media. With many moms taking control of a vast majority of purchasing decisions in a household more moms are turning to the social media pages for advice and information regarding popular products in society.
Stats say that women control 75 percent of the household finances and that 85 percent of all brand purchases are made by women.
Surveys also reveal that 91 percent of women feel that advertisers don't understand them. Only 3 percent of advertising creative directors are women.

Which is why thanks to Willie, I'm bringing Life Skills to Moms and social networking.
"Moms are Powerful!"
It's my new favorite quote.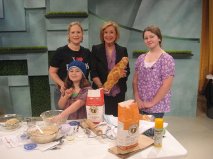 In fact, I think I'll go post it on Facebook next to my link from my recent appearance on local television show New Day Northwest with the award-winning journalist (and Mom) Margaret Larson about bringing the Life Skills program my town.
Like me on Facebook and I promise I'll tell you all about it!