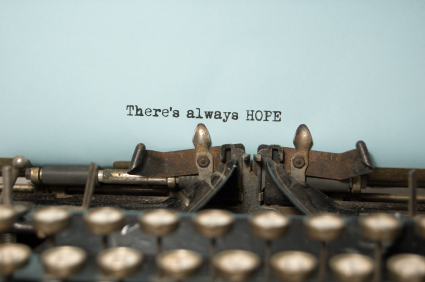 Now, more than ever, I am reaching within for the strength to persevere. For me, the secret ingredient in that recipe is slowing down and looking at life from a different perspective. I realize that instead of focusing on what I'm losing right now, I need to flip the coin and ask, "What can I gain from this situation?"
It may seem trite, but my personal reminder in this endeavor is really quite simple:
Ignore the Rain. Look for the Rainbow.
Everyone faces challenges in life, but it's not the obstacles that define us. Rather, it is the way that we stand up for ourselves and push back against them that ultimately writes our character. It all boils down to perseverance. And while I wish I'd had the tools to foster my own perseverance since birth, I've been fortunate enough to have learned of their existence--and ultimately acquired them--through the experiences of others.
Two of those individuals include Katie Zawadzki and Alex Oden, both of whom were diagnosed with cancer at a young age. Below are some short excerpts from their chapters in Perseverance.
Katie Zawadzki:
"Eleanor Roosevelt said, 'You gain courage and confidence by every experience in which you stop to look fear in the face. You are able to say to yourself, 'I have lived through this horror. I can take the next thing that comes along.' You must do the thing you think you cannot do.'
I've seen the truth in her statement. I will never again have my eyes closed to this world and its beautiful living things, or take for granted the simple things in life. Death and trauma stared me in the face, and I stared right back in triumph."
Alex Oden:
"We are constantly bombarded with negative messages from the world around us. Sometimes it seems as though there's no good left in the world. Because of these messages, we must actively find the beauty and positive aspects in the world. We must appreciate the beauty of each day and be thankful we have it, especially when we are hurt or down. During the times of my life when things felt hopeless, I found beauty in the small things such as reflections, sunrises and sunsets. These small things got me through each day."
Lessons Learned
• Experience Ordinary Moments: Capture individual moments and treasure them as presents to yourself. Nothing is worth more.
• Nourish Your Inner Child: Seeing the world through childlike eyes is the same as putting on a pair of glasses with multicolored lenses. The things you'll see will simply astound you!
• Look on the Bright Side: When your perspective seems to be working against you, make that important decision to flip the coin--change the paradigm--and look at the bright side.
• Live with Your Eyes Wide Open: Make a conscious effort to open your eyes and appreciate the people in your life, the small moments of joy that you encounter everyday, and most importantly, appreciate you.
• Hold onto Hope: Beauty can grow from darkness and uncertainty. To cultivate it, we simply have to find that little snippet of hope and hold onto it--and we all have the strength to do that.
How do you persevere? What have you found to be most helpful?
: : :
Each day, I post inspiring tips focused on turning knowledge into action and action into change. You can read these tips and much more on carolynrubenstein.com.
If you enjoyed this post, I would love for you to share it with others on digg, delicious, stumble upon, or twitter. I appreciate your support!