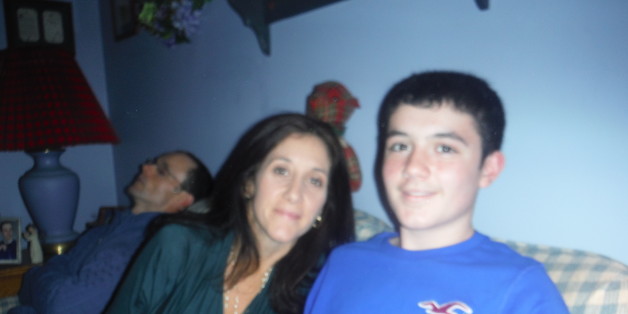 My oldest son just turned 15. FIFTEEN! I don't know why, but 15 just seems monumental to me. I'm surprised by it, I think. Why? I don't know. I've had plenty of time to get used to the fact, I mean doing something for 15 years usually gets you used to it, right? I've accepted all of the milestones and markers that "growing up" bring. I've photographed them, saved them in plastic tubs, rejoiced over some and cried over others. But for some reason, this birthday just hits me harder than most... 15. How do you explain 15 years?
Moments from his life go through my mind like pictures in a slide show. Simple, everyday moments: Having a picnic in the backyard, just the two of us; the sound of his laughter while I push him on a swing; the smell of his freshly-washed hair as he sat on my lap to hear a story "just one more time." If I could, would I pause on one of those? Keep him there like that, for just another minute? While those minutes were going by, I don't think so. There was always something else to be done; the cleaning after the picnic, the laundry after his bed time. The next milestone to reach, the next accomplishment to achieve. But those moments, right now-oh so precious. The moments of the past 15 years...
The difficult pregnancy. The bed rest. The hospitalization. The FOUR DAY labor. The NICU. The anti-convulsive drugs that kept me from getting out of bed to go to the NICU to see him. Leaving the hospital without him --- that feeling of despair. Getting him home and not knowing how to get him to stop crying -- that feeling of despair. The colic. The teething. The eye surgery at age 1. The early intervention plan. The not crawling. ALL of it, SO monumental then, so much the past now.
Can we pause there for a moment though? Just to rock him in my arms, one more time.
The toddler phase came suddenly. The laughs. The "big words" from that deep voice. The little man. The old soul, as he were. Snuggling together to hear a story book. Preschool and having to drag him off of my legs. Crying so much he'd make himself vomit. Adjusting and being fine. T-ball. Making his first friends. Losing the training wheels. Being the lonely only child that prayed, "God throw me down a baby. I'd be a good big brother." (Boy, did he not realize what he was asking for or what?) But he was. And he is.
Can we pause here for a moment, to feel his little hand in mine, as we cross a busy street?
Grade school. Football and basketball and baseball. Working on his confidence. Watching him blossom. Yet sometimes, longing for the baby that relied on me. Seeing him become who he would become. Riding his bike alone to a friend's. Driving a go-cart. The accident that could've taken his life. The fear. The worry. The prayers. The surgery. The long, long weeks out of school to recover. The thanks to God that he did.
Can we stop at this slide, just for a second? To hear his laughs as he sat next to me for his first roller coaster ride.
Upper grades. Awards. More baseball. Conversations about girls and respect and manners. Becoming more independent. Watching him with his friends. Paintball and parties. Beach houses and boardwalks. Finding all of the things that made him, well HIM.
Just hit the pause button briefly right here, so I can hear him again, tell me all about his school day.
A blink of an eye. Middle School. Being a leader. Learning. Achieving. Becoming more independent. Theme parks and thrill rides. More baseball. And more conversations about girls and respect and manners.
The buttons won't work, there is no pause. He's growing up so fast.
Another blink and a new high school. Being brave. Freshman Orientation: "I want to take the tour mom, with 'them'." The ups. The downs. The disappointments. The successes. And even more conversations about girls and respect and manners.
All of this rolled up into 15 years. The emotions have no words that can describe them. My pride. My joy. My frustrations. My stress. My elation. My world. Fifteen years of it. If I could, would I pause on one of those scenes? No, I would not. Because how would I see then the man he will be? The one he's becoming that makes me so proud? He is only one (of four) of my biggest accomplishments. The part of my life I am most proud of. He was the first to make me a mom. And for that I am forever grateful to him, my son. My fifteen year old son. xoxo