The weekend of April 27-28th, Los Angeles swarmed with hackers participating in UCLA'S LA Hacks, powered by AngelHack.
BeyondCurious proudly sponsored LA Hacks. We were excited about LA Hacks because we thought it would be a great opportunity to see some of the talent coming out of Southern California schools. We weren't disappointed! It was fun to attend the event, and an inspiration to see dedicated, imaginative, and talented teams hack their way to a product. The energy and enthusiasm of participants and industry that we saw at LA Hacks is definitely an indicator of the rising momentum in LA'S tech scene. I talked to Hadar Dor the founder of LA Hacks to learn more about his experience planning the event, how he thought it went, and of course, hear more about the winners!
What was LA Hacks?
LA Hacks was Southern California's biggest hack-a-thon ever, where the brightest developers from across the region came to our venue at CrossCampus to compete for 24 hours to make awesome products. This event was put on by two UCLA organizations, Sigma Eta Pi co-ed entrepreneurship fraternity and HackUCLA.

What motivated you to organize the hackathon?
I've been heavily involved in the high-tech community for two years now, starting when I took a year off of UCLA to intern full-time at Quixey under their CEO, Tomer Kagan. I've participated in some hackathons in the past and when I got to UCLA, I decided it would be beneficial for the student engineers and general dev community of Los Angeles if there were a large-scale hackathon put on to connect them to engineering mentors and companies looking to hire top talent.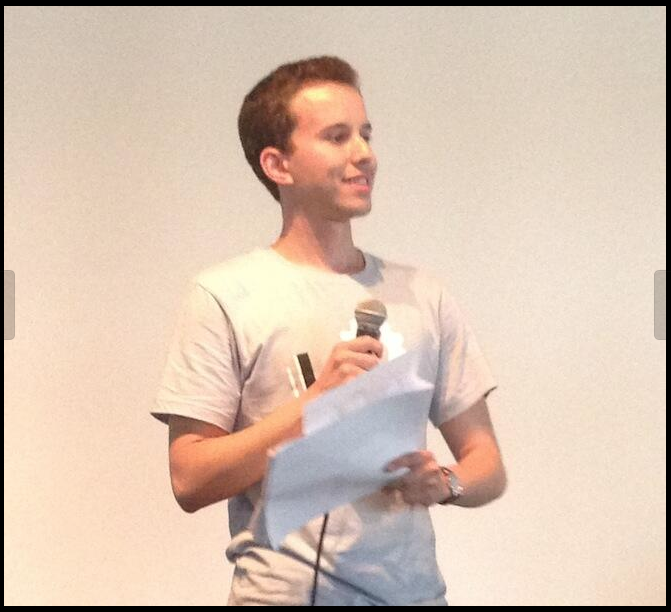 Hadar Dor, announcing the winners of LA Hacks.

Who participated in the hackathon? What kinds of people were they?
Over 250 people showed up to the event, and over 150 actually competed and submitted a total of 41 products at the end of the 24 hours. We had a huge turnout from UCLA and USC, with a lot of people showing up from UC Irvine as well, and a good crowd from UCSD, Harvey Mudd, and Caltech as well. These students composed about 3/4 of our attendance, and the rest were developers in the Silicon Beach community who had heard about the event and wanted to get involved as well.

Can you describe a few of your favorite products that came out of the hackathon?
Shortlog, Tessi, Buzzwords, and Adjacent were four of my personal favorites from LA Hacks. Shortlog is a personal digital micro-journal that allows you to text 160-character max entries. Tessi gamifies life by awarding its users with badges for accomplishing goals, that they can then display to the world online. Buzzwords is an education game using the Oculus Rift VR Headset. Adjacent is a location-based social app that helps its users find similar people nearby.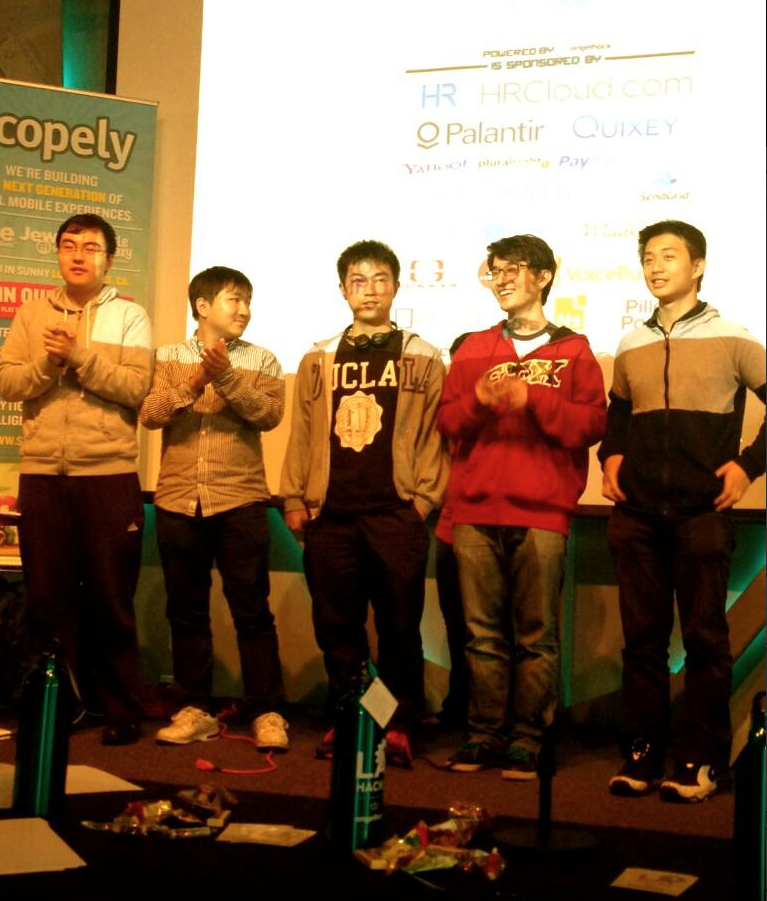 Eyeweight, winners of LA Hacks.
Who won the hackathon? Why did they win, or what made them stand out among the rest?
Eyeweight was the clear winner of LA Hacks. Their team (all UCLA students!) created an incredibly impressive technology that helps people to keep track of their diet by visualizing the nutrition facts of their food using an iPhone's camera. They stood out because they were able to conceive a complex yet exciting product and also create a great minimum viable product in the 24 hours they had to prove that their idea is doable.

What did you hope to get out of the experience? Did you succeed in that goal?
Through this experience planning LA Hacks, I hoped to connect with great developers and leaders in the Los Angeles tech community, and to create an enjoyable event that empowered developers across Southern California to create awesome products with mentorship and support. These goals were certainly accomplished, and I'm very happy with the success of LA Hacks.

Was there anything about the event that surprised you or that you didn't expect?
Honestly, I did not expect the event to turn out as well as it did. Inaugural events are always hard to pull off and can only go up with future iterations as the planners better know what they're doing, as sponsors and the target audience begin to trust the brand of the event, etc. But the inaugural LA Hacks this past weekend had a massive turnout that filled up CrossCampus to the brim, and everyone said they had a blast while also being able to make great products with mentorship from engineering experts that were at the event!

Do you think the event connected or contributed to the "Silicon Beach" tech scene? If so, how?
Absolutely. Los Angeles is a growing and thriving tech community, and the "Silicon Beach" teach scene is one that needs more recognition across the world. I hope that LA Hacks was successful in bringing some of these great engineers out to show their stuff, and I hope that this event will inspire more events to take place in our community here so that we can keep advancing the Los Angeles tech community.

Would you do it again?
LA Hacks will most definitely happen again. My entrepreneurship fraternity at UCLA, Sigma Eta Pi, will be organizing the next LA Hacks for sometime in the 2013 Fall Quarter, and possibly another one for the 2014 Spring Quarter should that one turn out well. Our sponsors were all very happy and want to be a part of the next one, along with even more companies, so expect another awesome hackathon after summer!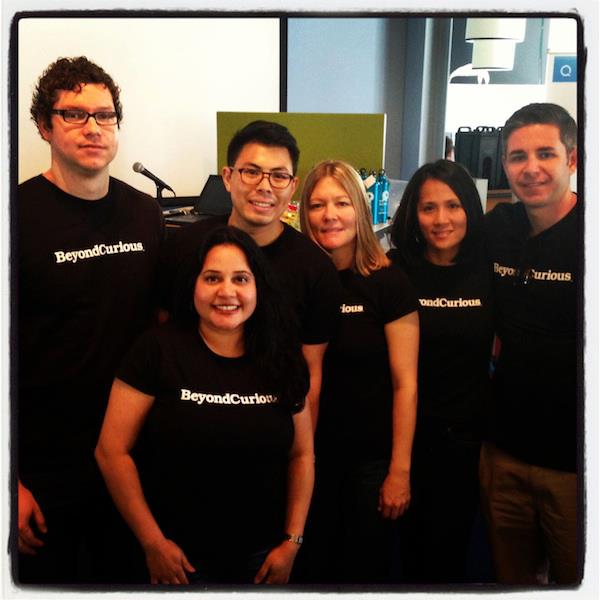 Some of the BeyondCurious Team at LA Hacks.
You can follow BeyondCurious on twitter @beyond_curious, or like us on Facebook.