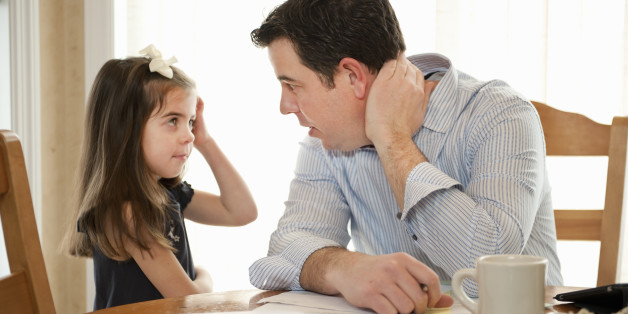 Five suggestions for parents, educators and caregivers to keep in mind when explaining the Ebola virus -- to help put children at ease, to educate and even to empower.
The Ebola outbreak in West Africa is the deadliest the world has ever seen. Already, there are nearly 4,000 children orphaned by Ebola. And with the first confirmed cases now appearing outside of West Africa, it's understandably frightening to many people around the world, especially children.
Discussing the crisis in a safe environment with a trusted adult can help to allay anxiety and fear, combat misinformation and, for older kids, even create an opportunity to understand how they are part of a global community. Here are five suggestions for talking to your children about Ebola.
1. Be honest about how Ebola is spread.
Explain that Ebola is nothing like the common cold or the flu, diseases that are far more contagious. The virus cannot be transmitted through the air or by casual contact. Infection comes through contact with saliva, vomit, blood or other bodily fluids.
Remind children that simple actions can help us all stay healthy and keep germs from spreading. At the top of the list: washing hands properly with soap and water, especially before touching the mouth, nose or eyes! Not sharing cups, bottles or utensils is another good way to avoid germs.
2. Explain that people can and do survive Ebola.
With proper medical care, including adequate hydration and nutrition, young people like 11-year-old Tata, from Sierra Leone, are beating the odds and the disease. Reassure children that Ebola is not an automatic death sentence by sharing survivors' stories with them.
3. Stress that we are not at risk for an outbreak.
Ebola is thriving in West Africa because of extreme poverty, a lack of prevention information and health care systems that simply are struggling to cope with the outbreak because of shortages of doctors, nurses, treatment centers and supplies.
The United States has some of the best doctors and hospitals in the world and the knowledge and resources to prevent the spread of contagious diseases like Ebola. Reassure children that our country's medical infrastructure will keep us healthy and safe.
4. Emphasize that this crisis is not hopeless.
We know how to stop this disease. Many organizations and governments are working together to halt the spread of Ebola by sending trained medical professionals to West Africa, building treatment centers, airlifting supplies, educating communities about prevention and raising money to pay for it all.
Explain how organizations like UNICEF are working hard to deliver critical supplies like soap, chlorine bleach and protective gear and reaching families in affected areas with the information they need to keep themselves safe.
5. Empower your children to be part of the solution .
The Ebola crisis provides a clear example of the perils of turning a blind eye to distant problems. Helping children understand how they are connected to the rest of the world builds critical thinking skills and fosters a sense of global citizenship.
TeachUNICEF offers a library of age-appropriate materials, on global issues such as health, poverty and international emergencies, that parents, teachers and caregivers can download for free. And children of all ages can participate in fundraising initiatives such as Trick-or-Treat for UNICEF, a fun and meaningful way that kids have been helping kids since 1950.