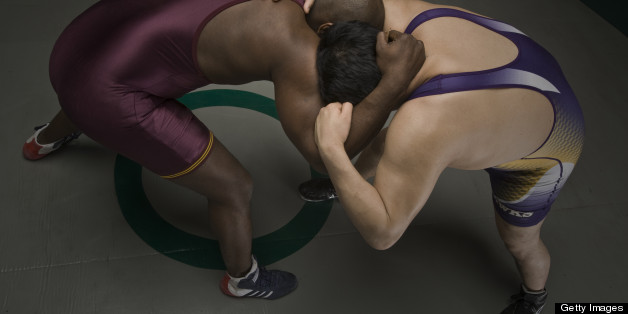 Because it is World Wrestling Month, Iranian, Russian and American wrestlers battled in an event in Grand Central Station in New York on Wednesday, with the athletes weighing in at the United Nations. At least one movie star was in attendance; Mark Ruffalo sat matside. NBC Sports Network broadcast the matches and streamed them live.
For wrestling it doesn't get more high-profile than that.
Yet, there was another gathering for World Wrestling Month here in the U.S., one that got much less attention, but one that brought the Olympic spirit to a small suburban Chicago high school gym.
It was the 2013 Jacob Curby Cup - a wrestling contest that's been held for the last four years in honor of Jacob Curby, a Greco-Roman wrestler on the Olympic track who died at age 25 in 2010 of epilepsy.
Jacob Curby's father, Dr. David Curby said the first Curby Cup came about almost on a whim. Two high school wrestling coaches wanted a way to honor Jacob's memory. "We wanted to get the top international guy at every weight class," said Dr. Curby. But international politics got in the way of international sport and good intentions. Two World Champions were from Iran, they didn't come and Cuba's athlete backed out too.
The Curby Cup has come a long way since then. This year World Champions and Olympians from four countries, Hungary, Lithuania, Serbia and the U.S. came to compete. Olympic gold medalist, 2-time NCAA champion and the coach of 16 NCAA championship teams, Dan Gable, was also there.
Gable called it "a celebration more than a competition." The celebration was of Jacob Curby's life and everything he stood for -- as a teenager he battled leukemia, even though it was epilepsy that took his life. He then brought that same fight to his wrestling. But Gable said this year the Curby Cup had added meaning. He said the push to keep wrestling in the Olympics beyond 2016 gave it even more sentimentality.
The International Olympic Committee voted to drop wrestling from the games starting in 2020. The reasons vary depending on whom you talk to, but everyone in the wrestling community agrees that for some time wrestling's governing body, FILA, snubbed its nose at the IOC. As Gable puts it, "A few people took advantage of the system and jeopardized a lot of things." He didn't mince words when he called those in charge, "selfish".
There's still a chance for wrestling to get back in. Just as American Idol judges have a save, so does the IOC. It can bring back one sport from banishment. Wrestling is competing against karate, squash, baseball and softball and other sports for the spot. And it's no gimmie. Gable pointed out that the other sports have been working for years to stave off losing the Olympics. Wrestling was taken by surprise and is now playing catch-up. He calls the sport's chances, "good, but not automatic." The final decision comes in September.
However, if it wasn't for the dire state of Olympic wrestling the Curby Cup might not have happened this year. Dr. Curby said he had to take out a loan on his house to pay the bills. "We're in the red big time right now... We're a mom and pop operator and we run an international premiere event," said Dr. Curby. He added that they "may be a little crazy" to continue to do it.
But then came the IOC decision. Dr. Curby channeled his inner wrestler. He said, "The fight emerges and just like any wrestler -- you fight off your back, you just don't quit. In addition to celebrating the memory of Jake we are also celebrating and fighting for wrestling."
The fight for wrestling includes the fight to keep the Olympic spirit alive in the unlikeliest of places, such as the gym where Jacob Curby practiced and competed as a teen at Lyons Township High School in LaGrange, Illinois. That's where a first-year wrestler can shake hands with an Olympian. Where politicians came to announce that Illinois had joined 37 other states in passing a resolution calling on the IOC to bring wrestling back to the Olympics. And where the results of the matches take a back seat to the inspiration instilled and the dreams that are born.
Of course Dr. Curby and Gable aren't the only ones fighting to bring wrestling back where it belongs. With the click of a mouse each day thousands of people are doing their part. The website insidethegames.biz is taking a poll that closes on May 27. Gable says it will make a difference with the IOC.
What should make a difference as well is the Olympic spirit. It can be seen on the big stage with grand gestures such as the detente and cooperation between three nations that don't see eye-to-eye on much else besides wrestling. But it can also be seen on a small-scale in a high school gym where Olympians and Olympic dreamers rub elbows.