Season 3 of Downton Abbey -- as soapy, dramatic and witheringly funny as ever, and at times shatteringly sad -- begins in the spring of 1920, and everything now has a whiff of the modern. Daisy the kitchen maid rides a bike through the village, Mary and Matthew are planning their wedding, Anna is determined to find the evidence that will free Bates from prison, and in the midst of all that comes the real bombshell. Lord Grantham has made a very bad investment, losing most of his American wife's fortune; they may have to put Downton on the market. Viewers caught in the 2008 economic crisis can relate.
When Robert tearfully apologizes about the loss, Cora reassures him: "Don't worry about me. I'm an American -- have gun, will travel." Not the most eloquent phrase she ever spoke (and while not technically anachronistic, would Cora have known it?), but the sentiment perfectly expresses how this season flatters both America and that newfangled idea, the middle class.
Remember that Matthew Crawley (Dan Stevens) was a middle-class lawyer before he was unexpectedly declared heir, so it's no surprise that he tries to drag Downton into solvency and the future, with Lord Grantham kicking and screaming. And he has an unlikely ally: Sybil returns with her husband, the chauffeur formerly known as Branson, now called by the family, with varying degrees of discomfort, Tom. Matthew and Tom become forward-looking brothers-in-law-in-arms, the young and dashing antidotes to all that Edwardian stuffiness, lined up against the traditionalists represented by Lord Grantham, Lady Mary and the Dowager Countess.
And there you have writer Julian Fellowes' clever masterstroke: allowing us to wallow once more in the grandeur and excess of the aristocracy, as well as the downstairs world of both loyal and scheming servants, while inching the entire household toward the present. It's having your rich Downton cake and watching it be eaten up too.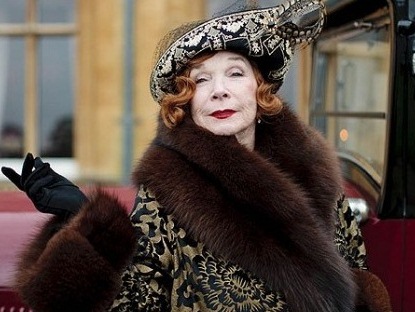 Of course the highly-publicized godmother of this season's practical can-do-ism is Cora's American mother, Martha Levinson, played by Shirley MacLaine. With red hair and red lipstick, she arrives in a red car and displays a brashness to match the hauteur of the Dowager (Maggie Smith is, as always, incomparable). Fortunately, Mrs. Levinson is just as wily as the Dowager, and MacLaine and Smith's scenes together are irresistible, if disappointingly underwritten. (And, her name is Levinson? With a home in WASPy Newport? There must be some interesting backstory, which the series never acknowledges.)
Even when the lines disappoint, though, the actors magnificently rescue them. When Cora (Elizabeth McGovern), Mary (Michelle Dockery) and Martha visit the Dowager for tea, Mary nudges her rich American Grandmama for more money with, "I hope you do think Mama's fortune has been well spent on shoring up an ancient family." MacLaine allows Martha to knowingly lay on her Americaness for the Dowager's benefit, waving her hand and saying, "Ah, ya gotta spend it on somethin'." Smith's face barely moves but she looks aghast.
MacLaine's character hightails it back to America after Sunday's two-hour season premiere, but the series' pace never slows. No spoilers here, even though I have seen the entire season except for the final episode, the Christmas special, with a huge spoiler easy to find online. I will say there is more than one wedding, more than one birth, more than one death, and eventually even a madwoman in the attic (not necessarily Downton's attic). There is much distress over the wearing of dinner jackets rather than white tie at Downton dinners, due to servant error. (So hard to keep good help on a budget.)
Season 4 is in the works, so one way or another, Downton Abbey has future as a house and as a pop-culture phenomenon that has fueled hilarious parodies, at least one of them from the cast itself. If you missed Hugh Bonneville (Lord Grantham), Jim Carter (Carson the butler) and Rob James-Collier (Thomas the valet) on The Colbert Report reenacting Downton as if it were Breaking Bad, you can watch it here.
Image originally appeared on Indiewire.com. A longer version of this review is on jamesonscreens.com.