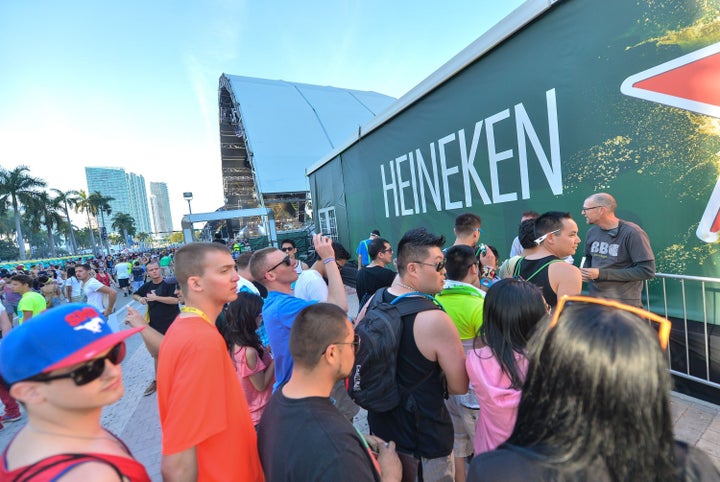 The 15th anniversary of Ultra Music Festival will undoubtedly go down as one of the most wild and monumental events in dance music history. Swedish House Mafia's final performance sent chills down everyone's spine the way they refrained into "Don't You Worry Child" for one last chorus. Avicii caught everyone by surprise bridging folk, live performance and progressive house in his set. It was a bold move and cool breath of fresh air that the scene needed.
EDM seems to be the new rock and roll these days, which means sex, drugs and music flooded the streets of Miami this week. This festival felt like the new Woodstock; from people so incoherent they could barely stand to girls basically wearing their birthday suits to the show. But through it all, there was one constant: an emphasis on quality music and high-end production. On the last day of UMF we were lucky to sit down with very influential producer/DJ Hardwell to conduct an artist on artist interview.
Hardwell is a legend in his own right, a champion of the Dutch school of house. The 25 year-old already has five years of charting singles under his belt and serves as a mentor to a host of artists on his own label, Revealed Recordings. A transcript of our chat is available below.
First off, we want to thank you for dropping our Krewella "Alive" remix during your main stage Ultra performance as well as featuring it on your radio show.
Yeah man, I love all the chords. It's unbelievable. When I first heard it I was like "Whoa who did this remix?" It was a huge highlight in my set.
That means so much coming from you and we can't wait to hear how your remix of it turns out.
You're doing a lot more than most artists and DJ's these days from DJing & touring full-time to doing your weekly radio show and running Revealed Recordings. How do you find time to produce new music?
I'm always producing new music whether it's my own music or just mash-ups. I find time whenever I'm on the airplane or just in the hotel.
On the road are you able to produce music without having a studio available?
I can definitely work on ideas with my MacBook and headphones but the whole mastering process really needs to be done in a studio. I need those big speakers and the sub so I can really hear and feel it. I'm a real nerd when it comes to mastering. It takes a lot of time. I always lock myself in for 48 hours and master the track as best as I can.
We've built a home studio that we really know well, where we feel comfortable working in. Do you have a home studio set up where you work and A/B with different speakers?
I'm still in my bedroom at the moment. haha I've never had a professional studio. I think it's more important to get used to your speakers and learn the way they sound and translate. As we speak I'm finally building my studio and will have the opportunity to A/B with different speakers.
Do you have any certain pieces of gear that you like or do you keep it in the box?
No I always keep it digital. The only hardware I'm using is the Virus TI Desktop Synth. It's such an amazing synthesizer because the decay, reverbs and delays sound so good and enormous!
With tight deadlines and how quickly the music industry moves, are there any songs you released that you wished you had more time to perfect, but circumstances didn't allow it?
No, I never release music I'm not 100 percent on. I always release quality over quantity and that's the good thing about having my own record label. I can decide to push back a release. I won't put a record out that I feel is unfinished. You have to make sure you're satisfied with your own record because you'll have to play for the next few years.
We started playing and producing music at a very young age. At what age did you get involved?
I was four-years-old when I started playing piano and I started producing dance music when I was eight.
With the loud level of music played at clubs and festivals like Ultra, do you feel the need to wear earplugs to prevent hearing damage?
Yes, I already have some hearing damage. I've been djing now for 10 years doing up to 200 gigs a year so it's normal that I get some hearing damage. It's really important that you protect your ears, I put them in the moment I enter the festival. I always tell my fans to use earplugs when they go to festivals.
We agree hearing loss is a serious issue because you can't get back what you lose. Plus, getting a permanent ringing in your ears wouldn't be much fun. To stay competitive, artists need to have their ears in the best shape possible, or they won't be able to keep up with the next generation of producers. I really like that you take wearing earplugs seriously and that you voice it to your fans. It shows a lot of responsibly and awareness.
Do you feel like you always need to test your new material in a club or at a show before you release it?
Always, it's my whole process. I make something in the studio, then play it at my club gigs, festivals, then go back to the studio, make changes. I keep testing it out back and forth hoping that people don't record it at the shows! haha
We've done a ton of international touring and were surprised to see positive reactions overseas. Are there any specific places you've been to where you were very surprised with the support & response you received?
Yeah, I think the first time for me was Zimbabwe. It was so sick!! I was the first international DJ to play there and people just knew every song. I was like really? How do they know this? haha
Same here, we had a single do really well on the charts in South Africa. Artists like you and I started creating songs in bedrooms and basements and to see them reacting in counties on the opposite side of the world is such a priceless feeling.
When did you decide you wanted to mentor new talent and make a community with your record label?
I was 18 when I came up with the plan but was 21 when I started Revealed Recordings. Before that I was an A&R at another label so I had quite the experience to start my own label. Dannic has been my best friend for like the past 8 or 9 years and he's making good tracks. I met Dyro just through sound cloud. So it's really funny. All the other guys are really good producers like Jordy Dazz and Alvaro.
Is their anything that you think people don't understand about EDM from the music to the community and lifestyle of a DJ/artist?
It's quite rock and roll right? Partying all night and early flights, haha. I think that everybody thinks we're like really super cool flying private jets and can sleep whenever we want. Sometimes it's really tough touring especially when you're away and have a moment when you really miss your family, friends, and home.
What's your usual process for creating a song?
It depends, sometimes I feel like just making a piece or I'll come up with an idea for a beat. I like to start with chords on a piano because I feel like if you're just skipping through presets you get the same sounds with the same feelings. I always try to write music on the piano that's actually a real song. If the emotion is right on the piano it's going to sound sick with the rest of the production.
When I started writing "Apollo" I started writing the chords on the piano and then the top melody. I recorded that and then went searching for the sounds afterwards.
How do you feel about all the social media outlets that have become so popular these days? Do you find it overwhelming at all keeping up with all of them?
Oh no, I really love it. I think it's a really great way to connect with your fans. You share every moment you're having with them even if it's just an interview, a picture or something small. It's really important because without your fans you're nobody. It's a great opportunity to keep your fans so close.
Keep up with us as well as Hardwell at: