Seeing Arianna Huffington in Beverly Hills the other night was a full circle moment for me. A year ago a Huffington Post Technology Editor (Jose) asked me to blog about collective consciousness and that was the first step on a writer's journey that brought me to Los Angeles. I felt the synchronicity when she opened the evening talking about "Cassandra," her favorite Greek heroine, who happens to be my namesake. I also represent many of the people she writes about in her latest book Third World America. Validation. I'm where I'm supposed to be.
As fate would have it, I too was gifted with vision and have been cursed by men who claimed to love me. When I spoke to Arianna afterward, I briefly told her about a time in my life when I sold chocolate chip cookies at concerts in the Bay Area with my teenage daughter to make ends meet and she asked me to write about it.
It's a success story in many ways but not a rags-to-riches story. It's worth telling now because it is time to shift the current meaning of "success" in the collective consciousness from obtaining large amounts of money, to living life gratefully, taking good care of our children, treasuring our planet and inspiring each other to be better people. This is true and lasting "success." I have achieved this success and you can too. It doesn't matter what's happened in the past, you can start right now to live successfully.
The great spiritual teacher Eckhart Tolle says you are most close to your true nature and life's purpose when you no longer know who you are. When all the things that have fed your ego-identity are gone, what's left is the real you. A "you" that is very powerful, joyous and inline with the energy of the universe.
With so many people facing financial struggles, unemployment and worries about the future, this can be a time of great positive transformation if people can adjust their values. This is the up side. In this amazing time of instant connection to each other through technology, what you create and send out can affect many people quickly. This could be a time to turn your passion into a business or reach out as a mentor, filling a need of society. It is possible to align your actions with what is truly meaningful in life and let go of the false capitalism love story that has been fed to us. It's time for the Aquarian Conspiracy of the 21st century.
I have nothing against making lots of money. I've had financial ups and downs my whole life through many different careers. I had a rocky start, got married at 16, had my daughter at 19 and was divorced by 20. I could always cook well, so I became a chef and restaurant owner at 24. I made some good money for a little while. Things went south with my partner/ boyfriend and I found myself starting over again at 28 with a very bright 9 year-old daughter.
At this point my life as a mother became very difficult when my paychecks were getting levied to an unlivable level for taxes owed on the former restaurant. My job as a Chef kept me away too many hours from Christina. We were broke, I was exhausted and she started heading down the wrong pre-teen road so I knew I had to make some changes. I was so desperate for money one weekend that I made a bunch of jewelry and took it to a 3-day Grateful Dead show at Shoreline. The jewelry didn't sell but I noticed food was selling very well to the happy fans. The next night I came back with a few pans of Spanakopita, a spinach and feta cheese pastry and a specialty of mine. My daughter and I sold spanakopita at concerts for awhile but it was very labor intensive and expensive to make. One weekend there was only one event to do, Sesame Street Live, so with new found confidence we changed the menu to chocolate chip cookies, made hokey signs and gave it a shot. The cookies sold really well and we were able to see the show, spend time together and go home with a purse full of cash. This was the birth of Chippity Doo Da Cookies. We made giant batches, perfecting our big tasty cookies over time and sold them for $1 at every concert and at sporting events. We eventually became a welcomed, legitimate fixture at Shoreline and other Bill Graham events in the Bay Area. We would buy bottled water from Costco and sell it for $1 out of cooler at big events for bonus money. People would run up the hill after a Shoreline concert with dollars in their hands, grabbing our cookies with ritualistic zeal. We went to many concerts, met many artists including my favorites Peter Gabriel and Ian Anderson, made some money, we both finished school and we survived with a very close relationship. We did not get rich, but we got by. It was a success.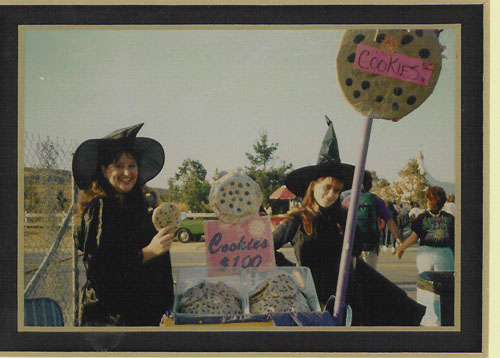 One Halloween concert at Shoreline Amphitheater, Mountain View California
People judged me for making my kid work during her formative teenage years and at times I felt guilty, but at the end of the day I'm positive that this lifestyle choice was paramount in making her the successful political reporter she is today. She wasn't partying, she developed a great work ethic, got good grades as the cool concert kid at high school, graduated from UC Berkeley and is currently very skilled at manifesting her bliss in DC as a happily married, White House Correspondent (recently became an editor). We had plenty of adventures and stories to tell and when I think of those difficult times now, I thank my lucky stars we took that unusual path. It was a true blessing at the end of the day.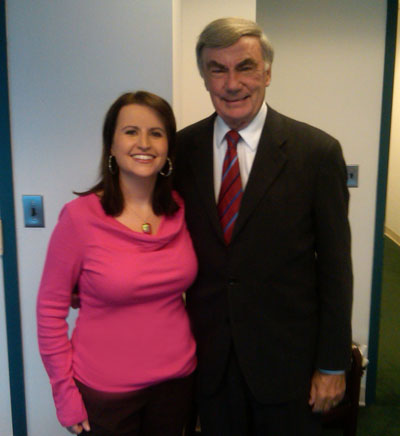 Christina Bellantoni with Sam Donaldson. A full circle moment for her because he gave her good journalistic advice while she was still in San Jose.
Having to start over many times in life has made me a uniquely strong and resourceful person. I accept life as it is. I no longer fear the natural highs and lows. Every hardship I've faced has made me stronger, taught me valuable lessons or led me to amazing people. I'm grateful for the times life's challenges pushed me outside my comfort zone. Which is good because like so many others, I'm currently starting over, again.
Things are a bit different this time. I'm older. My body has been damaged by breast cancer and the treatment that kept me alive, so a pirate cookie company is probably not in my immediate future. My daughter is across the country and it took time to recover emotionally from the unexpected betrayal of my husband, destroying a successful business and lifestyle that was financially comfortable.
Of course that stable, successful life was a complete illusion, but I've been through this before so I'm a bit more equipped than many others in the same boat. I know this too shall pass and there are valuable lessons to be learned. When the worst I could imagine actually happened, instead of becoming self destructive, I really focused on the spiritual lessons of my predicament, kept myself open, present and began to write everything down. Instead of grabbing a pack of smokes and a bottle of tequila (my old stand-bys), I pampered myself as much as I could. As a survivor, I truly appreciate each and every day I'm blessed with simply being alive and I try to help others feel that way too. I've finally learned how to eliminate debilitating stress no matter what is happening, I love myself consciously and want to teach others this skill. None of this spiritual development would have occurred if it wasn't for this dark period and I'm grateful for it.
This is why I'm here in L.A. starting over working for a Beverly Hills magazine selling Ads, writing a book to help others, producing guided visual imagery recordings for teens and at Temple Emanuel listening to Arianna Huffington, the master of reinvention. I now say YES to whatever the universe puts in my path, including writing this and I'm ready for whatever. I know success for me isn't about getting rich or getting remarried. I'm feeling really hopeful and excited about becoming more knowledgeable than I already am so I can help others during this difficult time. I feel a shift in consciousness and those that are losing things may actually be the lucky ones.
I have had my share of help, miracles and lucky breaks. One amazing moment happened while I was visiting my daughter on Christmas Eve in the White House. Robert Gibbs kindly offered to show us the Oval Office on a quick tour. As I looked around I took stock of my life and felt that magical moment fully. I realized this would have never happened without Chippity Doo Da Cookies. Who would have ever guessed that me, Cassandra M. Bellantoni, teenage mom, would be standing in the Oval Office with my daughter and Robert Gibbs laughing with glee? Life is truly beautiful.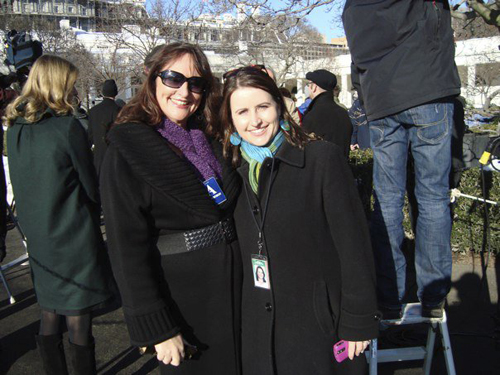 One of the most amazing days of my life. Christmas Eve 2009 at The White House! Lucky me!
My tips for people facing tough times:

The thing to remember is that if you are alive, you matter and are important to the world or you wouldn't be here. The gift of life is only given to those that have a purpose. It might not be to become rich and that's fine. Your purpose could be helping others, or just one person, or animals, or the planet. You could be here to be a great parent, invent something, make people laugh or stop someone from being hurt. These are all successes. Everyone has a destiny to fulfill and it is impossible to know how deeply our own imprint is affecting the whole. Look to what makes you truly joyful for the clues to your purpose.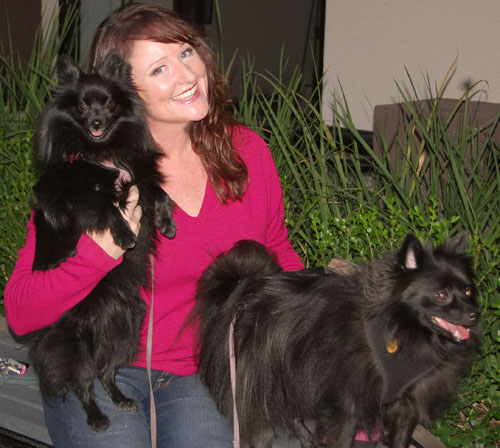 Starting over again with nothing but my doggies and a grateful attitude. Come what may, I trust the universe.
If you are facing losing your home, unemployment, divorce, kids going away, people dying, illness or any of the many ebbs and flows that life brings, do not let these events define you. Remember, where you stumble lies your treasure. Take notice of where you are. Every cloud has a silver lining. FIND IT! Stay in the present and separate yourself from negative mind-chatter and the people in your life that mirror it. Involve your children in the family challenges. They will learn about reality and that is never wrong. Look to animals and nature for a lesson in accepting life joyously. My dogs make me smile everyday. A beautiful flower or fantastic music can really change your frequency, which is important to attract new experiences. Feel grateful for all you do have. Ask for help. Take good care of yourself. Exercise, take a walk and get plenty of sleep. Eliminate corn syrup, junk and chemicals from your diet. You will feel better and be stronger to face the next chapter. Let go of stuff, hold on to love, true friends and your values.
Most of all trust the universe.