If you have to get something done with no time, money or concrete plan, there are two kinds of people you can always count on: chefs and video production pros. Throw in the latest technology and there is nothing they can't accomplish! Luckily for me I have solid roots and good friends in both camps.
I left those former professions for a few years to work full-time running a solar company with my soon-to-be ex husband. One midlife crisis and neighbor's babysitter later, I'm starting over again and refocusing on what I was doing in 1999, working on a kid's cooking show and moving to LA.
While I was saving the world with solar technology, my friends in television, corporate video and the culinary arts were obtaining heaping amounts of success with a side of great connections. I announce I'm back in the game and there's a jump cut to a couple of amazing opportunities which came through those connected friends and suddenly I needed to get a video resume and a couple of TV show promos together in 3 weeks which means I needed to be shooting immediately!
The talent, crew, equipment, locations and props list was daunting. I had no clue how I could find seven child/teenage actors and five adults available for an immediate three day shoot with no pay, let alone coordinate everything else. This was hard even when there was plenty of time and money. Six years ago I would have needed two full-time employees, an office, a fax machine and probably 30 days of pre-production to do something this ambitious, without a budget. On top of the overwhelming logistics I was facing, I was also sick and stuck in bed. I threw myself on the mercy of my friends and armed with highly developed skills, iPhones and Blackberries, they saved the day.
As things began to come together I suddenly realized there was no longer any need for non-stop phone calling, faxing production sheets, waiting for head shots and videos in the mail, or setting up casting sessions in the studio, or any stress for that matter. I could do all the pre-production and coordination with my crew, talent and locations from my Macbook in bed. Hallelujah!
Chef Gigi Gagerro, owner of Kid's Culinary Adventures and Chef Kathy Smith lined up six of the kid actors. I auditioned them via emails, YouTube videos shot on flipcams. Chef Jim Baumann, owner of The Point Restaurant in Rio Vista lead me to George Maguire, who happened to be Tom Hanks' former acting coach and via George's Facebook connections my five adult stars were cast. Craigslist was a bit of a challenge because I kept getting flagged by vindictive stage moms, but luckily in the couple of minutes I was up, Connie and Carl Wendling, the perfect mom and son acting-team emailed me and sent me a link directly to Carl's professional acting webpage.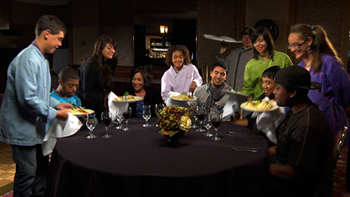 The most supportive and hard working guys I know became my stellar crew and miraculously made themselves available for three days, donating the equipment via text messages on their cell phones while working on other productions. Andy Olson, the best Lighting Director in the Bay Area and the brilliant Thomas Nores figured out the camera package, lighting kits, filters and green screen I needed as I sent them links to shows on Hulu and E-Online that I liked as examples.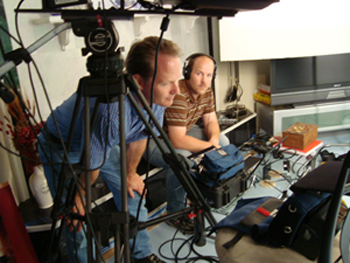 The locations came together magically through my culinary connections as well. The Three Flames Restaurant where I was once the hostess, donated the banquet room, fed us and gave us free reign. Cloud 9 Limo donated a limo and driver. The Carpet Center donated a red carpet. Harley Farms let us shoot the kids with the goats and show goat cheese being made. The Professional Culinary Institute of Campbell welcomed our motley crew with open arms in their beautiful facility and Chef George Hadres demonstrated cooking techniques with goat cheese as Sommelier, David Clancy taught our kid actors how to properly set a table.
We had to set up a red carpet scene with screaming fans by 7pm. At 3pm I had no idea if anyone was going to show up. I had all I could handle shooting other scenes with 12 actors and I was about to rewrite the scene, but my talented kid actors quickly put up a Facebook Evite and started sharing it with all their friends and by 7:30 I had my screaming fans with signs and CDs we made with Photoshop and my home office printer.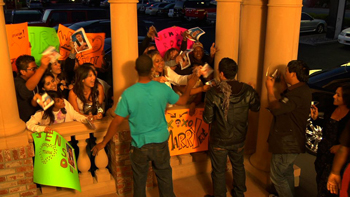 At one point I had to shoot a scene where the kids were watching a video on a laptop but when we set up, the video wouldn't play. A quick call to Doug Farris of VSO Media saved me when he was able to grab the problem clip, compress it to H264 and send it back to me by yousendit.com in less than 20 minutes and the shot went off beautifully. Six years ago we would have had to scratch the whole scene and improvise.
From the initial plea-for-help email and watching the casting sessions on YouTube.com to watching in amazement as we digitized all the clips from three full days of footage in minutes directly on to a hard drive, everything lined up for a perfectly successful production against the odds.
Production and culinary professionals have always been the hardest working, loyal and best people in the world. Technology even makes it easy to share the story here, with photos. The bottom line of this little story is when you add technology to talented, kind and creative people, real magic happens and I couldn't be happier! Like a symphony everyone played a unique part and the music was beautiful. At the end of the day and after producing thousands of productions, this one is the one I'm most proud of. The current technology gave me the time and freedom to really see the wonderful people I have in my life, the serendipity at work and what's really important to produce... harmony.