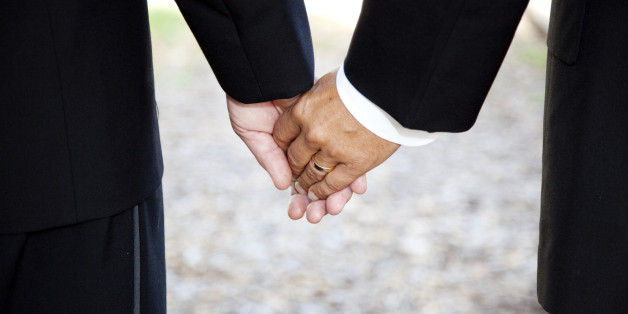 Technically Barry isn't an ex -- but rather a childhood best friend I had few and infrequent romantic encounters with between the ages of 14 and 16. We sat beside each other in art class, bonding over our mutual disdain for our train tracks and pubescent lives. I think he was the first boy to ask me on a date, and if I remember correctly it was a trip to a bowling alley that may or may not have coincided with an outing of our local youth club. We kissed multiple times in games of Spin the Bottle and a handful of times of our own accord.
He knew my parents, I knew his, and if Ireland was a '90s rom-com we''d have married. Alas, as Barry entered college he came out and completed my hat trick of gay ex-boyfriends.
The first to come out was Stephen. We dated briefly at 17 after he left a rose in my locker one Valentine's Day. We hung out in groups, held hands and texted an appropriate amount for two awkward teenagers. He was a sensitive soul with a devilishly handsome smile and when he cautiously came out at a party months after we dated, I was more heartbroken for him than for our lost future. Though I still, to this day, wonder how my children could look with his dimples.
The third was Rob. What a heartthrob. He had long hair and piercing blue eyes, and the kind of nonchalance for the status quo that would make any prefect blush. I admired him from afar and through MSN messenger until one magical house party when he walked me home and we shared a kiss in the creepy lane near my house. We fizzled shortly after, but he elevated my dating status enough to keep me happy. Until once again, rumor surfaced that I had ""turned"" yet another young Dublin male.
Now, I'm progressive enough to know that homosexuality isn''t catching and that I played no part in my dates appearing sudden disinterest in the opposite sex. Despite having heard the words ""if it doesn''t work with you, it won't work with any woman"" more times than I''ve seen members of my own family, I know that I played no real part in their struggle to express their sexuality.
Their struggle came from the society we live in. These dating disasters happened almost ten years ago but in Ireland we, sadly, still live in a country that does not afford the same rights to the LGBT community as it does to the rest of society. Today I''m blogging to say that we all play a part in assuring that the victimization of the LGBT community (and those around it) ceases.
In May 2015 we will hold a referendum on Marriage Equality in Ireland. I am here to say that I will categorically vote to support same sex couples, in any shape, form or nationality. I will vote for equality for my exes, for my brother, for my gay family members and for my ever-growing community of gay friends. But I''m also voting yes for the real victim of this discrimination –-- me.
I support gay marriage because I believe in a society where no teenage girl has to come home to tell her mother that her boyfriend is gay. Not once, and certainly not three-and-a-half times.
As for the half?
Well that one was later in life. In my college years I met a boy that we' shall call John. John studied in a different university with some of my friends and in fairness, all the signs were there. He was a great dancer and at this stage in my life I had enough experiences to know. I accept full responsibility for madly pursuing him.
We met in a nightclub, he admired my dress. We exchanged numbers. We texted, in hindsight probably not even that flirtatiously but enough to get me excited. A few weeks into it we attended a gig with a group of friends, and as The Script performed I went in for the kill. After awkward shuffling and headbanging he halted and announced he had to pee. I stood waiting for my love to return. I''m still waiting. Yes, terribly, I never ever saw John again. Not that night, not any other.
I later heard through mutual friends he' had happily come out and met someone. I simply passed back a message to say that if it didn't work out I knew some dapper young gentlemen I could set him up with.
So please, society, do this for me. Support marriage equality not just for the LGBT community – but for the awkwardly pubescent girls having their hearts broken by well-dressed closeted young men.
But hey, on the bright side, if this referendum passes, I''ll have a lot more weddings to go to than most folk. Potential plus-one's please apply within.