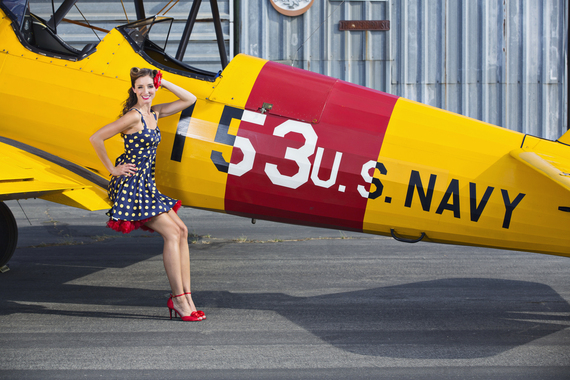 Gina Elise's appearance makes those around her feel overtly bland. Her floral dress juts out at her hips, swaying with femininity. It's perfectly balanced by brick red lipstick and immaculately coiffed hair. She's a vision from the 1940's, with matching glittery heels.
Welcome to Pleasantville.

Six or seven women representative of Norman Rockwell's finest work chat amongst themselves until a group of veterans walks in. Solemnity quickly turns to smiles and, after one of the girls belts out a tune, everyone starts to dance.
A week later, over coffee, the same red lipstick is the only betrayal of today's more contemporary look. The one-time hotel manager explains exactly how she came up with the idea to combine pin-up girls with a non-profit for veterans.
"I wanted to do something to honor my grandfather's military service in the Army during WWII. In the 40s, nose art was used on military planes to boost the morale of the aircrews, and these painted images reminded the GIs of what they were fighting for back home. I took my love for the art form and my love of the 40's decade to produce the first pin-up fundraiser calendar in 2006, with the hope of raising funding to purchase new therapy equipment for VA hospitals."
Gina is not your typical girl, but of course, Pin-Ups for Vets is not a typical non-profit. "We try to avoid the traditional fundraising routes," she offers. Her pin-up calendar, now in its ninth year, featuring twelve US Veterans, is a unique community-building tool. The calendar raises funds to improve Veterans' healthcare, donates funds to VA hospital for medical equipment, improves quality of life for ill Veterans across the US through personal visits, and supports other initiatives, all thanks to pin-ups in decadent 1940s-style outfits.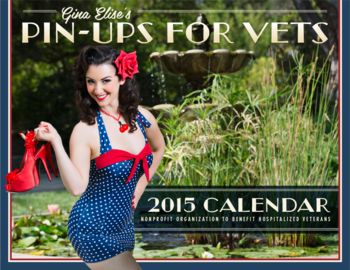 If you're thinking, 'How much good can a couple of women in sky-high heels really do?' well, they're about to knock your heels off. So far, they've donated over $50,000 worth of state-of-the-art rehab equipment for VA and Military hospitals nationwide. They've visited over 6,000 ill and injured veterans in 47 VA and Military hospitals in 27 states.
Ricky Ryba, a US Navy Veteran, appears with Gina in the 2015 calendar. He says, "The calendars bring a smile to a Veteran's face, and shows them that there are so many people out there that care and are grateful for their service. Not only does it boost morale, but purchasing a calendar helps raise money for hospital equipment for Veterans and future hospital visits for the Pin-Ups For Vets Ambassadors to personally delivery these calendars with smiles and love."
The look on the veterans' faces makes it clear that 'boosting morale' is an understatement. But clearly, these women are more than just pretty faces and dance moves; these women are giving back with style.
To purchase a calendar, or donate one to a deployed service member or hospitalized Vet, visit www.PinUpsForVets.com and click on the "Order Now" button.