On Sunday, Sep. 22, about 1,000 women will wake up on Moloka'i well before sunrise, brimming with anticipation as they pile into trucks, cars, vans, and buses that will take them down the rutted, red dirt road to Hale O Lono Harbor, where their motor-free rides to O'ahu await. This is the start of the Na Wahine O Ke Kai, the women's 41-mile outrigger canoe race across the Kaiwi Channel. The culmination of the long-distance season, it's the event that sanctifies the sport of paddling (Hawai'i's official team sport). This year marks the 35th anniversary of the women's crossing.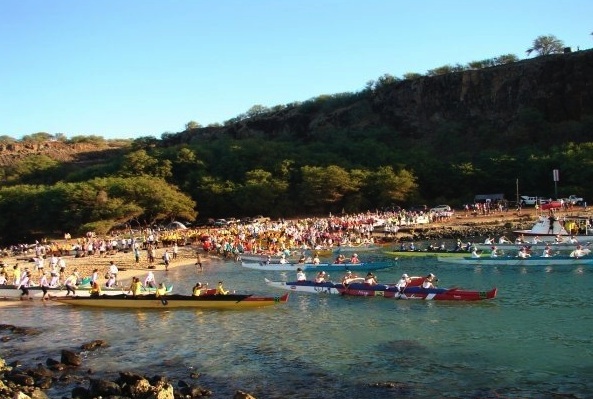 As it turns out, this is the first crossing for four women in my crew. They are so stoked -- I wish I could capture that energy in a bottle. Their stoke intensifies mine, so I wanted to share my feelings (that's what women do, right?), pre-race, pep-talk style:
1) Be a team. The canoe didn't get to Moloka'i by itself. It was the result of countless hours of people working together to make it possible: Car washes and huli huli chicken sales. Five a.m. wake-up calls to trailer canoes across the island. Washing canvases, cutting bailers, organizing escort boats, figuring out logistics, enduring paddletics. Nobody will pull the canoe across alone; the winners of this race are the ones who move the boat most effectively together. Outside the boat we are waitresses, lawyers, nurses, teachers, soccer moms, entrepreneurs, etc. Inside the boat, we are sisters. We came together, let's go home together.
2) Be present. Indulge in the purity of the experience, free of electronics, obligations, and stress. Feel the glide, taste the wind, smell the sea, and listen to the canoe skim across the waves. See a dream come true in progress, and embrace it.
3) Paddle for those who can't. There's always a moment of transcendence when you're pulling your paddle through the brilliant, indigo water and meditating on what it means to you. At that moment, I think about people who are no longer with us, but who would have loved to be here. I paddle for them, with all my heart.
4) Do your best. My wise, 80-something-year-old uncle, married more than 50 years, once gave me a simple piece of advice: "We do our best, that's it." We owe it to all the spouses, significant others, kids, friends, pets, and gardens that missed our attention. We owe it to the coaches, the race organizers, and the volunteers who continue to show up. We owe it to ourselves for the time and training we've put in. Our coach wrote thoughtful thank you notes to each of us, and among other gifts gave us a lighter (that's weird, Alexia). Her message was "Light a fire in yourself, and in each other." To extend that thought, may I invoke the sentiment from this great bumper sticker: Paddle like your ass is on fire.
For me, paddling is the consummate teacher of personal values that can't be learned from a book -- patience, devotion, humility, love, loss, compassion, strength, pride, respect, confidence, and so on. Every journey in the canoe adds depth to character.
Sunday's journey will be no different. Congratulations to all the women who are paddling. Getting to the other side -- whether it's your first time or your 35th time -- gives you a chance to become a better person. That's a good reason for crossing and a beautiful thing to celebrate. Paddle hard, ladies! Imua.