Atlanta Ballet's New Choreographic Voices is exactly what it sounds like -- a showcase for talented emerging choreographers. This year, the company presents three pieces -- two world premieres and one Atlanta premiere. The choreographers include Christopher Wheeldon, Helen Pickett and Atlanta Ballet's own company member Tara Lee.
Lee is a principal dancer in her sixteenth season with the Atlanta Ballet, and her choreography has also been performed by New Orleans Ballet Theatre and Emory Dance Company. Here she shares some of the ideas that inspired her latest piece, as well as what it was like to collaborate with a composer...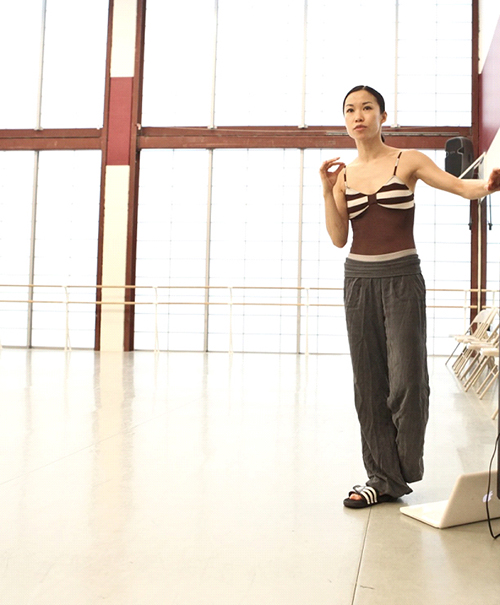 Choreographer Tara Lee, Photo by Charlie McCullers
How did you first begin choreographing for Atlanta Ballet?
The ballet held a choreographers' workshop years ago, where those of us who were interested could create a piece on the company and then show our work to a small audience in our studios. I presented an unfinished piece for the workshop, and (Artistic Director) John McFall invited me do a completed version for the company's following season. "Sixteen String" was my first professional work; it premiered at the Ferst Centre in 2003.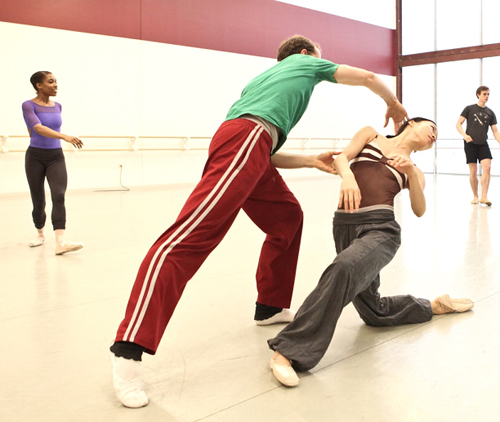 Working on "Pavo", Photo by Charlie McCullers
How many works have you choreographed so far?
About 6..."Pavo" will be my third work for the Atlanta Ballet.
What was your process like when you created this piece?
The process of creating "Pavo" has been unique, because we commissioned an original score (a first for me) from Dr. Nickitas Demos, professor at Georgia State. It has been quite an experience, to create something that is in constant flux from all ends. Thankfully, Nick is a wonderful artist and collaborator.
As for the choreography, it ended up being a mixture of prepared material and spontaneous creation in the studio with the dancers. I might teach a body of material, and then ask the dancers to insert their language into those sequences. Then we would continue to adapt that new information further.
Jesse Tyler (my assistant choreographer) and I might improvise some partnering work in the studio, end up teaching it to the cast, and then evolving it with the dancers' input. We would usually put the music into the mix after the choreography was already shaped and find the dancers' natural timing to synchronize all the elements.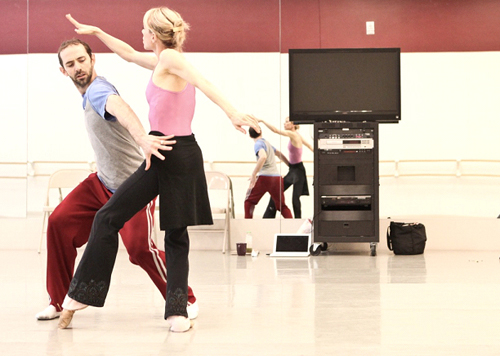 Photo by Charlie McCullers
Can you tell us a bit more about the inspiration behind your new work?
Initially, Nick and I had a couple of meetings to see if things clicked, and we quickly came up with a couple of themes we were interested in exploring: cycles and continuum. After deciding on instrumentation, length of movements, and general dynamics of each section, Nick began to send me pieces of the score.
I was at a bit of a loss at first. The music was dynamic, but I didn't know what to do with it, choreographically or thematically. Then I found an article about the peacock. It resonated with me instantly, and it became clear that I wanted to base the ballet on the spiritual symbolism of the bird. "Pavo" is the Latin word for peacock.
When I learned that the peacock can digest poisonous snakes, and therefore represents the transmuting of one's personal poisons, I recognized one of Nick's sections to be "the digestion of poisons." Some riffs even sounded like snake charmer music. I read further and discovered that peacocks dance restlessly before rainstorms; this presented the inspiration for the musical section I was worried about -- it's a very complex, feverish three minutes, and it made sense that it would be the storm section.
Nick had also sent me a lovely adagio for the featured duet, and when I read that peacocks also represent fidelity and faithfulness, I thought it was another great match. It was exciting to see our once broad themes become more focused and inspired. We had talked about cycles at our first meeting, and the metaphor of the peacock represented a breaking out of a cycle -- a negative one. Awesome.
What do you enjoy the most about choreographing a piece?
I love walking out of a rehearsal being completely surprised at what we all just created.
New Choreographic Voices will run May 18-20 on The Alliance Stage at the Woodruff Arts Center.
This article first appeared on 4dancers.org
Watch an interview with Tara Lee: