The National Museum of Dance has an exhibit about pointe shoes that dancers and dance-lovers will want to check out...
We reached out to Assistant Director Sarah Hall Weaver to learn more about it and are excited to share some of the details with you here...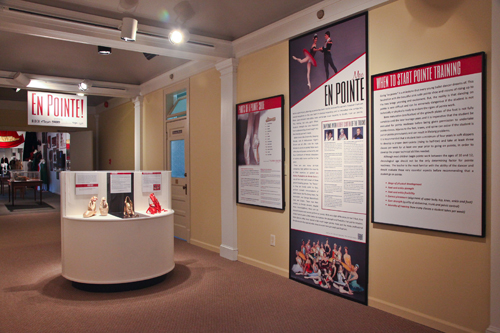 Photo by Daesha Devón Harris
Tell readers a bit about your upcoming exhibition, En Pointe!
En Pointe! is an exhibit that explores the pointe shoe from many different angles - how they are made, how they are designed to suit individual feet, how they came to be what they are today, and how they are integrated into the lives of both amateur and professional dancers. We know that the public is fascinated, and even sometimes daunted by these unique shoes. For a lot of people they are the very symbol of everything they love about dance but for others they can be very intimidating if you have never experienced them on your own feet or had someone give you the opportunity to get closer. The exhibit will suit both audiences - we want young dancers to learn more about their shoes, and we want people that know nothing to learn to love them as much as we do!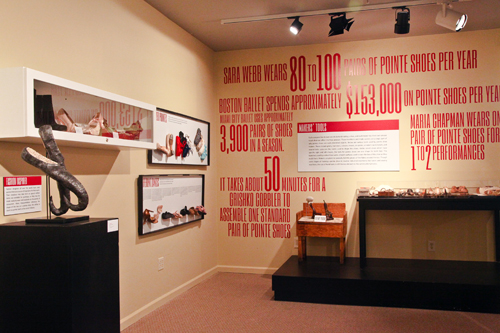 Photo by Daesha Devón Harris
Where did the idea for this particular exhibition come from?
The idea for this exhibit came from one of our Board of Directors members, Leslie Roy Heck. Leslie is a former soloist of the New York City Ballet and during her time with the company she was privileged to work with George Balanchine, Jerome Robbins, and Peter Martins. Leslie now owns a dance retail store in our city of Saratoga Springs, NY called Saratoga Dance, Etc. where she and her staff fit shoes for students of all ages. She is also the founder of Bunheads Dance Accessories, a product line that was acquired by Ballet Makers Inc., the worldwide distributor of Capezio footwear and apparel. What can I say?...We couldn't have asked for a better expert to lead this project!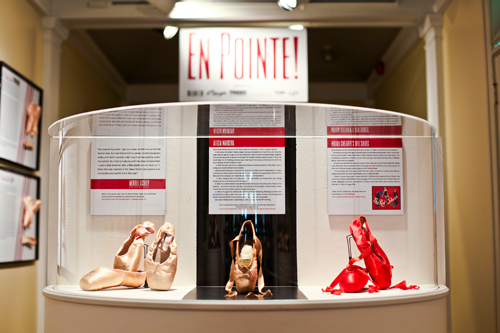 Pointe shoes from left to right: Merrill Ashley, Alicia Markova & Moira Shearer, Photo by Daesha Devón Harris
What was the process like of getting the items together for this exhibition?
Every exhibit is its own unique experience, but this one was pretty intense. We worked with six sponsoring pointe shoe companies [Bloch, Capezio, Freed, Gaynor Minden, Grishko, and Suffolk], over ten different dance companies, six individual principal dancers, dozens of national participants in our pointe shoe decorating contest, several fine artists, and a slew of other collaborators. There was a lot of communication and organization back and forth but the overwhelming positive responses we received assured us of how important this project was. If anything, the hardest part was making the decisions of where to draw the line. There is so much to say about these seemingly simple, little, pink objects, we could probably have filled the entire Museum. We just had to keep in mind our mission to explain the essential basics to pointe shoe newcomers, and to present some new ideas to pointe shoe pros.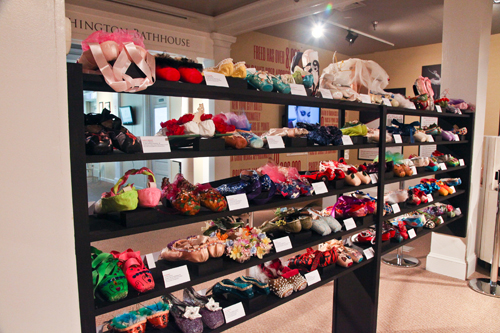 Photo by Daesha Devón Harris
Would you share some of the highlights of the exhibit?

One of my favorite sections is the interviews from five principal ballerinas from five different American companies. I think it's really important for pre-professional dancers of all ages and levels to hear from their on-stage heroes. The advice they give can't be said enough and it is so encouraging for young students to hear that these stars had similar struggles when they were beginning dancers. I also love the section that talks about men dancing en pointe. It's very forward thinking in terms of strengthening and training, and it is always interesting to see on stage. My favorite thing about the exhibit as a whole though is that the shoes and accessories that are attached to the text boards are there for guests to actually touch. Just being able to feel the texture and strength of the items is a great way for people to become familiar with the strange world of ballet.
Can you share a few of the other exhibitions that you will have coming up this year?

We have a lot coming up for our 2013 season! We will be welcoming an incredible bronze sculpture and pastel exhibit from artist Andrew DeVries, and this year's Art in the Foyer photography exhibition will be a selection from Jordan Matter's Dancers Among Us series, which has become a national sensation. Like many other organizations all over the world, we are also joining in on the celebration of the Rite of Spring's 100th anniversary with a special exhibit spanning the history of Nijinsky's original ballet and the dozens of choreographers since that have braved Stravinsky's brilliant score. And perhaps one of our most highly anticipated projects in the last several years is the complete renovation of the Mr. and Mrs. Cornelius Vanderbilt Whitney Hall of Fame. The new space will honor its forty-eight amazing inductees with more video, more images, and more artifacts than ever [though there will be fifty by August as we will be inducting two HUGE dance icons in coming months]. It's going be an exciting season, and we can't wait to share it with you!
En Pointe! is scheduled to run from March 20, 2012 through November 24, 2013 and is sponsored by Bloch, Capezio, Freed, Gaynor Minden, Grishko, and Suffolk.

This piece first appeared on 4dancers.org