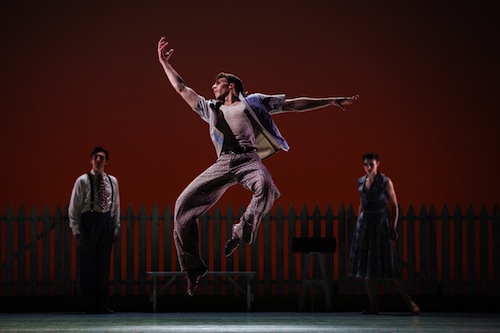 Artists of Ballet West in Val Caniparoli's "The Lottery" based on Shirley Jackson's "The Lottery." Set and Costumes by Sandra Woodall. Lighting by David Finn. Photo by Luke Isley.

Ballet West whisked in and out of Chicago in a weekend -- and they left behind quite an impression.
Sleeping Beauty was on the bill for Friday and Saturday night, and Sunday offered a mixed rep program with two Balanchine pieces, one from Val Caniparoli and a new work by Nicolo Fonte.
The Utah-based company made an immediate impact with George Balanchine's dazzling Rubies. With a 1920's vibe and music by Igor Stravinsky, this piece is typically known as the star of the three "Jewels" that the famed choreographer created in the late 1960's (Emeralds, Rubies, Diamonds).
Beckanne Sisk was the dancer here with the most sparkle, and her exuberance and youth were matched nicely with a sure-footed performance in a role that demands both stellar control and clean technique. Her vivacious spirit was the perfect fit for this high-energy ballet -- and it showed. Expertly partnered by a very able Christopher Ruud, this dynamic couple held nothing back for later. Elizabeth McGrath gave a very capable performance as well with clean pirouettes and an effortless execution overall. Live music by The Chicago Sinfonietta added energy to the lively performance.
Rubies was followed by a world premiere, choreographed by Ballet West's resident choreographer Nicolo Fonte. Danced by two women and two men (Katherine Lawrence, Jacqueline Straughan/Tom Mattingly, Adrian Fry) the devilishly complex choreography in Presto was punctuated with unusual, almost "bird-like" postures that added both interest and shape. Throughout the work there was a stop-and-go feel that teetered on the edge of lasting too long -- but didn't actually go over.
Much like the music by Ezio Bosso, the movements here varied between jarring and melodic. The dancers did an admirable job of performing this piece, with only a moment or two of uncertainty throughout -- and the breathtakingly fast end sequence is simply brilliant.
Rubies is attention grabbing and showy, but the pas de deux from Balanchine's Diamonds displays all the class and elegance associated with this coveted gemstone. The pace of this piece remains fairly slow throughout, but with Christiana Bennett's laser-focused precision and grace and Beau Pearson's confident partnering, attention never wanes for a moment from the dancers on stage.
Either you show up with every ounce of your technique to dance Balanchine's choreography -- or it will dance you. The lovely Bennett was definitely in charge here -- with achingly magnificent arms and regal carriage. Traditional white costumes and Tchaikovsky pair with the dancers for a purely enjoyable pas de deux.
The last piece of the evening was Val Caniparoli's The Lottery. Based on the short story by author Shirley Jackson, his interpretation offers the audience an interesting twist -- dancers draw from a black box on stage to find out which of them will "win" each time the piece is performed. No one knows who will take the spotlight and perform that final dance.
The costumes and scenic design by Sandra Woodall evoke a simple but powerful sense of Americana. Picket fences and benches. Suspenders and plain, button down sweaters. This could be "any town" U.S.A. many years ago.
As the piece unfolds, dancers pair up and present themselves to the audience in a series of dances that give the impression of the day unfolding gradually. The mood is initially light, but begins to shift as the black box starts to take the focus -- and then the ritual begins.
Caniparoli creates suspense masterfully here. Each person comes up to take a piece of paper from the box. The tension is palpable as the audience waits to see who holds the "winning" piece. One by one dancers open their paper, blank ones fluttering to the floor like wounded butterflies.
Finally, the "chosen one" is revealed, and then is ostracized and circled, reminiscent of Nijinsky's Rite of Spring. The delightful Katie Critchlow was the one selected Sunday afternoon, and she first cried out, and then began her dance.
Robert Moran's music is somewhat less powerful than Stravinsky's in Rite of Spring -- less able to sustain the tension needed for a truly wrenching result, but Critchlow danced through a myriad of postures and complex emotions admirably.
Caniparoli's choreography was solid throughout the piece, but the crafting of this powerful short story into dance is where he excels here. The Lottery is compelling because it taps into basic human themes of ritual and violence, displayed superbly by Ballet West -- a dramatic ending to an engaging program.