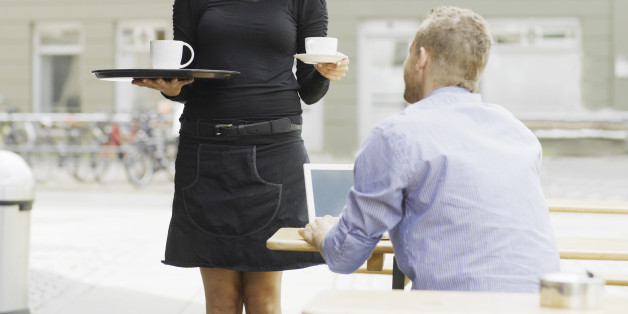 The year after I graduated college, I led a double life. Nothing exciting like being a business woman and a lady of the night, but I was white-collar by day and blue-collar after 5 p.m.. That August, I had landed an interview for a marketing assistant position at one of the "Big Five" book publishers and miraculously, I was offered the job. I quickly accepted and wore my meager salary as a badge of honor representing that I had been inducted into the world of books. I felt lucky to be fully employed and have adult benefits like paid time off and a 401(k). But I wasn't naive enough to think that I could make ends meet with the salary I was offered, so I decided to keep a few shifts a week at the restaurant at which I'd been waitressing. Thus began my split personality.
With no prior office experience save for an internship with a blog whose "office" was a rich guy's basement, I was shell-shocked by my first few weeks working in a cubicle. I wondered why, when I would pass my coworkers in the hallway or kitchen, they would look down or mill about in awkward silence. Sometimes my boss, whose office was only 10 or so feet from my cubicle, would email me instead of coming over to explain something to me in person. At first, I figured it was probably me. The days at the office felt long, but during this transitional time the atmosphere at the restaurant provided me with a much-needed breath of fresher, livelier air.
Some days I would leave the publishing house's offices at 5 p.m., my eyes dried out from staring at a computer screen for eight hours, only to be brought back to life by witty banter I'd swap with the bartender, the beer I'd sip on the sly and the smell of hot food. It felt good to shake off the stiffness of my day job at the bar. I'd work at my serving job until midnight, landing in my bed around 1 a.m. after the train ride home, my feet so sore I thought I'd never walk again.
Leading a double life wasn't exactly the hardest thing in the world, but it wasn't easy. I didn't feel embarrassed about my serving job, but I was self-conscious about the different personalities I needed to uphold at each role. I could confess to the bartenders how much I disliked sitting at a desk all day, and how depressing I found the decline of the publishing industry because I knew they'd agree. But at the same time I couldn't help feel sad for the restaurant staff who seemed trapped within the service industry, unable to move up or move on.
Once, I picked up a serving shift at the last minute and showed up to the restaurant after my day job without a change of clothes. My work-appropriate turtleneck (which I would like to point out is currently having a renaissance and I'm just ahead of my time) was the source of dozens of mom-related nicknames from the restaurant staff for months. Nobody wanted to give extra tip money to a bookish nun girl. And needless to say I didn't regale my publishing coworkers the stories of how I got drunk! At the restaurant! While working! on Monday mornings at the coffee maker. They didn't know that Catherine. But which Catherine was the real me?
What I did figure out from working 60-hour weeks was that my job as a waitress was actually something I looked forward to. Unlike my position at the publishing house, the entire restaurant felt like one big team: the kitchen staff, bartenders and servers all working together to make the restaurant successful. I was on my feet, deftly wielding plates topped with burgers, salads or risotto, instead of sitting for hours on end in front of a screen.
The more I reflected on it, the more I felt that my experience as a waitress was actually teaching me what I valued in a workplace environment. It was diverse: there was a mix of races and socioeconomic backgrounds, of languages spoken and countries of origin. I learned bits of Portuguese and listened to merengue in the prep kitchen. I loved the cultural exchange that took place there, and the physicality of the work.
But the story doesn't end with me becoming a full-time waitress or opening my own restaurant. I worked at the publishing house for a year before I decided it was time for me to move on, and while on the job hunt I looked for companies that shared some of the traits I loved about the restaurant environment: a friendly atmosphere, collaborative work, more personal interaction, a faster pace. I had to find a place where I could satisfy both sides of my personality: the fun and social side, and the well-read wordsmith side. In the end, I found a position working as an editor at a magazine publishing company that helped me check off many of the items on my wish list.
My advice to any recent grads out there hoping to break into their ideal field? Learn from whatever job you have, whether you're a janitor or a nanny. Lucky and few are those who manage to never work a service job after getting that precious four-year degree. Odds are there's a job within the industry you're interested in that has some overlapping qualities.
And don't be discouraged if your first job within your dream industry doesn't turn out quite as you'd hoped. You know what they say, "Shoot for the moon, even if you miss there are plenty of other people who say they're writers but are actually bartenders." I've hung up my blue collar for now, but I still keep in the back of the closet. Who knows when I might need it again.
Like Us On Facebook |

Follow Us On Twitter |

Contact HuffPost Women
PHOTO GALLERY
7 Jobs Where Women Make More Than Men