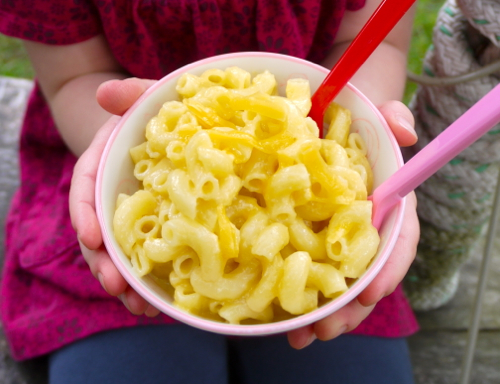 Is there a dinner American kids adore more than macaroni and cheese? Combining two majorly kid-approved food stuffs -- pasta and cheese -- mac and cheese rarely requires moms to cajole, persuade or bribe their kids at mealtime.
Is mac and cheese the healthiest dinner choice? Of course not. Would I recommend serving it more than once a week? Probably not. But when made well, perhaps with some veggies thrown in, it is certainly a better option than say, a Happy Meal.
My own childhood romance with mac and cheese began about 30 years ago with my mom's homemade version. This was just around the same time (or so it seemed) the instant variety could be found in every kitchen. To this day, many moms -- given their lack of time, patience and skill in the kitchen -- rely on instant mac and cheese as one of their easiest dinner options. (There's also the challenge of being in the supermarket with children pleading for you to buy brands whose boxes are shamelessly emblazoned with popular cartoon characters).
I completely understand a mom's need for kitchen convenience -- my career is partly devoted to it -- but instant mac and cheese, with all of its salt, preservatives, and food dyes like Yellow 5 and Yellow 6, typically added to the cheese mix for color, troubles me. There is still too much uncertainty about the safety food dyes, many of which are banned in Europe because of the possible health risks they pose, for me to permit them in my family's diet. Convenience should only be welcomed when it doesn't trump our children's well being.
To be fair, homemade mac and cheese is not the healthiest meal given it's fat and cholesterol content; there are serious consequences to a diet rich in those things. Yet, with a bit of moderation and use of fresh ingredients, mac & cheese is a great family meal or side dish.
"So where is the recipe for this Best Mac & Cheese Ever", you ask?
I actually have several of them and they are all so straightforward and delicious, you'll wonder why you ever thought instant was worth the negligible amount of time it saves. Even better, you can make them all with your kids. My little ones have been making my rice cooker version with me since they were two and a half. We just dump, stir, and push a button. It's that simple and leaves only one pot to clean. Don't own a rice cooker? If your budget permits, I suggest investing in one. It can be used to cook much more than just rice and the time and convenience it affords you in the kitchen is amazing. If not, try one of the other simple recipes below.
So ditch the box, the powdered cheese mix, and the pandering cartoon characters. This is what macaroni and cheese is meant to be: easy, affordable, creamy and delicious.
Rice Cooker Mac & Cheese (Serves 4-6)
2 Cups Pasta (I use macaroni, but you can use rotini, farfalle or any bite size pasta)

1 1/2 Cups Chicken Stock (I use low sodium)

1 Tsp Salt

1 Cup Whole Milk

1 1/2 Cups Cheese (I use a blend of cheddar, mozzarella and monterey jack)
1. Place the first 3 ingredients in the rice cooker and cook for 15 minutes.
2. Open the lid, add the milk and cheese and stir to combine. Cover and cook for an additional 20 minutes (25 minutes if you want a crust on the bottom).
3. Serve.
* Note: Rice cookers can cook at different heats, so make sure to check your mac & cheese once or twice after it has cooked for 30 minutes.

** Option: Add a cup of finely chopped broccoli, cauliflower, carrots, butternut squash or frozen peas in Step #2.
Classic Mac and Cheese (Makes 8 Servings)
Topping:
1 Tbsp Butter, melted

1 Cup Panko Bread Crumbs

1/2 Cup Grated Cheddar Cheese
Mac and Cheese:
3 Tablespoons Unsalted Butter

3 Tablespoons All Purpose Flour

3 Cups Whole Milk

4 Cups Grated Cheddar Cheese

1 Pound Elbow Macaroni (you can also use Campanelle, Cavatappi, or Shells)
1. Place the topping ingredients in a bowl and stir to combine.

2. Preheat oven to 400° F.

3. Cook pasta in salted water* until al dente (about 3 minutes less than package directions call for) reserving half a cup of the pasta water.

4. In a large pot melt the butter and then add the flour, whisking continuously over low-medium heat for 2-3 minutes to make a roux.

5. Slowly whisk in the milk and bring to a boil.

6. Reduce heat and simmer, whisking occasionally for 3 to 4 minutes, or until sauce is gently bubbling and starting to thicken.

7. Add reserved pasta water and cheddar cheese and whisk until melted.

8. Stir in the pasta.

9. Transfer to a greased 13″ x 9″ baking dish.**

10. Sprinkle topping on macaroni and cheese.

11. Bake for 30-40 minutes, or until top is golden and bubbling.

12. Serve.
* Use about 2 Tbsp of kosher salt for 4 quarts of water.
** If making ahead, mixture can be cooled to room temperature after this step, covered and then refrigerated for up to a day.
Vegan Mac & Cheese (serves 4)
4 Cups Pasta, cooked

1/2 Cup Margarine

1/2 Cup Nutritional Yeast

2 Tbsp Braggs or Soy Sauce

2 Tbsp Dijon Mustard

1/4 Tsp Garlic Powder
1. Cook pasta according to package directions.

2. Melt margarine in a small pot, turn heat off, add the rest of the ingredients and whisk until smooth.

3. Combine the sauce with warm pasta to coat and heat through.

4. Serve.